Tim Tebow Predictions for Broncos in 2010
by Matt Severance - 4/27/2010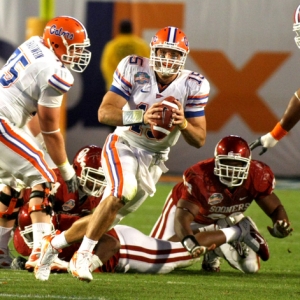 Has the Tim Tebow hysteria died down yet? All of Gator Nation was ecstatic that their boy was drafted in the first round by the Denver Broncos last week, while all those (delirious) Denver fans already can see Tebow becoming the franchise's best quarterback since John Elway. Obviously that's silly, but you can bet that Tebow's No. 15 Broncos jersey will be a hot seller not just in the Mile High City but all over the country.
(More Tebow jerseys were sold during the NFL's draft weekend than any other rookie or current player, so it has already started; it broke Mark Sanchez's rookie sales record of last year).
In reality, it's hard to fathom Tebow playing much actual quarterback in his first season. He still has mechanics that have to be unlearned and re-learned, not to mention learning how to take a snap under center most times and, well, just throw the ball accurately. However, there's also little doubt that Coach Josh McDaniels will want to show off his new toy at times this year, probably in some sort of pseudo-Wildcat package where Tebow can get short yardage with his physical running style. But McDaniels has made it clear that Tebow is a quarterback and not some type of H-back.
Bodog has come up with some Denver/Tebow-specific prop odds, so let's take a look at them:
Who will be the starting QB for the Denver Broncos Week 1 of the 2010 Regular Season?
Kyle Orton -- 2/3
Brady Quinn -- 5/4
Tim Tebow -- 50/1
It would be silly of you to not bet on Orton here, as McDaniels has said it's his job to lose in camp. Tebow simply will not start Week 1 unless Orton and Quinn are riding to practice together and hit by a train. And he might not even then because technically Tebow is No. 4 on the depth chart behind even Tom Brandstater, although that could obviously change because Denver probably won't want four quarterbacks on the roster. And probably the only way Quinn starts is if Orton is hurt.
Will Tim Tebow play in at least 1 offensive down Week 1 of the 2010 Regular Season?
Yes -150
No +120
McDaniels is off the Bill Belichick tree, meaning he thinks he's more clever than everyone else, or at least that's how he's perceived. I think this is a great prop bet because Denver plays at Jacksonville in Week 1, which is Tebow's hometown. Wow, would he dare use Tebow where it might even fire up the opposing crowd? It would be a cool moment, no doubt. And who knows when Denver gets back to Jacksonville? I think he does play at least a down in Week 1.
Tim Tebow – Total Rushing TDs 2010 Regular Season
'Over / Under' 1.5
What will happen first for Tim Tebow in the 2010 Regular Season?
Throw a TD Pass +200
Score a Rushing TD -260
I will start with the second prop first because, again, speaking to McDaniels' need to look like a genius, I think he has Tebow throw one of those goal-line jump passes before he just lets him bull rush into the end zone – the defenses won't be expecting Tebow to throw.
Former Florida offensive coordinator and current Mississippi State Coach Dan Mullen helped teach McDaniels the spread offense that McDaniels used to help the Patriots set numerous offensive records in 2007, so that's another advantage in Tebow's favor, it would seem. I'm sure Mullen and McDaniels will be talking plenty. I'd bet on the TD pass and the 'over' 1.5 rushing TDs. Tebow's very first college play as a Gators freshman, for example, was a designed quarterback scramble at the goal line.
"The great thing about Josh is he's innovative," Mullen said. "He's not afraid to think outside the box. He'll be creative with (Tebow)."
It should be interesting watching how/if Tebow is used this year. And at least he already has accomplished one thing: No one is talking about Brett Favre for the moment.