Week 2 NFL Picks and Odds
by Trevor Whenham - 9/19/2010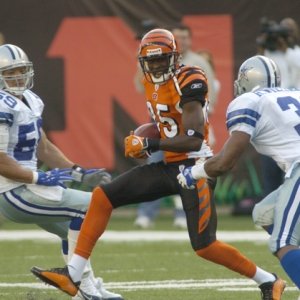 Week 1 of the 2010-11 NFL season is in the books and now we look ahead to some Week 2 NFL picks and odds. This week we will focus on what I consider two of the biggest games on the board for NFL betting, and that is the Baltimore Ravens at Cincinnati Bengals and the Houston Texans at the Washington Redskins.
Baltimore Ravens (-1.5) at Cincinnati Bengals (Sunday, Sept. 19, 1 pm ET)
Line Movement - The line opened at one, has danced around a bit, and can be found as low as one and as high as a field goal. I'd be very surprised if the line climbed above three. I'm not the only one that likes the Ravens - more than 70 percent of bets have been on them. The total opened at 40 and has stayed stable in that area.
Pick - I say this often, but I could never say it enough - Marvin Lewis is the worst coach in football. No coach is better at having a talented team unprepared and primed to underachieve. There is no reason that they should have looked as bad as they did in their opener against the Patriots - except for the Lewis Factor. Time and again people get seduced by what the team should be capable of without factoring in Lewis' total inability to deliver on potential.
I expect no difference here. Baltimore played better than their 10-9 score indicated in their opening win, and they are only going to get better. The Patriots defense was able to make the Bengals look ridiculous for much of the game, and this Baltimore defense is far more aggressive, effective and talented than New England's. Baltimore will relentlessly attack, and I have little faith in the ability of the Cincinnati offense to overcome that. Baltimore has more depth, a better running game, and a better defense. This crucial divisional contest will tilt to the Ravens.
The total in this one is set at 40. I think that that number is pretty accurate. I would lean towards the 'under' because of Baltimore's defense and what they should be able to do to Cincinnati, but I don't feel nearly as strongly about that as I do about the side.
Houston Texans (-2.5) at Washington Redskins (4:15 pm ET)
Line movement - The NFL line opened at three, and can be found there and at 2.5. Almost three-quarters of bets have been on Houston, so there's a small chance that a middle opportunity will be available around the key number of three. The line opened at 44.5 and is showing gradual movement downwards.
Pick - One of these teams was very impressive in their opener, while the other was very lucky. It's not hard to decide what side I want to be on given that. Houston beat Indy convincingly in their opener. What's most impressive, though, is not that they won but that they went into the game feeling like they knew they were going to win. This team has been on the way for a long time, but with that decisive win they took a big step towards finally actually arriving. Their running game was brilliant - and it wasn't a fluke. The passing game was good and will continue to be. The defensive line was solid, and the defense stood its ground. They were playing what many think is the best team in the league, and yet Houston was clearly the better team on the day. That's impressive.
Washington, on the other hand, only won by six, and they were given the biggest gift of a touchdown at the end of the first half that a team can possibly be given. Outside of that they looked like what they are - a team going through a lot of changes that is going to experience some growing pains. Houston will be much more prepared for this game than Dallas was last week, and Washington is going to find it harder to find answers for what they pose. I see Houston winning this one handily.
The total is 43.5. I favor the 'under' because I just don't see Washington doing their share to contribute to an 'over'.
Awesome Free Bet offer exclusive for Doc's Sports site visitors: If you have not tried out Bodog Sportsbook before, now is a great time. Play Doc's free pick on the Texans at Redskins game at Bodog for FREE! New Bodog customers can deposit $25 and wager on this marquee game and if your pick loses Bodog will deposit $25 back in your account. Click Here for this no-risk offer!