Week 5 NFL Picks and Odds
by Trevor Whenham - 10/9/2010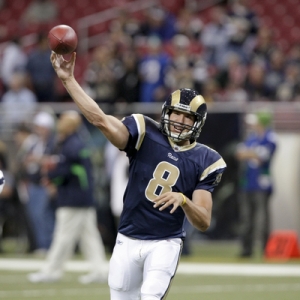 After a couple of rough weeks with these picks we had a very good week last week. Baltimore came through in the end thanks to the heroics of Joe Flacco, and Houston comfortably won at Oakland. Hopefully the week 5 NFL picks and odds will be just as successful. This week we will look at the Rams at Lions and Jaguars at Bills:
St. Louis Rams +3 at Detroit Lions (Sunday, Oct. 10, 1 pm ET) - The Rams are riding a two-game winning streak. Asking this team to win three in a row is a lot, but they have a good opponent to pull it off against.
There are a few good reasons I like the Rams over the Lions, and they mostly focus on Detroit's defense. The one thing Detroit can do is pressure the passer. Sam Bradford is young, but he's already shown how comfortable he can be against the rush, so he isn't likely to be knocked off his game. If he can stand his ground then he is going to find a secondary behind the rush that can be very vulnerable to his passing game - Detroit just doesn't defend the pass well, and it's worse when the front is rushing. Detroit is also totally lousy against the run - opposing backs are averaging 4.7 yards per carry - so Steven Jackson could have a very good day.
I also have concerns about the Lions on offense. They have struggled badly to run the ball, and will continue to do so for the foreseeable future. That means an extra reliance on their passing game, but with Shaun Hill at the helm that's not a good thing. Hill could be running for his life in this one, too - James Hall had two sacks last week, and has a very good matchup against former teammate Jeff Backus this week.
Detroit is going to struggle to score, and I don't have a lot of faith in their ability to stop the Rams. I expect St. Louis to win this one outright.
Jacksonville Jaguars -1 at Buffalo Bills (Sunday, Oct. 10, 1 pm ET) - I just don't get this line at all. I expect Jacksonville to face a bit of a letdown this week after beating Indianapolis last week. Still, they beat the Colts last week and it was no fluke. They have too much to offer on both sides of the ball for the Bills, and this should be a solid win for them.
You can look at a lot of things in this game, but one stands out more than anything else - the Jacksonville running game. Maurice Jones-Drew keys a very good Jacksonville rushing attack, and he will line up against the worst run defense in the league. That's a major factor in favor of Jacksonville.
the Buffalo offensive line has done a lousy job of protecting their passer - 11 sacks so far. Jacksonville has a nice defensive front, and they are going to be able to feast on the Bills. That pressure up front will make it tougher for Buffalo to pass, and will allow Jacksonville to put more effort into defending against the run - a weakness for the Jags.
Jacksonville is a team that could make the playoffs. Buffalo will have had a good year if they win two games. Jacksonville is the better squad, and they have the bigger incentive here, so they should come out on top here.
Allen Eastman is back with his 99 System for NFL picks in 2010 and before he even came across this system he was considered one of the best NFL handicappers in the business – now he is just unstoppable. The system is 33-18-1 the last two seasons, and the first four weeks of this season, and he will be back with more 99 System picks this weekend. This system not only helped his clients make a boatload of money, but also helped Eastman to third place in the prestigious Las Vegas Hilton NFL Contest.