Free NFL Picks: Ravens at Chiefs Predictions and Betting Odds
by Trevor Whenham - 1/7/2011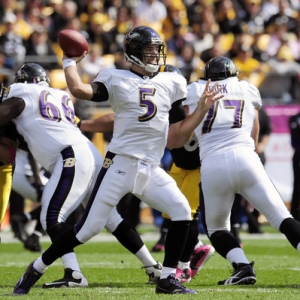 One team that was definitely supposed to be a playoff team will play one team that is a surprise to many in the early game on Sunday. Baltimore looked like a serious contender coming into the season, and unlike some who shared that distinction they are still standing and looking proud. Kansas City, on the other hand, is far more unexpected. By now everyone will say they saw the resurgence coming -- 4-12 last year to hosting a playoff game this year. Those people are, of course, lying. It was clear that the Chiefs would be better, but the combination of how much better they were and how lousy the Chargers would be couldn't have been foreseen.
As unpredictable as the season was for the Chiefs, it's even more surprising that this is Charlie Weis' last hurrah with the team. He was offensive coordinator for just one year, but his impact was striking -- in a good way unlike his time at Notre Dame. Matt Cassel was a new man under Weis, and the offense was a well balanced, often frightening machine. The lure of returning to college at Florida was too much for him to resist (I'm resisting taking a cheap shot about him wanting to be closer to his fellow manatees), so this could be it. It's impossible to believe that that won't be at least a bit of a distraction for the team -- it certainly seemed to be last week when the offense was invisible.
Baltimore was expected to be good this year, and at 12-4 they obviously were. The clear problem, though, was on offense. They added three big name receivers for third-year stud Joe Flacco to throw to, but they dropped from 18th to 20th in the league in passing, and had just the 22nd best offense overall -- nine spots worse than last year. They have the tools, but all of the stars just don't seem to be aligning to make things work like they should. It seems like an offensive unit that isn't all on the same page. They'll need to find that page in a hurry if they want to do some damage in these playoffs.
There are, in my mind, three key things to watch in this game. The first is the Kansas City blitz. They aren't as fierce up front as they could be, but their secondary is a pressure machine - second best in the league. Joe Flacco is typically very good against an opposing rush, but it will be interesting to see how he fares against this type of pressure.
Second, it remains to be seen if Flacco can find his targets. He loves to find the sidelines, and is at his best when he can get into a sideline rhythm. However, no team in the league is better at defending sideline passes than the Chiefs.
Finally, I am looking forward to seeing what Jamaal Charles can do against the rush defense. Baltimore can be ferocious against the run, but Charles just gets better the tougher it is -- he is the league leader in yards per carry against a seven-man front.
One subplot to keep an eye on is the health of the Chiefs. They are implementing strong measures to fight the spread of a cold or flu that has hit players this week in practice. If they lose that battle then stamina and availability could become unexpected issues.
Ravens vs. Chiefs Betting Odds and Line Movement
The Ravens opened as 2.5 point favorites, according to NFL odds, and it quickly moved to the key number of three -- where it remains despite seeing more than four out of five bets being placed on Baltimore. With that bet distribution it wouldn't be surprising to see it move to 3.5 before kickoff. The total opened at 41.5 and is down a full point to 40.5.
Ravens vs. Chiefs Betting Trends
The Ravens are 4-1-1 ATS in their last six road games, 4-1 ATS in their last five Wild Card games, and 7-3 ATS in their last 10 playoff road games.
The Chiefs are just 1-6 ATS in their last seven against the AFC and 0-4 ATS in their last four playoff appearances. They are 7-2 ATS in their last nine as underdogs.
The 'under' is 4-1 in Baltimore's last five wild card games, and games against the AFC, and 5-2 in their last seven playoff games.
The 'over' is 5-0-1 in the Chiefs' last six road game against teams with winning records, but the 'under' is 4-1 in their last five overall, and 4-1 in their last five at home.
Ravens vs. Chiefs Free NFL Picks and Predictions
I respect the impact of Arrowhead -- and it will be insane for this one -- but I still have to go with the Ravens. I don't really trust either offense to shine no matter what, so it comes down to experience and the ability that gives teams to roll with the punches in the playoffs. Flacco and the Ravens have been here several times before, and always rise to the occasion. The Chiefs are only four years removed from their last playoff appearance, but there aren't many players who were around for the ride last time. I think Baltimore will be looser, and their defense is certainly more experienced and more frightening. The line is fair so that doesn't scare me off, either -- especially if I get it before it moves to 3.5. I'm firmly on the Ravens and would lean to the 'under'.