Monday Night Football Predictions: Steelers at 49ers NFL Odds
by Alan Matthews - 12/15/2011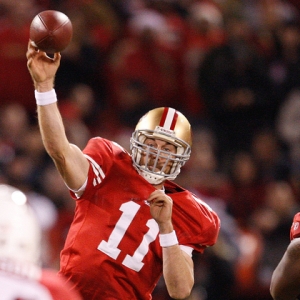 After being subjected to mostly horrendous matchups on "Monday Night Football" this season, we get a doozy in Week 15 as Pittsburgh (10-3) visits San Francisco (10-3) in a possible Super Bowl preview.
In fact, this is only the fourth time in MNF history that two teams have faced off with 10 victories and a winning percentage of at least .750 – ironically the Niners have been in all of them, with the last coming in 1997.
Both still have plenty to play for.
Entering this week, Pittsburgh is tied with Baltimore atop the AFC North but looses that tiebreaker so is the top wild-card team. The Steelers can clinch a playoff spot with a win. They also can with losses by Oakland, Tennessee, Denver or the New York Jets.
San Francisco has clinched the NFC West but is trying to hold off New Orleans for that coveted No. 2 seed. The Saints are also 10-3, but the Niners hold the tiebreaker of best win percentage in conference games (SF 8-2, NO 6-3).
This is the first meeting between Pittsburgh and San Francisco since 2007.
Steelers at 49ers Betting Storylines
This is one of those games where you are going to want to wait until right before kickoff to bet (and certainly after the Sunday night game; more on that below) – the line remains off at most books because of key injuries.
As of this writing, it doesn't look like Steelers quarterback Ben Roethlisberger will play.
Big Ben suffered a high-ankle sprain in last Thursday's win over Cleveland and still hasn't practiced. Roethlisberger, who said it felt as if he'd broken his leg, said he has been fitted for a brace and has gotten "non-stop" treatment. But high-ankle sprains almost always equal at least two weeks on the sideline.
Roethlisberger hasn't missed a start because of health problems since suffering a concussion in 2009; he may be a game-time call. Coach Mike Tomlin has said Roethlisberger has to practice at least one day on a limited basis if he is going to play.
If Ben Ben can't go, Charlie Batch makes his first start of the season. Batch, the oldest player on the Steelers at 37, has played sparingly in three games so far: Two snaps vs. Seattle on Sept. 18, two series vs. Cincinnati on Dec. 4 and two series in last week's game against the Browns. Batch is 0-for-2 in that short work and has been sacked twice.
Dennis Dixon would then be No. 2. He hasn't played a game this year and has been in street clothes in 11 of them.
Also out for Pittsburgh is linebacker James Harrison (eight sacks), who became the first player under the new NFL rules to be suspended for a tackle: He delivered a helmet-to-helmet blow to Colt McCoy last week that left McCoy with a concussion. Jason Worilds, who has three sacks in the past three games, will start.
WR Emmanuel Sanders also is out. Safety Troy Polamalu is questionable but expected to play.
On the bright side, the Steelers are expecting linebacker LaMarr Woodley to play. He has been inactive four of the past five games with a hamstring injury.
The 49ers have their own problems, notably all-pro linebacker Patrick Willis. He almost certainly is out as he hasn't even started to run yet after sustaining a Grade II hamstring strain Dec. 4 against the Rams. Larry Grant would replace Willis.
Also likely out is left tackle Joe Staley, who has not been cleared to practice after sustaining an apparent concussion Sunday against the Cardinals. Alex Boone is his backup and not very good.
Running back Frank Gore, the key to the offense, is expected to play but clearly is nowhere near 100 percent with an ankle injury He had just 10 carries in last week's loss to Arizona, the fewest he has had in a game in which he didn't leave with an injury since Dec. 6, 2009.
This should be a very low-scoring game considering that the Niners have the NFL's top rush defense and the Steelers the No. 1 pass defense. San Francisco is No. 1 in points allowed per game (14.0) with Pittsburgh No. 2 (15.2).
With Big Ben out, one would presume that Pittsburgh would go run-heavy. Good luck with that. The Niners haven't allowed a 100-yard rusher for 34 straight games, dating to Week 11 of 2009. And San Francisco has yet to allow a rushing touchdown this season, which is the longest any team has done that since the 1970 merger.
The last team to not allow a rushing touchdown in the first 13 games of a season? That would be the 1920 Decatur Staleys (soon to be renamed the Chicago Bears). But certainly that defense won't be quite as strong without Willis, a four-time Pro Bowler and NFL's leading tackler in 2007 and 2009.
The Niners need to be better in the red zone. They have scored touchdowns on just 36 percent of their trips to the red zone this season, the lowest rate in the league. Stud tight end Vernon Davis hasn't even had a red-zone pass thrown to him since Week 11.
The beneficiary of all this is kicker David Akers. He needs four more field goals to tie the record of 40, and Akers has already kicked four field goals in a game five times this season. And if he gets eight more field goal attempts in the final three games, he'll become the first player ever with 50 attempts in a season.
Steelers at 49ers Betting Odds and Trends
The Niners opened as 2.5-point favorites with the total at 39.5 on NFL odds. Pittsburgh is 6-7 ATS this season and 2-4 ATS on road. San Francisco is 10-2-1 ATS (but lost two of past three) and 6-0-1 ATS at home. 'Over/under' records: SF 6-7, PIT 6-7.
The Steelers are 4-0 ATS in past four following an ATS loss. The Niners are 6-1 ATS in past seven after a loss. The 'under' is 4-1 in Steelers' past five following a win. The 'under' is 6-0 in past six Week 15 games for Niners (for what that's worth).
Monday Night Football Predictions: Steelers at 49ers NFL Betting Picks
Look for the Steelers to blitz often – especially with Staley out -- as Niners QB Alex Smith has been sacked 18 times in the past three games.
The bloom might be coming off Smith. In two of the past three games, he has had a QB rating of 62.3 or lower and the Niners lost both. It's not likely he can win this by himself, and it's thus hard to see San Francisco moving the ball with Gore hobbling too (Pittsburgh is No. 6 against the rush).
As I noted above, the line and total aren't yet on the board at the majority of books, so that could remain very much in flux depending on Big Ben. You have to go 'under' the total regardless (this score likely will resemble the Niners' 16-6 loss at Baltimore on Thanksgiving night).
But I'm going to have to pick this game via a few caveats. If Roethlisberger plays, take Pittsburgh. If he doesn't, give the points and take the Niners.
BUT: If the Baltimore Ravens lose at San Diego on Sunday night, take Pittsburgh regardless. A Baltimore loss would enable Pittsburgh to jump the Ravens with a win and could mean the AFC North title and perhaps a No. 1 or No. 2 seed in the AFC playoffs.
Getting one of those top two seeds will be vital in the deep AFC. In fact, if the Ravens do lose, it might be the impetus for Big Ben to play even if he's nowhere near 100 percent.
Strike Point Sports is destroying the bookies with their NFL picks. A 3-0 sweep this past weekend has helped their clients to 10 of 15 winning NFL weeks, including three of their last four. They will have a big card coming this weekend. Click Here for more info.