Most Interesting NFL Preseason Games
by Trevor Whenham - 7/28/2011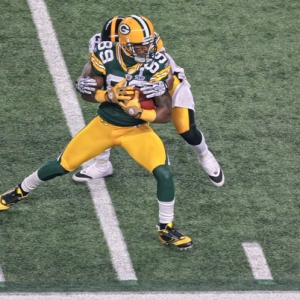 'Interesting' and 'NFL Preseason' are not two things that belong together. I hate pretty much everything about the NFL Preseason — it's pretty much a total and utter waste of time. As much as I may dislike it, though, it's not going anywhere. In the spirit of making the best of things, then, here is my attempt to find 10 Preseason games that are at least a little bit interesting in one way or the other:
Baltimore at Philadelphia (Thursday, Aug. 11, 7:30 p.m. ET) - With the cancellation of the Hall of Fame Game, this is one of the first two preseason games to kick off. It's between two reasonably stable contenders with very good coaches, so it will give us our first indicator of the impact that the lockout-shortened preparation period could have on this season.
Tampa Bay at Kansas City (Friday, Aug. 12, 8 p.m. ET) - These two teams both over performed last year, and they both come into this season facing a whole lot of pressure as a result. They both have talented quarterbacks that still have some work to do, and they both have coaches trying to prove that they are for real. Both teams need momentum to start this season, so they should show up for this one. We'll also get a chance to see if the post-Charlie Weis era is going to start smoothly.
Green Bay at Cleveland (Saturday, Aug. 13, 7:30 p.m. ET) - The defending champs face huge expectations coming into this year. They are playing an opponent that is totally outclassed and undermanned here. It would be easy for the Packers to slack off for this one, so the intensity and focus they display here will give us a sense of where their minds are as they try to defend their title.
Buffalo at Chicago (Saturday, Aug.13, 8 p.m. ET) - The last time Jay Cutler was in action he was hardly impressive. Chicago fans weren't amused. Since then he has made himself a punchline thanks to his personal life. It's hard to believe he has gained any much-needed maturity, so it will be interesting to see how he responds to the Chicago crowd here, and how they respond to him.
Giants at Carolina (Saturday, Aug. 13, 8 p.m. ET) - It's the first glimpse of Cam Newton. That's really the only thing that Panthers' fans have to look forward to. He won't be particularly well prepared, so it will likely be sloppy, but it will still be interesting.
Buffalo at Denver (Saturday, Aug. 20, 8:30 p.m. ET) - The Tim Tebow era appears to be about to shift into high gear in Denver. You can count me among the people that aren't convinced that it's a great idea. This will be his second game, but his first at home. The rust will be knocked off and he'll be in front of an adoring crowd. It will be fun to see what he can do.
Carolina at Cincinnati (Thursday, Aug. 25, 7 p.m. ET) - These are two of the worst teams in the league in my eyes. They both have invested in high-profile rookie quarterbacks, and both need them to come through in a big way right from the start. It will be interesting to see how Newton and Dalton can do despite being surrounded by total chaos within their organizations. It will also be interesting to see if the Panthers are showing any signs of progress or organization given how bad they were last year and all the changes they have made to their coaching staff.
New England at Detroit (Saturday, Aug. 27, 8 p.m. ET) - Detroit is a team that a lot of people are hyping up this year. There would be no better way to set the tone for the season than to beat up on perhaps the best team in the AFC in the third week of the preseason when teams are usually trying their hardest.
San Diego at Arizona (Saturday, Aug. 27, 10 p.m. ET) - The Kevin Kolb era looks like it will start in Arizona this week. By the time this game rolls around he will have had two previous games and all those practices to get ready for the challenges he faces. This is a good test against a pretty good team, so we might get a sense of what we can expect from him early in the season.
Oakland at Seattle (Friday, Sept. 2, 10:30 p.m. ET) - I am not excited about either of these teams this year. The Raiders are still a mess, and the Seahawks are being aggressive but their QB situation will require patience. While this isn't a remarkable game on paper, it stands out for one huge reason — it is the last preseason game. Once this one ends the only thing standing between us and the start of the season is a little time. Hallelujah. This game also marks the end of the fourth week of the preseason — easily the most useless week in all of sports.