2011 New York Jets Predictions and Betting Odds
by Darin Zank - 8/18/2011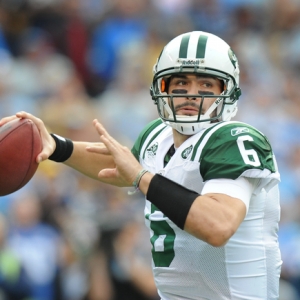 The New York Jets were a trendy pick to click last year, mainly because of their defense, their running game and Coach Rex Ryan's bluster. And while they had some ups and downs, they did reach the AFC Championship Game for the second straight season. But they also lost that game again, in part because it's difficult to win three consecutive playoff games on the road. So this season the New Yorkers continue their search for, at the very least, some home playoff games.
The Jets opened last year with a stinker, losing 10-9 to Baltimore. They then looked lethargic the next week vs. New England, and were fortunate to only be trailing by four points at halftime. But in the half that might have saved its season New York dominated the Patriots, outscoring them 18-0 the last two quarters to win, 28-14. That victory started an 8-1 run that basically got them into the playoffs. But in trying to lock down a decent seed the Jets finished 2-3, which included an embarrassing loss at New England, which relegated them to a Wild-Card slot. New York then beat the Colts in Indy, went to Foxboro and upset the hated Patriots, then went to Pittsburgh, fell behind 24-0, rallied but came up short, losing 24-19.
The Jets ranked sixth in the league last year in total yardage at +59 YPG. And they went 9-7 ATS, including 5-3 ATS on the road. And as hard as it might be to believe, with their style of play, New York went 12-4 on the 'over/unders', mainly because while Jets games averaged a very average 42 points, 10 of their totals were lined in the 30s.
Under Ryan New York is earning a reputation as road warriors; they've played six road playoff games the last two seasons, and won four of them. But we're sure the Jets would much rather play a conference championship game in front of the faithful in Jersey than at Heinz Field or in Indianapolis.
2011 New York Jets Pick-ups and Losses
This off-season saw some serious changes in personnel for the Jets, who lost, among others, WRs Braylon Edwards, Jerricho Cotchery and (Wildcat QB) Brad Smith, DT Kris Jenkins, DEs Trevor Pryce and Shaun Ellis, LB Jason Taylor and DB Drew Coleman. On the plus side they signed WRs Plaxico Burress and Derrick Mason, re-signed CB Antonio Cromartie, and filled some needs by taking DE Muhammad Wilkerson in the first round of the draft and NT Kenrick Ellis in the third.
2011 New York Jets Offense
This unit is not supposed to be spectacular according to Ryan's way of doing things, but instead is meant to grind things out, hold on to the ball and limit mistakes. And basically they've done a pretty good job of that. Last year the Jets ranked 11th in total offense at 351 YPG, fourth in rushing at 148 YPG and fourth in time-of-possession. QB Mark Sanchez posted only a 75.3 QB rating, but he improved his TD/INT ratio from 12/20 his rookie season to 17/13 last year. Sanchez is still very young, with plenty of room to grow, but the Jets probably won't get to the Super Bowl until he does.
Defense
This unit is, of course, the strength of this team, and the pride and joy of Ryan. The Jets ranked third in both total defense last year, allowing 292 YPG, and vs. the run at 92 YPG, and they held seven opponents to 14 points or less. But New York goes into this season a bit thin on this side of the ball, and will be depending on some young people to step in and replace some veterans. This is a situation that could go either way. Youthful exuberance (and young bodies) can be a boon, but a lack of experience can be costly.
2011 New York Jets Schedule
New York has just five games vs. teams that made the playoffs last year, plus home games with Dallas, Jacksonville, San Diego and the Giants, and road dates with Oakland and Denver. Overall New York's slate is tied for the third-toughest in the league, based on last year's W/L records, which is probably a bit skewed considering the Patriots count for a 28-4 mark.
2011 New York Jets Betting Odds and Predictions
5Dimes is offering New York at +660 to win the AFC and +1,500 to win the Super Bowl, with an NFL season win total of nine ('over' -160/'under' +140) and 10 ('O' -110/'U' -120). The Jets should certainly be in the playoff mix again this season, even though they remain flawed. Sanchez still leaves something to be desired at QB, there are questions at WR and holes to fill on defense. So while we still think this outfit is dangerous in a one-game situation, which is what each round of the playoffs is, we'll go with the 'under' 10 on the Jets' regular-season win total.
Doc's Sports is coming off a monster year for NFL picks, highlighted by an easy victory with our NFL Game of the Year. Last season we rode the Detroit Lions to victory in seven of their 17 games, going a perfect 7-0, +31 units ($100 bettors up $3100) in games when we used their game as a selection. Doc's Sports has another surprise team this year and look for us to use this team early in the season. We expect big returns in the NFL and would love to have you aboard with a full season subscription service. Click Here for more details.