NFL Handicapping: Betting on the Indianapolis Colts
by Trevor Whenham - 11/21/2011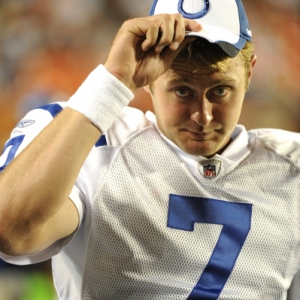 I'll admit this up front — I have never been a fan of the Indianapolis Colts. They have obviously had success over the years, but I have never liked their style of play, and never respected them as much as their record would suggest I should.
It makes me happy when they lose, but this is just getting ridiculous. They are so bad, and so hopeless, that I can't even take any pleasure in their misery.
For bettors the interest lies not in looking back at what has gone wrong to lead them to 0-10, but what is going to happen down the stretch. Since they are in their bye week right now it's a good time to look forward to what remains and what they can expect.
Before we get into the details, the quick summary — I wouldn't bet that they will go 0-16 because only one team has managed that and a lot of terrible teams have won at least one, but I am very confident that they will be able to pick Andrew Luck first overall.
Indianapolis Colts Schedule
We'll start here because there is more hope on this front than on many of the things we have left to look at.
There are two games they just aren't going to win — road games in New England and Baltimore. The other four aren't as challenging.
They start with a home game against Carolina after the bye. The Panthers are the better team, but they certainly aren't improving down the stretch and could easily be vulnerable.
After those two road losses they host Tennessee and Houston. Both teams have lots of issues, and Matt Leinart will likely be the QB for the Texans, so a win in either of those games is at least somewhat conceivable.
They finish up with a road game at Jacksonville — another team with all sorts of issues.
Quarterback
This is a total mess.
Kerry Collins, shockingly, wasn't the answer.
Curtis Painter has had his chance to prove that he is an NFL QB, and he has failed miserably.
Dan Orlovsky is a decent backup option, but certainly not a starter.
None of these guys have had much of a chance for success given the talent around them, but they certainly haven't risen to the challenge. It's not going to get better down the stretch either because the issues they have aren't going to go away.
There are rumors that Peyton Manning will come back to play down the stretch to prove he is still healthy. Given that there is absolutely nothing left to play for, that would be a truly moronic risk, and the only major impact it would have on this team is drawing too much public money towards the squad.
Coach
Jim Caldwell is totally cooked. I'm not even convinced that a 6-0 run down the stretch would be enough to earn him another year.
He was put in an almost impossible situation following the saintly Tony Dungy, and it hasn't gone well.
The next time a lame duck coach finishes a season off well will be the first time, so this obviously isn't an ideal situation for the Colts.
Pass rush
The pass rush should be a major strength of this team, but it just hasn't been.
Dwight Freeney and Robert Mathis are both very good, but they are making fewer plays as the season goes along because teams have no fear about focusing attention on them. That means that opposing quarterbacks are facing very little pressure, and that gives them all sorts of time to pick apart a very suspect secondary.
Simply put, if they don't find a way to fix this pass rush during the bye week then they aren't going to win. Each team they face down the stretch has a QB good enough to do damage if he has time.
Motivation
There are no other teams in the league with fewer than two wins. The Colts don't have the first overall pick tied up, but they are certainly in the driver's seat.
With each passing game it is going to get harder and harder for players to get motivated for games. They will be motivated not to lose 16 games, but that's about it.
There is some strong veteran leadership, with Jeff Saturday leading the way, but they really need to find their way. Saturday has led a couple of players meetings recently, but it's hard to get too excited about the impact of that given that the leadership has already been in place all season.
Special teams
When a team is hopeless on offense and lousy on defense they really need to be able to make some noise on special teams if they want to stand a chance. The Colts can't manage that, either.
They have tried three different thoughts when it comes to returning kicks, and none have worked out. Even if they did have a kick returner, though, the fundamentals — like blocking — just aren't good enough.
Here's yet another thing that needs to be majorly overhauled during the bye week.