NFL Handicapping: Hardest Teams to Judge
by Trevor Whenham - 8/3/2011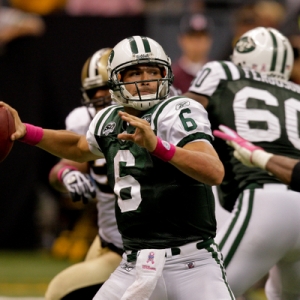 When you are handicapping the NFL before the season starts, there are some teams that you feel like you can confidently predict how their season will go. They may be good or they may be lousy, but you feel reasonably sure that their record will fall within a couple of wins of expectations.
Then there are the teams that really can give you a headache -- the ones that could be great, or they could be a long way from that. It can be very hard to get a sense of exactly what to expect from those squads, and the problems can really be intensified if the team is one that the public really likes. If the public is on the bandwagon then they will bet the team heavily when they get the chance, and value will be harder to find on them.
Here are five of the harder NFL teams to judge this year in the NFL:
Seattle Seahawks - Last year was Pete Carroll's first year in Seattle, and it wasn't all smooth. The division was weak, and yet they didn't exactly rise above the crowd -- you don't get a lot of credit in my books for winning a division if you finish below .500.
Now in his second season, Carroll should be in the position to take a step forward. The team has been very aggressive in the shortened free agency period, and has filled several clearly perceived holes. They have also signaled their intention to change their destiny by cutting ties with Matt Hasselbeck as well.
Judging by Carroll's credentials and their clear hunger to win -- along with some real questions in the division -- you might feel particularly optimistic about the team.
There are obvious problems, though -- chief of which is that Tarvaris Jackson has never proven himself as a starting QB and will have little time to establish himself in a new system. The Seahawks could win their division easily or they could take a big step back from last year. Any guess is a fair one.
Tampa Bay Buccaneers - Tampa Bay was a surprise team last year with their 10 wins. They certainly seem to be moving in the right direction, and they have some nice pieces in place on both sides of the ball. However, they were unquestionably ahead of schedule last year.
They have stayed relatively intact this offseason, so they clearly seem content with their progress. The challenge is to figure out if they can maintain the momentum they have built, or if they are destined to regress this year as their young players work to mature and develop.
New York Jets - I've had a hard time believing in the Ryan-Sanchez era, and that's not going to get any easier to do in my mind this year. The team is as cocky as a squad can be, and there is the potential that that swagger will continue to carry them forward this year. A lot of people seem confident in them, but I can't help but be uneasy.
Sanchez has not shown a lot of forward momentum in the regular season. More significantly, it has to be a big blow to the psyche of the team that they seemed to be in the driver's seat for Asomugha, but he was willing to take less money to go to a team he viewed as a better contender.
This looks like a squad that could fall off the rails and really get into some trouble.
Denver Broncos - The Broncos have made a bold change from Josh McDaniels to John Fox, and the new coaching regime has had little time to establish itself and fix a whole lot of problems.
Fox is a popular, well-respected guy, though, so the public expectations will be reasonably high. The biggest obstacle in the way of progress, though, is the QB situation.
They have really gotten themselves in a mess here. They signaled that it was time for the Tim Tebow era to begin, but they failed to get a trade for Kyle Orton done, and now Orton is significantly outplaying Tebow in training camp.
The team isn't going to be great, but they could be solid if they get their act together, or things could get ugly if the drama overwhelms them.
San Francisco 49ers - Jim Harbaugh was by far the coaching prize of the offseason, and the public will be very optimistic about him and what he will be able to do in his new job.
He hasn't had a whole lot of time to get his team ready for the season given the lockout, though, and he has some real problems to deal with.
His quarterback situation isn't ideal, his star running back is discontent, and he has had a real net outflow of players since the lockout ended.
Harbaugh is going to get things turned around sooner or later, and the team is in much better hands in terms of coaching than it has been since Steve Mariucci left town. The question is whether now s the time to start being optimistic, or whether it could be a rough year.