NFL Handicapping: Tips for Betting the First Preseason Games
by Trevor Whenham - 8/11/2011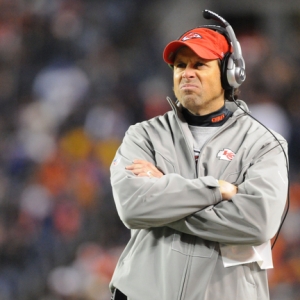 If I had to choose I would say that my favorite of the four weeks of NFL Preseason games is the last one. The logic behind that is simple — I really, really hate the preseason, and the last week means we are almost at the regular season. Finally.
Despite my total lack of desire to watch the games, though, there are times when they are worth betting on. From a betting perspective, the week I actually like best is the first one. Every week involves a whole lot of guessing and assumption-making, but you can make the most logical assumptions in the first week. If you want to make some money on the first week of the NFL preseason then here are five things to look for. Just take my word and don't watch these games — they are beyond painful.
Which teams are going to be ready for action? - There are some teams that are going to be ready to play at a reasonably high level right out of the gate because they have most of the pieces in place from last year when they were previously playing at a high level. The obvious choices for this year are teams like New England and New Orleans that have largely returning veteran lineups led by a world-class quarterback. These teams don't need a lot of playing time to get back up to speed, so they are going to be operating at a high level right out of the gate. Of course, the starters also aren't likely to play a whole lot of time, so you want to make sure that they have a strong edge over their opponent. If one of these teams starts against a totally outmatched squad, though, they are probably worth a close look.
Which veterans will get extra playing time? - Starters often aren't going to play the whole game, and they will often play much less than that. The more time starters get the better they are to bet on in most cases, so it pays to spot teams that are likely to stretch their starters. The surest sign that this will happen is if there is a high-profile veteran who will be relied on right from the start to contribute heavily and who is joining a new team as a free agent. That player will be looking to get as much time as he can so he can get experience early on and get a sense of what he has to work on. If these players are likely to play more than the rest of their unit is likely to play more as well, and that's a good thing for bettors.
Which teams are going through full coaching overhauls? - In a regular year it can take a long time for a new coach and his players to get on the same page — especially if that coach will be looking to make a whole lot of changes. In this strange post-lockout year the impact of these coaching changes is going to be even more pronounced. It will be almost impossible for coaching staffs to be fully prepared for the first week of games in the best of situations, never mind if those coaches have not been able to work with their players until the beginning of training camp. If a team with a veteran, experienced coaching staff and a stable roster meets up with a team led by a new coach then the outcome should be fairly clear. If it isn't then the stable team has some issues.
Which teams need a strong start? - There are some teams that are likely to try particularly hard in their first preseason game because they really need to make a statement out of the gate. It could be that they need to impress their fans, or they need to convince themselves that they are a real contender. It could also be that they are looking to put a tumultuous offseason behind them — to turn a new leaf. It seems to me that Detroit, Buffalo and Tampa Bay are squads that could be positioned to play with particular intensity early on.
Which defenses are going to rule? — At the start of training camp and the preseason games the offenses should, in most cases, be well behind the defenses in turns of progress and preparation. Defensive playbooks often aren't as complex, and defensive players can rely on instinct and training more than offensive players can, so it takes a while for offenses to be able to match defenses — and that should especially be true this year. If that is usually the case then a defense that is likely to be particularly well prepared is going to have a really strong edge in these opening games. A defense with a lot of returning players and a returning coordinator could provide their team a real boost.