NFL Odds and Predictions: Offensive Rookie of the Year Props
by Alan Matthews - 5/19/2011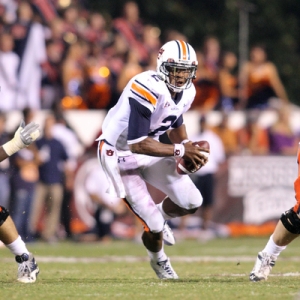 Recently here at Doc's we previewed the upcoming 2011 NFL class of defensive rookies and the odds to win Defensive Rookie of the Year – you know, assuming there is an NFL season. Today let's look at the Offensive Rookie of the Year odds, courtesy of WagerWeb.
Last year was pretty chalk in terms of this honor as Rams quarterback Sam Bradford won Rookie of the Year as the No. 1 overall pick – I liked Chargers running back Ryan Mathews, who had some injury problems. Bradford's performance was so good in leading the Rams from 1-15 to 7-9 that only two other rookies even got votes. Bradford is the fourth quarterback since 2004 to win the award. Before that, no quarterbacks had won it.
I mention Bradford because it's very rare that a top overall pick wins Rookie of the Year on either side of the ball. He was the first quarterback taken first overall to win Offensive Rookie of the Year and just the fourth No. 1 pick among all positions to win the award. So consider this if you are pondering putting down a bet on Carolina QB Cam Newton, who, of course, went first in April's draft. Newton is a co-second favorite to win Offensive Rookie of the Year at +600 with Saints running back Mark Ingram and Bengals receiver A.J. Green.
The lockout could hurt a quarterback like Newton much more than someone like Ingram or Green. Newton is raw as it is and can't get into camp and learn the Panthers' offensive system, so it seems like a long shot that he's the starter in Week 1 – look for Jimmy Clausen to get the call. Plus, what's the point of Carolina getting Newton killed? It was different with Bradford because he was pretty NFL-ready in terms of mechanics. Newton, like Tim Tebow, is not.
Experts say that running back is perhaps the easiest offensive position to transition into as a rookie, and Ingram could be a great bet. The Saints paid a high price to the Patriots to get back into the late first round to grab Ingram, who was the only running back taken in Round 1. And he should start from Week 1. Reggie Bush is likely to be released because he's guaranteed too much money, and he's not an every-down back even if somehow he comes back. Ingram could put up nice numbers in that Saints high-powered offense.
As for Green, I'd say he's not good value because no one knows who will be throwing to him in Cincinnati as it apparently won't be Carson Palmer. It might be rookie Andy Dalton (+2000 to win this award) or some veteran to be named, but, again, Green will suffer from the lockout because he won't be able to get in sync with whomever is quarterback is. But certainly the former Dawgs star will start from Day 1, but it doesn't seem like he will have a very good QB throwing to him to start.
The WagerWeb favorite is Falcons receiver Julio Jones at +450. And you can understand why the former Alabama star is the favorite, considering he should start right away opposite Roddy White in Atlanta – the Falcons gave up a fortune to Cleveland to get Jones at No. 6 overall. With Matt Ryan throwing to him and White likely drawing the double teams, Jones should have a very productive rookie year. But since the turn of the century, a receiver has won this award just twice: Anquan Boldin in 2003 and Percy Harvin in 2009.
I think the best value is probably Dolphins running back Daniel Thomas, the former Kansas State star, at +1200. Miami stresses the run and Thomas, assuming he solves his fumbling problems, should be the featured back with both Ricky Williams and Ronnie Brown as free agents – Miami might bring one back, although probably not Brown. Plus Thomas has the physicality and pass-catching ability to play pretty much every down. He might even get some snaps as a Wildcat quarterback, considering he did so at Kansas State and the Fins are the top Wildcat team in the league (a role Brown played). A running back has won this award five times since 2000, although not since Minnesota's Adrian Peterson in 2007.