NFL Playoff Scenarios and Week 17 Games That Mean Something
by Trevor Whenham - 12/27/2011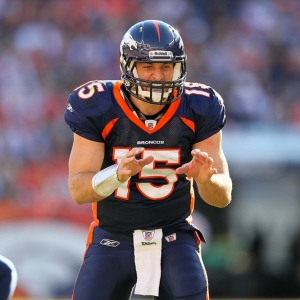 As we enter the last week of the regular season NFL schedule every year we have some games that have a huge amount of playoff significance as teams are playing for their postseason life, others that could be more or less significant because teams are playing for playoff position but may not be motivated by that, and other games in which neither team has anything significant to play for. It is important to know which category each game fits into so that you can accurately judge motivation for successful NFL handicapping.
Of the 16 games set to be played on New Year's Day there are six with no meaning at all — the teams have either secured everything they can in the postseason or they are eliminated from contention. All that is left for some teams is a fight for draft position, but I don't believe that that is a significant motivator. The other 10 games have playoff implications. Let's look at each of those:
New York Jets at Miami
The Dolphins are only playing for pride, but the Jets have playoff hopes still alive, albeit slim ones. They need to win, and they need both Cincinnati and Tennessee to lose. They also need either Oakland or Denver to lose. The Jets should be motivated to win to give themselves a chance, but they should have been motivated last week at home against the Giants as well and they were horrible.

Carolina at New Orleans
The Saints have clinched a home playoff game, but they could secure a first-round bye with a win here and a San Francisco loss. The Niners are playing the pathetic Rams, so it's quite possible that the Saints will value rest here over the potential for a week off when they don't control their destiny.
San Francisco at St. Louis
If the Niners win they get a first-round bye. Given the consistency of their efforts under coach Harbaugh this year and the woes of the Rams it is very likely that they will be able to control their own destiny and win the game.
Buffalo at New England
The Patriots control their own destiny. If they win they secure home field advantage throughout the playoffs. A loss wouldn't be fatal, either — a loss or tie for both the Ravens and the Steelers would also put the Patriots on top.
Tennessee at Houston
The Texans have secured a playoff spot and can't improve it. The last couple of weeks they have had nothing to play for, and they have played like it. Tennessee has playoff hopes if they get a lot of help. They would earn a wild card with a win, a Cincinnati loss, and with a Jets win combined with an Oakland or Denver loss or a Jets loss combined with wins by both Oakland and Denver. Their chances aren't great, but with a win they at least have a shot.
Pittsburgh at Cleveland
The Steelers are assured of at least a wild card spot, but they could do much better with a win or tie and some help. If they win or tie and Baltimore loses then they would win the AFC North and would enjoy a first-round bye — an important consideration for a team as banged up as they are. If they win and Baltimore and New England both lose then the Steelers would win the AFC and would have the home field advantage throughout the playoffs. This game kicks off more than three hours after New England's, so the Steelers would have a good sense of whether first place is likely before they start their game.
Baltimore at Cincinnati
The Ravens control their own destiny. If they win they earn the AFC North title. They can win even if they lose if the Steelers also lose. Like the Steelers, they also have a shot at first overall in the AFC. They just need a win and a New England loss. Like the Steelers, they will have a good idea of whether that is possible before their game kicks off. The Bengals have motivations of their own. They can earn a wild card spot with a win or a tie, so they control their own destiny. If they lose then they need a loss or tie for the Jets, and either a Denver or Oakland loss or tie.
Kansas City at Denver
The season is all but over for the Chiefs, but Tim Tebow still has a shot at glory. If they win or Oakland loses then Denver would win the AFC West. A Denver tie combined with an Oakland loss or tie would also lead to a Denver title. If Tebow is worth all the hype then he should be more than fired up for this one. Of course, he should have been ready for last week as well and he was terrible.
San Diego at Oakland
The Chargers are done after a horrible game last week, and Norv Turner is likely on his way out. Oakland still has a chance to extend their season, though. If they win and Denver loses or ties, or if they tie and Denver loses then Oakland wins the AFC West. The Raiders can make the playoffs without winning their division as well. They would be a wild card team if they win, Cincinnati loses, and one of two other things happen — either the Jets win, or the Titans lose or tie.
Dallas at N.Y. Giants
This is the most straightforward and most interesting of pairings. This is a de facto NFC East championship game. The winner of the game will host a wild card game next weekend. The loser will go home with nothing to show for their season. If the game ends in a tie then the Giants get the nod.