2011 NFL Power Rankings - Week 1
by Robert Ferringo - 9/6/2011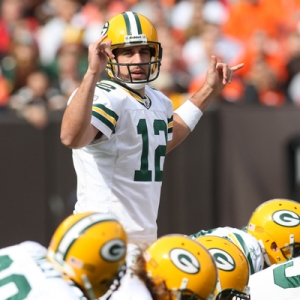 The war drums are beating and the mutant warriors are on the march. This week begins a five-month gauntlet of games that will end with one champion and a lot of busted bankrolls. Summer is dying a slow, beautiful death. And in its passing it is making way for the most glorious time on the sports and football calendar: NFL betting season.
An offseason rife with greed, manipulation, and corporate whoring was easily forgotten. And a preseason full of mystery, confusion and rebirth has come and gone like the quick tick of a second-hand. Ready or not, things are about to get real. And, as always, I will do my best to arm you with my Week 1 version of Doc's Sports NFL Power Rankings:
1. Green Bay Packers (0-0) – It was a ho-hum preseason for the defending champions. I didn't see much urgency from this team, and I am curious how that will impact their early-season play. They are the hunted. Thankfully for fans the first part of the 2011 Packers schedule is cushy after the New Orleans game and they are 11-6 straight up in September games. Green Bay is 10-5 ATS at home over the past two years and I expect them to be sharp on Thursday night. But I have been wrong before.
2. Pittsburgh Steelers (0-0) – This has been one of Pittsburgh's best preseasons in several years without the distractions that come with being a defending Super Bowl champion or having your starting quarterback implicated in seedy bathroom sex acts. This is a veteran team and starting the year on the road against a hated division rival shouldn't faze it. The underdog has been the play in the Pittsburgh-Baltimore series, going 6-2-1 ATS in the last nine meetings, and the Steelers have won six of eight straight up.
3. New England Patriots (0-0) – It isn't as if Bill Belichick hasn't made drastic roster moves in the final days of training camps past. But there are obvious red flags going up when he chooses to cut his two best safeties right before the season starts. I do like Patrick Chung, but this secondary is as shaky as any in the AFC. This team has only started the season on the road one time in the last seven years and they are just 3-3-1 ATS in their last seven season openers.
4. New Orleans Saints (0-0) – The Saints have looked like trash this preseason. For all the reports about how this team was practicing together during the lockout and for all the veterans that they grabbed in the offseason, the Saints looked sloppy and mediocre this preseason. They faced a cupcake schedule, but the Saints first team was outscored 34-44 against the Niners, Texans and Raiders.
5. Atlanta Falcons (0-0) – The Falcons are an example of why preseason records don't matter. They went 0-4 on the tote board. But Atlanta's first team outscored its opponents by 16 points, "winning" the first two games 27-3 before getting knocked around by Pittsburgh. We will get a chance to see what Atlanta's rebuilt pass rush can do in the opener, as the Falcons front four should feast on a putrid Chicago offensive line. I am still wary of this team (all of my indicators predict a backslide). But I can't help but tip my hat to the talent and focus that they have shown all preseason.
6. New York Jets (0-0) – This defense looks like it has corrected some of the issues that the defense had last season. And even though they finished No. 3 in yards allowed, the 2010 Jets defense wasn't close to the 2009 version. They gave up five more points and 50 more yards last year. For comparison, that is the difference last year between the No. 1 overall defense and the No. 11 unit. I think that they are going to swallow the shaky Dallas offensive line whole.
7. San Diego Chargers (0-0) – This was San Diego's best preseason in nearly a half-decade. But now we will see if Norv can carry that urgency over into the regular season. This team was No. 1 in the NFL last year in total offense and total defense. So now the focus has to be on finishing teams off and executing in the fourth quarter. I will be surprised if the Chargers come out and blow out the Vikings on Sunday, I truly will be. But I will be even more surprised if they fall into their old regular season habits of terrible penalties, costly turnovers, and general malaise against inferior opponents.
8. Philadelphia Eagles (0-0) – The offensive line and the back seven both have serious issues. I am not a Mike Vick Believer and I think that they have durability concerns with a lot of crucial players. However, for as much flak as this team has taken this preseason, their first team outscored its opponents by 49 points (52-3). The question, for bettors, about this team may not be talent, but value. The public is all over the "Dream Team," so I am wondering how many – if any – high value spots are going to present themselves with this squad this season.
9. Baltimore Ravens (0-0) – They signed Andre Gurode and Bryant McKinnie, but what does that say about the present state of their line? McKinnie came in fat and out of shape. And Gurode is believed to be just backup for ailing starter Matt Birk. So even though the Ravens signed a pair of Pro Bowlers off the scrap heap, did they really improve along the line? Ozzie Newsome and John Harbaugh are both on the record saying that this team is going to be better in November than in September. They better hope so because they do not look good heading into the season.
10. New York Giants (0-0) – Osi Umenyiora is out for Week 1, and both Justin Tuck and Mathias Kiwanuka are banged up, which is going to severely impede New York's pass rush. The Giants have absolutely dominated the Redskins lately, winning nine of 10 meetings outright and going 7-2-1 ATS in those games. This ranking may be a little premature and a little presumptive. But I have learned that the Giants always seem to play their best when expectations are lowest.
11. Tampa Bay Buccaneers (0-0) – This is still a very difficult team to get a read on. Last year they benefitted from an easy schedule, low expectations, incredible fourth quarter luck, and exceptional quarterback play. I have them primed for a letdown this year. However, the talent is still very intriguing on this team and I can't help but wonder if they were playing possum this preseason. Their first team units were outscored by 18 points, the fourth-worst total in the league, and they didn't look impressive in the two crucial weeks (Week 2 and Week 3). Caveat Emptor with this young, erratic team, but I am giving them the benefit of the doubt right now with this ranking.
12. Chicago Bears (0-0) – It was a huge pickup with two-time Pro Bowler Brandon Meriweather coming into the fold. Safeties are critical in the Cover-2 and Chris Harris and Meriweather give the Bears two excellent ones. Chicago's defense has been dominating this preseason. But I can't help but feel the bad karma surrounding this organization due to contract grumbling, the odd Chester Taylor Saga, Jay Cutler's negative leadership skills, and that horror show of an offensive line. The Bears are just 3-7 ATS in their last 10 season openers.
13. Houston Texans (0-0) – Overconfidence is Houston's biggest enemy this weekend. Just because Peyton Manning isn't going to play that doesn't mean that the Texans can just show up and handle their archenemy. The Texans are still struggling to learn a new defensive scheme and they can be exploited. But they have been sharp offensively and should cut holes in the Colts Cover-2. The door is wide open for a Houston team that everyone has been waiting on for three years. But I am still adopting an I-will-believe-they-are-a-good-team-when-I-see-it approach with this perpetually overrated group.
14. Detroit Lions (0-0) – This team has been playing like its hair is on fire this preseason. Their first team offense scored the most points in the NFL – 54 – but the defense also gave up one of the higher totals in the league (31). Detroit will have to be patient and effective in the red zone against Tampa Bay's Cover-2 this weekend. And this is where Matt Stafford's inexperience could cost them. However, the urgency that this team is playing with so early in the year is commendable and right now they are the most heavily bet underdog on the board this weekend (about 64 percent of the action is on the Lions).
15. Kansas City Chiefs (0-0) – Matt Cassel is going to play this Sunday, make no mistake about it. Rib injuries are about pain tolerance and I think he will gut through it. The problem for the Chiefs is that with his noodle arm they weren't able to throw the ball down field effectively when he was healthy. I don't imagine they are going to be letting it rip this weekend with him banged up. Tony Moeaki was another big loss to the passing game and I feel like this offense won't be picking up where it left off last year. The Chiefs are just 4-11-1 ATS as a favorite and they are just 3-9-1 ATS laying points in Arrowhead.
16. Indianapolis Colts (0-0) – If you go back to last year's NFL Power Rankings I stated repeatedly that the Colts had the talent of a four-win team if not for Peyton Manning. We may have to find that out because there is no way that Manning is going to play on Sunday. Kerry Collins is 0-7 in his career against a Wade Phillips-coached defense. But before you completely count the Colts out remember: three years ago Carolina literally pulled Vinny Testaverde off the couch a few days before going to Arizona and stealing a win. Stranger things have happened.
17. Tennessee Titans (0-0) – Now that Kenny Britt and Chris Johnson are in the mix I think that this Titans offense has the chance to be the best in the division. Of course, Johnson will most likely follow the path of other recent high-profile holdouts and play for about 10 minutes before pulling a hamstring or blowing out a quad. But this team is set up to score some points now that Matt Hasselbeck is leading the charge. The underdog is 6-3 both SU and ATS in the Titans-Jaguars series and I think that Tennessee could be a nice upset pick in Week 1. (And I think this is my Sleeper Team for the season.)
18. St. Louis Rams (0-0) – An interesting subplot this weekend is going to be the cat-and-mouse game that ex-Eagles safety Quintin Mikell plays with Vick this Sunday. Also, Rams Head Coach Steve Spagnuolo is very familiar with game planning against the Eagles offense from his time in New York. Mix in Philadelphia's porous offensive line and St. Louis' defense actually has a chance to slow down the Eagles attack. Also, the home team is 6-2-1 ATS in this series.
19. Dallas Cowboys (0-0) – Things have gotten ugly in Dallas and I don't see them improving any time soon. The Cowboys didn't address one of the three or four worst secondaries in football last year and, outside of DeMarcus Ware, their back seven is among the weakest in the game. Their weakness is compounded by the fact that the offensive line is in a state of complete disrepair and no one in the running back stable strikes fear into opposing defensive coordinators' hearts. I think it is going to be a long year for Dallas and if Washington really has improved the Boys could be headed for the basement.
20. Washington Redskins (0-0) – Yup, The Sex Cannon gets the start. Good luck with that. But before we completely write the Redskins off this season it's worth pointing out that this is a completely different Redskins team. Only 27 players from last year's Week 1 roster remain, and there are only 15 players still on the roster from when Mike Shanahan took this team over following 2009. The Redskins did have a good preseason – going 4-0 – but remember that Shanahan is one of the most aggressive coaches in the preseason in the NFL.
21. Denver Broncos (0-0) – The Tim Tebow saga was the biggest waste of time this preseason and proof once again that anyone counting on useful information from ESPN and the bobblehead media are wasting their time. The truth is, Denver has looked pretty sharp this preseason, with the first team offense and defense outscoring its opponents by 25 points (third best in the league). They have been sharp and I am tagging them as a sleeper team in the West this season. The rush defense was exceptional this preseason, allowing just 362 yards in the four games. But in their last three games against Oakland they have surrendered an average of 277 yards on the ground while losing by an average of over 17 points per outing.
22. Miami Dolphins (0-0) – I originally undersold this group in my initial Power Rankings (No. 31). I will admit that their defense continues to impress, and the coverage ability of Miami's linebackers should be a huge benefit this week against New England's multifaceted tight end attack. Miami's offensive line should be a major strength. They don't have any depth at any of the skill positions, though, and the Henne-to-Marshall connection really holds the key to this offense. There are some karmic and chemistry issues in this locker room. But this team will compete and shouldn't roll over. Miami is just 17-45-1 ATS in its last 63 home games and playing on Monday night eliminates the biggest asset their home field offers: the heat.
23. Minnesota Vikings (0-0) – They have eight new starters, including newbies at three of four defensive spots, left tackle and quarterback. This is a new-look group, to be sure. But they are also the biggest underdog on the board this Sunday and I'm not sure that it is warranted. Minnesota is 1-9 ATS as an underdog (1-6 ATS as a road dog) and the key for this team this weekend is going to be how the secondary holds up. They have had a lot of problems with top-end tight ends the last few seasons and they will need to keep a lid on Antonio Gates.
24. Jacksonville Jaguars (0-0) – I have absolutely no idea how this team would cut David Garrard. He clearly gave this team the best chance of winning, and I felt that once they got everyone healthy and going in the right direction they could actually have a potent attack. I also don't understand cutting him after burning all those reps that Blaine Gabbert could have desperately used. This is still a team I am having a hard time reading. I was not a believer in them last season, as they were the beneficiaries of some fluke wins and a beneficial schedule. The Jaguars defense has five new starters. But they have been atrocious this preseason and I don't see how they are going to stop anyone.
25. Cleveland Browns (0-0) – I want to like this team. I really do. I am on the record as a Colt McCoy fan and I think he's going to have a solid season. But depth is a huge issue and they are already getting nicked up. We also don't know what Pat Shurmur really has to offer this franchise. Regardless of what a wreck the Bengals are, it is difficult to lay six points this weekend with a Browns team that is just 2-6 ATS as chalk over the past three seasons. The favorite is also just 1-7 ATS in the last eight Bengals-Browns games.
26. Arizona Cardinals (0-0) – Adrian Wilson is going to suit up this week and that is crucial for an always-suspect Cardinals secondary. But Arizona is one of the teams that should benefit the most from starting the season at home. They get Carolina making a cross-country flight, with a rookie quarterback, against an Arizona team that always plays better in the desert. That said, the home team is just 1-5 ATS in the last six meetings and Arizona is another team – because of their issues defending and running the ball – that it is always tough to lay points with.
27. Buffalo Bills (0-0) – If the Buffalo rush defense can hold up against he multidimensional Kansas City running game then I think the Bills have a chance to steal one here in Week 1. Is Ryan Fitzpatrick that far off from Matt Cassel? How about the Jackson-Spiller tandem compared to the Chiefs backfield? The Bills are 5-1 ATS in their last six season openers and dating back to last year they are 5-2 ATS in their last seven road games. These clubs have played three times in the last three years (all in Arrowhead) and Buffalo has won twice and covered all three games.
28. Oakland Raiders (0-0) – The Raiders are 8-2 ATS in their last 10 games against the Broncos and the road team has won five of six meetings straight up. Oakland has also been a debacle in primetime, going just 1-7 ATS in their last eight Monday Night Football games. This secondary was a sieve this preseason, allowing a league-high 9.2 yards per reception and nearly 300 yards per game. There are still a lot more questions than answers with this team, from the coach through the quarterback all the way down the roster. Their decade-long rebuild doesn't look much better off than where it started.
29. San Francisco 49ers (0-0) – Wow, this offense is tough to look at. The offensive line hasn't gelled, the wide receiving corps is among the least talented in the NFL, and Alex Smith is still, well, Alex Smith. But the Niners have been hitting people on defense, with the first unit allowing just 27 points in the first three games. The Niners dominated Seattle last year much more than their 1-1 split and 46-52 total scoring deficit against them indicated. That said, I don't see how this team can be laying points with an offense that has been as inept as this one and a rookie coach making his debut.
30. Seattle Seahawks (0-0) – It took the Seattle first team offense seven quarters – into the fourth quarter of the third preseason game – to score a touchdown this August. The Seahawks starters were outscored 37-3 this preseason and they head into the regular season as a banged up bunch. This was one of the NFL's worst teams last year and I don't see how they have improved themselves at all. This team is going to play some ugly, ugly football this fall.
31. Carolina Panthers (0-0) – For about two seconds I had talked myself into the fact that Carolina was going to be leaps and bounds better this season. And they very well could be (4-12 would be an improvement). But the Panthers were outscored by 28 points this preseason (second-worst in the NFL) and their defense looks atrocious as they adapt to Ron Rivera's schemes. Rivera is an excellent defensive coach so his guys will get it. But with two rookies at defensive tackle and without Jon Beason for at least the opener the Panthers will have one of the weakest run defenses in football to start the year.
32. Cincinnati Bengals (0-0) – I know that Marvin Lewis is trying to tout the "character" and "fight" in this year's team. But the reality is that Cincinnati is undermanned and overmatched. Lewis has long been one of the worst coaches in the NFL and this group has no chance of competing in the North this year. Their defense still has some playmakers. And I think that the Bengals can run the ball well enough to be competitive against other mediocre teams. But this is going to be an ugly season for one of the worst franchises in professional sports.
Robert Ferringo is a professional NFL handicapper and is coming off an exceptionally profitable 2010-11 football season (college and pro). Over the last year his clients have more than tripled their bankrolls with his predictions in all sports. He is looking forward to building on his stellar football handicapping resume again this fall and you can check him out here.