2011 NFL Power Rankings - Week 13
by Robert Ferringo - 11/29/2011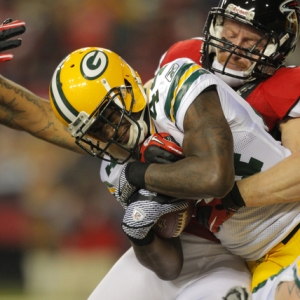 I actually liked last week's straightforward, abbreviated version of our NFL Power Rankings. At this point we have 12 weeks in the books and it should be pretty apparent who's who and what's what in the NFL.
Of course, that doesn't mean that it is any easier to beat the NFL odds over the last month of the season. It is always very difficult to predict which teams are going to start to mail it in and which ones are going to catch some late-season magic. But by continuing to consistently bet against the public – especially a betting public that is easily seduced by win-loss records instead of schedule strength – you can ensure yourself of a successful stretch run into the holiday season and playoffs.
Here is my Week 13 version of Doc's Sports NFL Power Rankings:
1. Green Bay Packers (11-0) – The Packers have said that they are going to make a run at a perfect season and I fully believe them. However, saying that they want to go 16-0 and keeping up the motivation for the next five weeks are two different things. The Packers are 8-2 ATS on the road and 7-2 ATS as a favorite. They also beat this same Giants team 45-17 in Lambeau last December, and I don't see much that has changed beyond the venue.
2. Pittsburgh Steelers (8-3) – At this point I think the Steelers would be better off trying to let Troy Polamalu rest until the postseason and then simply bring him back into the fold if he is needed before then. Polamalu has concussion issues and I hate the fact that one of the best players of all time may have his career cut short because of them. The Steelers are winning now despite a -8 turnover differential. But they need to continue to limit mistakes if they want to win the AFC North.
3. Baltimore Ravens (8-3) – Nearly 90 percent of the public is backing the Ravens this week in their trip to the Dawg Pound. They have won six straight over the Browns and covered the number in five of those games. But Baltimore's check-down offense will play right into Cleveland's hands. Baltimore has to continue to take shots down the field if they want to get back to covering fat numbers. The Ravens are 0-4 ATS in their last four games laying a touchdown or more.
4. New England Patriots (8-3) – There is no doubt that the Patriots have it rolling on offense right now and they could match the 62 points that New Orleans hung on Indianapolis this weekend if they cared to. You know that Bill Belichick won't take it easy on an opponent. However, I do expect the backups to see some time in the fourth quarter of this game due to the fact that New England has its final two road games on tap after this week.
5. San Francisco 49ers (9-2) – San Francisco can clinch a berth in the postseason by beating St. Louis this weekend and they are one of the biggest favorites on the board. San Fran is 9-0 ATS laying points and 7-0-1 ATS in their last eight home games.
6. New Orleans Saints (8-3) – Wow. That's a solid performance out of the Saints on Monday night and they are now a perfect 5-0 at home this year, with an average win coming by 23 points per game. Drew Brees should have little trouble against a Detroit secondary that may be without two starters (Louis Delmas and Chris Houston). The Saints are 5-0 ATS as a home favorite but they are just 2-7 ATS over the last two years in December.
7. Atlanta Falcons (7-4) – That is now five of six winners for the Falcons and they have outgained their last four opponents by an average of more than 150 yards per game. Atlanta's pass rush is improving, but if they want to keep their recent run going they will need to get even more creative and aggressive blitzing to increase their odds of game-changing turnovers. They are just No. 17 in the league in turnover margin this year at a net of 0.
8. Chicago Bears (7-4) – All Caleb Hanie has to do for this team to be successful is not turn the ball over. So what does he do? He turns the ball over three times. Part of the problem was play calling. Mike Martz was too aggressive on downs where pounding the ball on the ground would have been more efficient. The Bears are 6-1 ATS in their last seven home games but they are just 4-9 ATS when laying more than three points.
9. Houston Texans (8-3) – Count me among those that have very little faith in Tyler Yates. However, Houston's offensive system is pretty user-friendly and doesn't require a lot of deep throws. I think Yates can be efficient out of the pocket and Houston will continue to grind the ball on the ground. God help this team if they have to go to Jake Delhomme or Jeff Garcia (although I bet Garcia has a win or two left in his arm). Houston brought that pair in to compete for a backup job this week.
10. Detroit Lions (7-4) – I wouldn't overreact to the loss of Nd Suh for the next couple of weeks. He is an excellent player, but he's a defensive lineman. He isn't the quarterback and he isn't Calvin Johnson. More pressing are injuries to the back seven and the fact that outside of a win in Denver the Lions have either been blown out (Chicago) or needed massive comebacks (Dallas, Minnesota) in their last several road games. The Lions are 16-5 ATS after a double-digit home loss and they are still 11-4-1 ATS in their last 16 games overall.
11. Dallas Cowboys (7-4) – I will admit that this team is starting to peak at the right time. But they could be walking into a trap this weekend in Arizona. Despite taking 75 percent of the public action the line on this game has dropped a full two points from an open of 6.5. Remember: this is THE public team in NFL betting so be careful about getting roped in to a team that has proven that it will fall on its face when given the chance.
12. Cincinnati Bengals (7-4) – That was a crucial win for the Bengals last week in an obvious letdown/look ahead situation. Andy Dalton's interceptions are starting to climb up and his completion percentage will likely drop below 60 percent this week. Teams may be starting to get a read on the redheaded rookie. The Bengals are 0-3 ATS in their last three meetings with Pittsburgh and just 2-8 ATS in the last 10. But the road team has won three of four and six of 10 in this series.
13. Oakland Raiders (7-4) – Carson Palmer continues to absorb the offense and looks a lot more comfortable now than he did just two weeks ago. Oakland was lucky to win and cover last week and now they need to make that tough cross-country trip to Miami to face an underrated Dolphins team. The Raiders are just 3-7 ATS against the Fins and they are just 16-34-1 ATS in their last 51 games against a sub-.500 team. But this team is 6-0 ATS on the road and is 7-1 ATS in their last eight games catching points.
14. New York Jets (6-5) – It is not a secret that this is one of the streakiest teams in the league. Going back to 2009 New York is 14-6 straight up in its last 16 games following a win and this group usually clusters wins together once they get going. They are just 1-4 ATS as a favorite and just 1-5 ATS on the road, but I don't see how this defense is going to have any problem against Rex Grossman this week.
15. New York Giants (6-5) – Uh-oh. This is definitely starting to look like another vintage, late season New York collapse. But I full expect the Giants to come to play this weekend. They are always an excellent underdog and they will be ready to fight the Packers. But New York is just 1-6-1 ATS against teams with a winning record, and if not for last-second wins against the Patriots, Dolphins and Bills they would be riding a seven-game losing streak.
16. Tennessee Titans (6-5) – My Titans keep hanging in there! Chris Johnson ran for 190 yards on 23 carries against Tampa Bay and I think that he could put up similar numbers against a soft Buffalo defense that is 10th worst in the league against the run. Matt Hasselbeck's arm looked fine against the Bucs, but he did throw two interceptions against Tampa Bay – one of them an awful pick-six – and if they want to steal a road win this week they need to avoid turnovers.
17. Denver Broncos (6-5) – Run the ball and play good defense. It's not a novel approach. In fact, I'd venture to say that folks have been doing it for, oh, about 100 years. This team is legit, whether people want to believe it or not. But they are also in a killer letdown situation this week after stealing yet another win from San Diego. We will see how this team performs as expectations grow and they start laying points instead of catching them. But until this team loses you have to ride the hot hand.
18. Tampa Bay Buccaneers (4-7) – I still think that I may have this team rated too high. They have played a killer schedule and they have not responded at all. Their defense is now No. 31 in the league and they have been equally awful against the run (No. 30) and the pass (No. 28). Tampa Bay is just 7-20 ATS in its last 27 home games. However, the favorite in the Carolina series is 6-1 ATS in the last seven meetings.
19. Buffalo Bills (5-6) – The public still likes this Buffalo team and more than 65 percent of the early betting has come in on the side of the home favorite here. But this team has lost four straight and five of six and ever since they stopped enjoying a massive advantage with turnovers they have been exposed. There is no snow in the forecast but the temperature will be around freezing in Orchard Park on Sunday with some light rain. Monitor this closely as we get near kickoff because ice would have a big impact on this matchup.
20. San Diego Chargers (4-7) – Yes, Norv Turner is a joke. That is nothing new and that is a fact that I have stated many times over the past six years in this space. But the fact of the matter is that this San Diego roster has been gutted over the past two years and this team doesn't have the strength in the trenches or on defense that it once enjoyed. This team is 2-8-1 ATS as a road favorite, but I am sure the stubborn public will be all over them on Monday.
21. Miami Dolphins (3-8) – Another week, another brutal fourth quarter loss by the Dolphins. By my count this team should be 7-4 and right in the mix in the AFC and I will continue to bet them as such. I definitely think that they deserve to be favored this week and I think they will embrace the role of spoiler down the stretch. This team is only allowing 62.3 yards rushing in its last three games and the defense has now led them to 10 straight games 'under' the total.
22. Arizona Cardinals (4-7) – The Cardinals always max out when the Cowboys are in town, and they have actually beaten Dallas in five of the last six times they have hosted them. That includes an overtime win in 2008 in a game they were outgained by 100 yards and a one-point win last year in a game they were outgained by 110 yards. Arizona has won three of four and their only losses since their bye week were to Pittsburgh, Baltimore and San Francisco. This team is not as bad as its record suggests.
23. Philadelphia Eagles (4-7) – This locker room is a mess, the roster is a mess, and the franchise is in disarray. However, I definitely do not think that the Eagles should get rid of Andy Reid. That would be a huge mistake. I still can't believe this team is favored over anyone, albeit a weak Seattle team. But the Eagles are 4-0 ATS in their last Thursday games and they are 7-2 ATS after a double-digit home loss. But this team is 4-10 ATS in its last 14 and 0-5 ATS against teams below .500.
24. Seattle Seahawks (4-7) – On tape and on paper, Seattle's offensive line is much better this year than last. However, they have given up a league-leading 82 quarterback hits and just a 3.8 yard-per-carry average this year. Last season they were among the best in the league in QB hits (64) but still had just a 3.7 ypc average. The Seahawks are on a 6-2-1 ATS run and are 5-2 ATS at home.
25. Kansas City Chiefs (4-7) – This team will head to Soldier Field to take on one of the best defenses in football while sporting one of the worst offenses in the NFL. Kansas City has averaged just 6.3 points per game in their last four outings and has just one touchdown in their last 45 drives. The defense has given up 17 or fewer points in four of eight games and this team has played 'under' in six straight games and seven of nine.
26. Minnesota Vikings (2-9) – Christian Ponder obviously has a long way to go. And even though I don't think Jared Allen will let anyone in this locker room quit, the fact of the matter is that this roster has been decimated by injury. There is no line on this week's game until we hear about Adrian Peterson's status. But with nothing to play for I would be stunned if the Vikings put their best offensive weapon on the field to risk more serious, permanent damage.
27. Carolina Panthers (3-8) – I think that this is an excellent matchup for the Carolina offense this week. They saw Indianapolis' version of the Cover-2 last week and carved it up. Carolina has a lot of guys that are excellent in space and the panthers have now scored an average of 27 points per game in their last four road games. Of course, they are giving up an average of 33.3 points per game in those outings, so I think another shootout could be in order this week.
28. Washington Redskins (4-7) – I have to give the Redskins credit for their nice comeback at Seattle last week and I wouldn't say that this team has quit on this season even though it has nothing to play for. They gave Dallas everything they could handle the week prior and they were only outgained by a combined 80 yards in losses at Miami and San Francisco in early November.
29. Jacksonville Jaguars (3-8) – There had to be some issues in the locker room for this team to dump Jack Del Rio. The franchise has just been sold and dumping Del Rio looks like the first move in a major house cleaning. I wonder how the players will respond. But they definitely came to play against Baltimore on Monday Night Football last month and I think they will start the San Diego game with the same level of passion since this club has nothing else to play for after this week.
30. Cleveland Browns (4-7) – Scott Fujita is done for the year and that could actually lead to the Browns shifting D'Qwell Jackson out of the middle and to the weakside. Regardless, it is a big loss on the field and in the locker room. Joe Haden got abused by fellow rookie A.J. Green but I still think he's going to be a stud in this league. This team is running on fumes right now and I think they will be a solid "go against" the rest of the year. They are now 4-15-1 ATS in their last 20 games overall.
31. St. Louis Rams (2-9) – Steve Spagnuolo is now 10-33 nearly three years into his coaching tenure. He is coaching scared and this looks to me like a team that could potentially mail it in over the league's final month. St. Louis is just 4-9 ATS in its last 13 games against the Niners and I don't know if they are mentally tough enough to take 60 minutes of pounding in San Fran.
32. Indianapolis Colts (0-11) – Last year the Colts were four-point underdogs to the Patriots. Now they are 21-point underdogs, the largest point spread the Colts have faced in 27 years. In fact, this is the largest underdog in the NFL since 1976, when Tampa Bay was 24-point dogs against Pittsburgh. The Bucs lost that one 42-0.
Robert Ferringo is a professional NFL handicapper and is looking forward to building on his stellar football handicapping resume again this weekend and you can check him out here.