2011 NFL Power Rankings - Week 14
by Robert Ferringo - 12/6/2011


Here is a look at this weeks NFL Power Rankings Get FREE Expert NFL picks by clicking each of the handicapper pages under the "Advisory Board" section of the left side bar.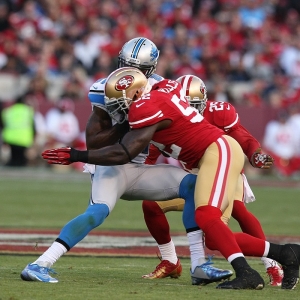 Over the final few weeks of the NFL you are going to hear people talk about "must-win games". Just remember: must-win games are games for teams that weren't good enough to take care of their business when they should have and are now looking to pull some 11th hour rabbit out of their hat and find their way into the NFL playoffs.
The NFL odds are always adjusted to any fundamental, statistical, situational or motivational factors that play into a given game. As such, they are going to jack up any spread in a game where a team has deemed in a "must-win" situation. As a professional handicapper, my radar is always trained to find these games and instantly look to the other side, as the value will clearly be in playing with the books on these games.
Conversely, it is always very difficult to predict which teams are going to start to mail it in. But if the last two weeks are any indication there are some squads (we're looking at you, Philadelphia, Tampa Bay and Jacksonville) that may already be looking forward to those early January beach vacations.
Motivation is one of the key factors to evaluate while betting on the NFL this time of year. But don't get sucked into what is "supposed" to happen and just keep looking for value situations on teams whose performance is living up to their expectations.
With that in mind, here is my Week 14 version of Doc's Sports NFL Power Rankings:
1. Green Bay Packers (11-0) – The Packers were surprisingly sloppy on Sunday in their win over the Giants, with dropped passes (especially from Jermichael Finley) really killing any chance they had at blowing New York out. I expect a much sharper effort this weekend at Lambeau. Green Bay is just 8-17-2 ATS in their last 27 games as a double-digit favorite. But they are 7-0 ATS in their last seven after an ATS loss and they are 19-7 ATS in their last 26 games overall.
2. Pittsburgh Steelers (9-3) – I felt like the Steelers blowout win came really in spite of some goofy in-game decisions by the coaching staff. But at this point Pittsburgh is playing as well as anyone. And they are a last-second touchdown against Baltimore and a touchdown against Houston away from an 11-game winning streak. In two meetings last year the Steelers outscored the Browns 69-19 and this Cleveland team is much, much worse.
3. Baltimore Ravens (9-3) – Baltimore finally got a road win via blowout against a team that they were supposed to dominate. That had been a big problem for this group so it was nice to see. However, Joe Flacco had another erratic day and he has clearly regressed this year. If he can't get right against a disgusting Baltimore secondary then there is no hope for him this season. The Ravens have seven years' worth of revenge against the Colts after going 0-7 SU and ATS against them.
4. New England Patriots (9-3) – I know that I have this team rated No. 4 in the league. But I absolutely do not take them seriously as a Super Bowl contender. Last week they had three new starters on defense, including a wide receiver playing safety. This defense is a joke and it is more than ironic that Tom Brady, long considered the anti-Manning, has seen his career and his franchise devolve into a new version of the early 00's Colts.
5. San Francisco 49ers (10-2) – Jim Harbaugh doesn't strike me as the type of coach that is going to get his team to "rest up" before the playoffs. But it will be tough for him to avoid a letdown this week after such a dominating performance by his Niners in their division-clinching win last week. Patrick Willis will be out this week in Arizona and this is another spread that seemed to open surprisingly low.
6. New Orleans Saints (9-3) – The spread in the Saints-Titans game should be setting off all kinds of red flags. First, the line was released at a deceptively low -5.5 for the visiting Saints. It was released at 4.5 and then, despite 90 percent of the action coming in on New Orleans, the number has moved to -3.5. Caveat Emptor here. Also, that New Orleans defense is still a lot shakier than I would like to see and I still don't see them getting enough stops to beat a team like the Packers.
7. Houston Texans (9-3) – It is still odd to see Wade Philips, one of the worst head coaches of the last quarter-century, celebrating on the sideline and being the linchpin in one of the biggest turnarounds in the league this year. This Houston defense is absurdly physical and just continues to improve. But Houston was bailed out by two penalties negating Falcons touchdowns last week. They also lost Andre Johnson again for a few weeks and that is a crippler for the developing T.J. Yates. The Texans get Carolina, Indy and Tennessee in its last three games so even if they lose this week they are still in a golden spot to win their first AFC South title.
8. Atlanta Falcons (7-5) – At this point in his career Matt Ryan should not be as rattled on the road as he was in Houston. I'm a Ryan defender, but it was shocking to see him outplayed by T.J. Yates for the first half. Atlanta has been shaky and hasn't beaten any good teams besides Detroit this year. But they get three of their next four games against sub-.500 teams and they are in much better shape than their competition for a Wild Card slot.
9. Detroit Lions (7-5) – At this point it is impossible not to have serious doubts about Jim Schwartz leading this young, talented team. When a team is so completely out of control that it is a direct reflection on the coach and players don't play that recklessly when they respect and fear their leader. The Lions are 10-4 ATS in their last 14 home games and this week is an absolute must-win if this team is going to build any momentum toward a Wild Card berth. They are 5-2-1 ATS in their last eight divisional games.

10. Dallas Cowboys (7-5) – I'm sorry, was someone surprised that this team lost in Arizona last week? That game was a classic Dallas flat spot and this team is still one of the most predictable in the entire league. Dallas is just 3-13-1 ATS as a favorite (2-6-1 ATS this year) and the Cowboys are just 2-5 ATS in their last seven games against the Giants. This line has plummeted a full two points since its open and less than 25 percent of all wagers in this game are coming in on the host Cowboys.
11. New York Jets (7-5) – As I stated last week, the Jets are a cluster-win team and right now they are suddenly hot again. That is back-to-back wins and the Jets are one of the biggest favorites on the board this week. But the Jets have been outgained in three of four games. And dating back to last year they are just 5-9 ATS as a favorite. This is also the third straight year that the Jets defense has seen their defensive ranking decrease. They seem to soften up week-by-week and the Chiefs running game again this week will test them.
12. Chicago Bears (7-4) – If Chicago has any hope for salvaging its suddenly imploding season they need to cut ties with Mike Martz now, not at the end of the year. He has no idea how to call an offensive game within the bigger picture of a team's game plan and has no idea what Bears football is all about. Let's remember, Martz is a career loser who has not had an offense finish in the Top 15 in scoring or total offense since 2005 and hasn't had a Top 10 unit since 2003. Let's not pretend he is really some "genius".
13. New York Giants (6-6) – More than one NFL writer has made the connection between New York's bid to derail New England's perfect season in 2007 and their attempt to snipe Green Bay last week. The next step is that New York's top effort against the Patriots gave them the momentum to go on a killer stretch run and I truly believe their loss to Green Bay will have a similar impact. Oh, and in case you weren't sure, Hakeem Nicks is a beast. The Giants are 17-8 ATS on the road against a team above .500 but they are just 2-6-1 ATS overall against a team with a winning record.
14. Cincinnati Bengals (7-5) – This team is coming back to reality and their record is inflated because of an easy schedule and some fluke fourth-quarter luck. That said, I do think that this team will win two of its next three games (two of them come against the Rams and Cardinals) so it will come down to this week's game against Houston and a Week 17 date with Baltimore (who could be resting starters) whether the Bengals get to 10 wins. A big problem right now is health, particularly in the secondary, as guys like Andre Smith, Nate Clements, Chris Crocker, Rey Maualuga and Pat Sims will all likely be 50-50 to play this week. This team is running on fumes.
15. Oakland Raiders (7-5) – I suppose that Oakland's flat spot last week was somewhat predictable because they had a long trip east for an early start off a tough game. But my problem this week in taking the points in Green Bay is that when the Raiders lose they usually just roll over. Their last four losses have been by double digits and when the No. 26 defense in football gets breached, the dam usually breaks.
16. Tennessee Titans (7-5) – Yet again: my Titans keep hanging in there! Chris Johnson now has averaged 121.5 yards rushing in his last four games and the differences are obvious. He isn't shying away from contact anymore and he is getting upfield. This defense is still too undermanned and too soft for the Titans to hold up over this last month. Effort isn't an issue, but they aren't physical enough and they get gashed too routinely. Their defense doesn't dictate anything.
17. Denver Broncos (7-5) – You can't teach hot. Forget what they are or aren't doing on offense or on defense. The bottom line is that this team is hot right now and they are going into every game believing that they can win. They now get a banged up Chicago team without its star QB and RB to come to Mile High. Things just keep breaking their way and it is just ridiculous to bet against this team right now.
18. Miami Dolphins (4-8) – Finally everyone has woken up to what I've been saying for weeks now: this Miami team is legit. They should be 8-4 right now and they are much better than their record suggests. Also, how about the bobblehead media now jumping on what I said months ago about Matt Moore? The guy makes all the throws and can definitely be a starting NFL quarterback. I was a little surprised that they are such a solid favorite over Philadelphia this week. Miami is just 17-35 ATS as a favorite and 9-29 ATS as a home favorite. But they are on a 6-0 ATS rush and they have a lot of good vibes right now.
19. Buffalo Bills (5-6) – How do you think Bills backers feel about that Fitzpatrick contract now? As we suspected, their feeble defense and turnover luck have been exposed and there just isn't anything that this undermanned unit can do about it. If Houston and Detroit make the playoffs Buffalo will be the franchise with the longest playoff drought, 12 years, in the league. Buffalo is 31-14-1 ATS against a sub-.500 team but they are just 1-4 ATS in their last five road games.
20. San Diego Chargers (5-7) – Whoa. I know that San Diego tore apart Jacksonville on Monday night. But it was Jacksonville. This team is now a seven-point favorite again this week despite the fact that they are 1-6 ATS in their last seven games and 1-4 ATS when laying points. I know that San Diego has always been a second half team under Norv Turner and they are 13-5 ATS in the last four years in December. But the rumors are already swirling that the coach and general manager are gone. So if this team falls behind or if they lose one more game what is there to make you think they won't mail it in?
21. Arizona Cardinals (4-7) – The Arizona has won three of four and their only losses since their bye week were to Pittsburgh, Baltimore and San Francisco. This team is not as bad as its record suggests. Kevin Kolb's feet are still as happy as ever, but he is also this team's best option at quarterback and will be under center this week. There has been a reverse line movement on this spread, as over 75 percent of the betting is on the Niners but the line has dropped from Arizona +4.5 to the Cardinals +3.5. The Cards are 0-6 ATS in the last six meetings though.
22. Seattle Seahawks (5-7) – This is now back-to-back primetime home games for the Seahawks against overmatched opponents. I would expect a similar effort out of this group from what they showed against the Eagles last week. Seattle is 8-1 ATS in their last nine against the Rams and they won't have any mercy on their division rivals. Seattle pushed St. Louis around three weeks ago and outgained the Rams by over 100 yards in St. Louis. Seattle is 3-0-1 ATS in its last four appearances on Monday Night Football and depending on how Sunday goes they may still have delusions of being in the playoff hunt.
23. Tampa Bay Buccaneers (4-8) – I'm not sure what the story is with Josh Freeman as far as his availability. Reports say that he will be on the field this Sunday but there also weren't any indicators that he would miss the Carolina game. This is a young team that entered the year with hopes of a division title. It definitely looks to me like they have given up and there is no way I would bet a dime on them down the stretch.
24. Philadelphia Eagles (4-8) – Michael Vick will be starting this week but I really don't know how much of a difference that can make for a team that is just playing out the string. This is Philadelphia's third road game in four weeks and they have two much more appealing games against the Jets and Cowboys on deck so I wonder how their focus will be. Philly hasn't won a nondivisional game since Week 1. However, Andy Reid's charges are 14-5 ATS in their last 19 games as a road underdog and if you are going to bet the Eagles this week it should be on the moneyline.
25. Kansas City Chiefs (5-7) – This team is awful and I cannot believe that they beat Chicago on a Hail Mary pass. That fluke, garbage score is actually the only touchdown that the Kansas City offense has produced in 14 quarters. Things won't come any easier against the Jets this weekend. But the K.C. defense is legit. I know Chicago's offense is a disaster right now, but the Chiefs have dominated the trenches against Pittsburgh and Chicago in their last two outings. Kansas City is 7-3 ATS after their pathetic start to the season and they are 4-1 ATS on the road and against a team with a winning record. Kansas City is also 7-1 ATS as an underdog.
26. Minnesota Vikings (2-9) – That was yet another game that Minnesota really should have won. I would almost consider them an NFC version of Miami, except the Vikings haven't been able to find consistent quarterback play. Adrian Peterson should be back this week for the Vikings but I don't know how their secondary is going to slow down Detroit if they could barely stop Tim Tebow. Minnesota is 7-3-3 ATS in its last 13 meetings with the Lions and I'm sure they will still relish the spoiler role, if they have any emotion left over after last week's tough loss.
27. Carolina Panthers (4-8) – This offense can be scary good and they should be able to keep a lot of pressure on an Atlanta defense that is still shaky in pass defense. Carolina actually took it to Atlanta in the first game, but turnovers and red zone futility really cost them a win. They outgained the Falcons in Atlanta despite losing by 14. The Panthers are just 1-5 ATS in the last five meetings and just 4-11 ATS as an underdog. However, they are also 5-2 ATS at home and 15-5 ATS over the last five years in December.
28. Washington Redskins (4-8) – Fred Davis and Trent Williams are done for the season for Washington, as both have been busted or drugs and given a four-game suspension. The public is piling on against this team this week, as only about 15 percent of all wagers in this game are coming in the Redskins. It was the same thing last week and Washington, typically, failed to cover. But their defense continues to come to play. They have a Top 10 unit and the 'under' is now 13-6 in Washington's last 19 games overall.
29. Jacksonville Jaguars (3-9) – You don't need me to tell you what an ugly performance that was on Monday night by the Jaguars. (I was one of the poor souls that actually watched the game.) And I think it has given an inkling into what this team is going to be about during the last month: mailing it in.
30. Cleveland Browns (4-8) – Colt McCoy will start this weekend for Cleveland, as if it even matters at this juncture. The Browns have been battered and bruised in back-to-back division losses to Cincinnati and Baltimore. And I am really wondering why the schedule makers have clustered so many AFC North games together during these past few weeks. Cleveland is just 1-8 ATS as an underdog and they haven't scored over 20 points in their last 10 games. At this point no amount of points is too many for this group.
31. St. Louis Rams (2-10) – Remember when everyone was predicting this team would win the NFC West going away? It appears that things can, in fact, get worse for this team as they will be starting Tom Brandstater this week due to injuries to Sam Bradford (who they should shut down for the year) and A.J. Feely. That is the reason there is no line out yet on this game but I anticipate it will be somewhere around Seattle -9.5. The Rams are just 8-22 ATS in divisional games and they are now 1-10 ATS in their last 11 conference games.
32. Indianapolis Colts (0-12) – It will all come down to a Week 17 trip to Jacksonville for the Colts. Beyond that, there is no way this team is going to win a game. I wear that their coaching staff has not adjusted the game plan from Week 1 and I don't see any way that amazingly overmatched Jim Caldwell can come back next year.
Robert Ferringo is a professional NFL handicapper and is looking forward to building on his stellar football handicapping resume again this fall and you can check him out here.