2011 NFL Power Rankings - Week 15
by Robert Ferringo - 12/14/2011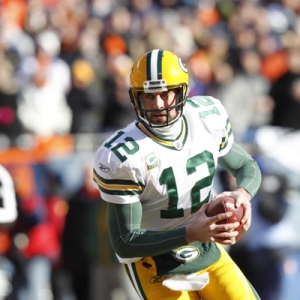 With college basketball, college football bowl games, NBA preseason prep work, NHL betting, and an assortment of other holiday season rites of passage, right now is the one of the most frantic, stressful, emotionally draining, and important time on the sports betting calendar.
But right now the NFL stretch run is front and center in every sports bettor's mind and as we plow through these final, fleeting three weeks of the regular season the first two things that you need to look at when handicapping any given game is A) what is the motivation for each of the two teams playing and B) do these teams have positive momentum or negative momentum at the moment.
Momentum is a funny thing. And it can turn on a dime. (Just ask the New York Giants and Chicago Bears.) But at this time of year being "hot" is more important than being talented. (Just ask Tim Tebow.)
With that in mind, here is my Week 15 version of Doc's Sports NFL Power Rankings:
1. Green Bay Packers (13-0) – No Greg Jennings and no Charles Woodson? No problem. As long as Aaron Rodgers is doing what he is doing this team will be able to make a run at an unbeaten season. Some bobbleheads have also made a good point about the Pack: because the Tim Tebow story is dominating the NFL right now the Packers are almost getting a pass on the usual, "Can They Go Undefeated" hype and buildup that has plagued other wannabe perfectionists. The Pack is just 2-5 ATS after a blowout win but is still 4-1 ATS as a favorite of 10 or more.
2. Pittsburgh Steelers (10-3) – I know that James Harrison is out this week and that Big Ben will likely be on the sideline. (That is, Big Ben will sit if this team has any sense of long-term self-preservation.) But regardless, there is no doubt that the Steelers have a motivational edge over San Francisco right now because Pittsburgh, in essence, is still fighting for its postseason life. Regardless of Roethlisberger's status I still expect the Steelers to be healthy underdogs in this one, and that is a role they have excelled in over the past decade.
3. Baltimore Ravens (10-3) – There is a heavy reverse line movement on Baltimore's game at San Diego this week. The Ravens opened as 2.5-point road favorites but the line has dropped to 1.5 despite Baltimore taking 62 percent of the early action. The Ravens are kind of like the Saints of the AFC: you can only trust this team so much when it is playing on the road. Baltimore has dominated the series with San Diego, though, winning (and covering) four of five meetings.
4. New England Patriots (10-3) – This defense is still a farce so this is still kind of a tongue-in-cheek ranking. Also, does anyone else see the irony in the fact that for years Patriots fans and backers praised Tom Brady and the Pats while railing Peyton Manning and Indianapolis because of their differing approaches to the game, but over the last four years Brady and the Patriots have pretty much completely morphed into the Colts circa 2004? New England is just 2-5 ATS as a favorite and they lost their last trip to Mile High, which was in 2009.
5. New Orleans Saints (10-3) – New Orleans escaped with a big win for the public last week in Tennessee, but they were still less than impressive outdoors and in the cold. This week they are back on the road against an overmatched foe, and the Saints have struggled putting teams like Minnesota away over the last two years. But I think that being in a dome and playing on their usual surface (turf) will be a big boost to this New Orleans offense against a decimated Minnesota secondary. I'll be surprised if New Orleans doesn't threaten 40 points this week.
6. San Francisco 49ers (10-3) – San Francisco actually has a nice situational edge against Pittsburgh in this game. If the Bengals and Ravens lose on Sunday then Pittsburgh could be more inclined to rest Ben Roethlisberger on Monday night. On the other hand, the Niners could choose to again rest Patrick Willis and his bum hamstring and at some point they will need to find rest for banged-up Frank Gore. San Fran is still on an 11-2-1 ATS rush and they are 17-6-3 ATS at home. The Niners, dating back to Joe Montana, are also 19-7 ATS on Monday night.
7. Houston Texans (10-3) – The Texans find themselves in a letdown situation similar to the one that San Francisco was in this past Sunday. Houston is coming off an emotionally draining win that clinched a postseason berth and it is going to be hard to gear back up for a game against a 4-9 Carolina team that brings a lot of weapons to the table. Houston is on a 6-0-1 ATS run, but you have to wonder when their emotional bubble is going to burst.
8. Atlanta Falcons (8-5) – Mike Smith will be on the sideline this week after a health scare that some suggested might have been a heart attack. I know that everyone is back in love with Julio Jones because of his breakout day against Carolina. But let's slow down. He hasn't been half as good as A.J. Green this year and all of Jones' touchdowns (and, really, his only two big games) have come against Indianapolis and Carolina, the two worst defenses in football. Atlanta is 20-8-1 ATS against teams with losing records.
9. Detroit Lions (8-5) – I think that it is another red flag about this team that they let Minnesota sneak into the back door in a game that Detroit led 21-0 and 28-7. Good teams don't do that; they slam the door. The Lions are just 2-6 ATS in their last eight games but that hasn't stopped the public from jumping on them as road favorites in Oakland this week. Detroit is taking two of every three bets in this game.

10. New York Jets (8-5) – And here come the Jets. Very quietly this team is getting it together – that is until Mark Sanchez goes haywire and posts another three-interception disaster – and the Jets are probably the next AFC team to get hot at the window, following what the Texans and Broncos have done in the last month. Be wary: I know that their line this week looks too good to be true. But that is why the oddsmakers get paid and this game looks like a trap line if ever there were one.
11. New York Giants (7-6) – Who wants to bet me that the Giants come out flat this weekend against Washington? New York has been so unpredictable that they are one of the most predictable teams in football: when they are expected to do well you want to bet against them and when they are expected to get crushed you want to get on board with them. They are 3-2 ATS in their last five as an underdog and they are 0-3-1 ATS in their last four as a favorite.
12. Dallas Cowboys (7-6) – Losers. I have nothing else to say about this team. They have talent, but they are losers. And anyone that was surprised by the way that they lost to the Giants on Sunday night obviously hasn't seen this group play in, oh, the last decade. They should beat up on Tampa Bay since the Bucs have mailed it in. Should. But consider: Dallas is 17-36-2 ATS as a road favorite and 7-18-2 ATS as a favorite overall. You still laying points with Tony Romo and one of the worst secondaries in football playing on the road?
13. Chicago Bears (7-6) – And to think that I was giddy when the Bears signed Marion Barber. Ugh. The worst part is that the guy was a beast all day. But two stupefying mistakes cost Chicago that game in Denver and probably cost them a playoff spot. But while we are on it, when is Lovie Smith going to learn that going soft in the Cover-2 is the WORST thing that a team with a double-digit lead can do. I also have no idea how Chicago is laying points this week. But the 'over' is 6-0 in their last six games against Seattle.
14. Denver Broncos (8-5) – Hey, when you're hot you're hot. There really isn't any other explanation needed beyond that. But let's not pretend Denver is doing anything that we have seen before. We have seen teams going on ridiculous runs before; from the Kardiac Kids of 1980 to the New York Giants of this year (they have six comeback wins). Teams have definitely done what this mediocre (although, again, hot) Denver team has pulled off.
15. Cincinnati Bengals (7-6) – And that is why they are the Bungles! I still have no idea why the Bengals were in a Cover-3 zone on the last play of the game instead of playing press man. None. And that loss will likely end up costing this team a postseason berth. The Bungles are just 7-21 ATS as a favorite. And even though it is tempting to lay the points with them again this week against the feeble Rams you have to know you are taking your life into your own hands by trusting a Marvin Lewis-led team. The 'over' is now 8-2 in Cincinnati's last 10 games, but four of those totals wins came due to scores in the last two minutes.
16. Oakland Raiders (7-6) – Why yes, I was out their laughing at Oakland when they made that ridiculous trade for Carson Palmer. And yes, in this very spot I wrote that the guy is, quite simply, a loser. I would say that it is Ferringo 2, Palmer 0 at this point. Don't expect to see Darren McFadden back for the rest of the regular season. The rumor is that he will need foot surgery.
17. Tennessee Titans (7-6) – Jake Locker played very well filling in for Matt Hasselbeck last week. Then again, Caleb Hanie played very well filling in for Jay Cutler last year in the NFC Championship Game and we've seen how long that lasted. There is a reason that Locker was barely a 50 percent passer in college. And it is just inexcusable (and a huge red flag) that he didn't get a pass off on the last play of the game against the Saints.
18. Miami Dolphins (4-9) – I really don't understand the philosophy of firing Tony Sparano with games left on the Miami Dolphins schedule unless the Dolphins front office is trying to tank games in order to get a better draft slot. The Fins had been one of the hottest teams in football over the last few week and were playing well. Why not ride it out and try to build some momentum for next year? Some players had been lobbying for Sparano to keep his job (which, ironically, may have gotten him fired sooner), so it will be interesting to see how this locker room takes the news.
19. San Diego Chargers (6-7) – Just when I thought I was out, they pull me back in! San Diego has posted back-to-back blowouts to show that it isn't dead just yet in the AFC West. And after Denver's collapse three years ago in a similar late-season situation you have to believe the Chargers really think they can come back and win this division. But before we get too giddy, it is worth pointing out that San Diego's last two wins came against Jacksonville and Buffalo. The home team is 6-2 ATS in this series with Baltimore and San Diego is 22-9-3 ATS as an underdog.
20. Arizona Cardinals (6-7) – I am not 100 percent sure how they are doing it, but the Cardinals are playing very well and they are no joke right now. They have won five of six games outright and covered six of seven spreads and there is nothing that suggests it is a fluke. (Well, some special teams touchdowns and last-second wins might say different, but they are still playing well.) And Arizona just needs to pull the plug on Kevin Kolb. That guy sucks and I would say that they made a mistake in getting him, but they didn't only because it tricked Larry Fitzgerald into signing an extension.
21. Seattle Seahawks (6-7) – Even though they won on Monday night I almost feel like I should dock this team some points because of how disgusting that game was. NFC West football: "Hey, We're Better Than The WAC!" That said, this team is, like Arizona, still on an upswing and they are performing well against a very tough schedule. The Seahawks actually won in Chicago, 23-20, last season. This is also a revenge game for Seattle since it was Chicago that knocked them out of the playoffs last year.
22. Philadelphia Eagles (5-8) – I suggested in my Jets section that Philadelphia being a three-point favorite this week could be a trap line. It may. But the Eagles are just 1-8 ATS in their last nine home games and just 4-8 ATS in their last 12 games. So maybe this line is just still a reflection of the public's bizarre notion that this Eagles team is really better than its record suggests. (In case you were wondering, it isn't. Even with Mike Vick back under center.)
23. Buffalo Bills (5-8) – The Bills have a motivational edge in this game since they were just demolished 35-8 three weeks ago by this same Miami team. They also have a situational advantage since Miami, which has played four of its last five games at home, is a warm weather team heading into freezing temperatures and snow showers. Buffalo is 31-15-1 ATS against sub-.500 teams but they are just 2-5 ATS in their last seven against Miami.
24. Kansas City Chiefs (5-8) – Oh Romeo, how I've missed you. If you expect things to look much prettier this week now that Todd Haley is out and complete nimrod Crennel is in (on an interim basis) you should prepare to be disappointed. Crennel has no idea what he is doing as a head coach and I predict he will give us at least a couple moments of jaw-dropping stupidity over the next three weeks. (His first: the idea that he may start Ricky Stanzi at quarterback this year. Wow.)
25. Minnesota Vikings (2-11) – If you think that Minnesota's seven-point line against New Orleans this week seems short, you wouldn't be alone. An incredible 98 percent of the early betting action on this game has come in on the Saints so far this week. I won't be surprised if this line gets up in the 9.0 or 10.0 range, regardless if it is Christian Ponder (hip pointer) or Joe Webb under center this week.
26. Carolina Panthers (4-9) – Defense, defense, defense; that better be the sole focus of this team in the draft and in free agency for next year. They need about seven new starters on that side of the ball in addition to getting some injured players back. But man, they cannot stop anyone. Carolina continues to get points each week because their defense stinks. But Cam Newton and the offense is enough of a draw where the books keep shorting this team points. As a result they are just 4-12 ATS as an underdog and 1-6 ATS as a road dog. Don't buy into this team too much.
27. Washington Redskins (4-9) – I will say that this team has stayed pretty spry through the last month of the year. They are 3-1 ATS in their last four games despite not facing any inflated lines. Washington has already beaten New York this year but they have only won two of the last 11 meetings and they are just 3-7-1 ATS in those games.
28. Jacksonville Jaguars (4-9) – This week is a terrible situation for the Jaguars. They play on Thursday night and it will be Jacksonville's third game in 11 days. Beyond that they are in a letdown spot after blowing out regional rival Tampa Bay on Sunday. They are also facing what has been one of the NFL's top rushing defenses over the last two months. The Jaguars are just 3-9-1 ATS as an underdog and 4-11-1 ATS against a winning team. So no, don't take the points.
29. Tampa Bay Buccaneers (4-9) – More than anything else about this season, I am more disappointed in myself for not just hammering the books by going against this team. Last year all I did was scream about what a fluke this team was and how much of a phony Raheem Morris was. But young talent seduced me. Damn it! I will say that the schedule did this team no favors. But they have lost their last six games by 11, 28, 9, 6, 19 and 27 points. That's a team just mailing it in.
30. Cleveland Browns (4-9) – I didn't understand the Pat Shurmur hiring when it occurred and I have seen nothing this season to make me think any differently. It is safe to say that Colt McCoy won't be under center this week and even after Cleveland's lucky cover against Pittsburgh last week (the Steelers fumbled twice inside the 15 and they had to go to Charlie Batch for extended minutes; and failed to cover by a field goal) they are still just 5-14-2 ATS in their last 21 games.
31. St. Louis Rams (2-11) – Why yes, I actually was one of the people railing against the Josh McDaniels hiring as offensive coordinator. He is solidifying himself as one of the league's biggest failures, and with every pathetic Rams performance McDaniels is taking another step toward the Mike Martz Overrated Coordinator Hall of Fame. Just go to the Sun Belt already.
32. Indianapolis Colts (0-13) – Yes, they still suck. I am not predicting any wins for this team this year. But I will say that they have a shot this week against a Titans team that could be in a letdown situation. After facing spreads of 21.5 and 16.5 the Colts are back as just a touchdown underdog this week. That's an indicator.
Robert Ferringo is a professional NFL handicapper and is looking forward to building on his stellar football handicapping resume again this fall and you can check him out here.