2011 NFL Power Rankings - Week 17
by Robert Ferringo - 12/27/2011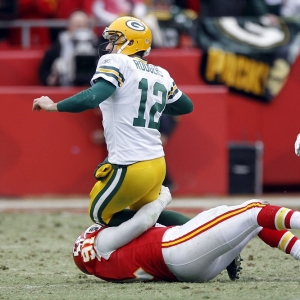 Betting on Week 17 of the regular season in the NFL is a bit like betting on Week 4 of the NFL Preseason. In both instances it is nearly impossible to gauge motivation in a majority of the games featuring teams that are only playing for pride. And in the other games, the ones that actually do have playoff implications, the NFL lines are usually jacked up well beyond what the spreads should be in order to ambush the square public action.
All I can say is, if you aren't willing to go big in the final week of the preseason because of market volatility then I wouldn't be quick to pound any single line in the final week of the regular season.
Here is my Week 17 version of Doc's Sports NFL Power Rankings:
1. Green Bay Packers (14-1) – So, about three weeks ago people were having a hard time envisioning anyone beating the Packers. Now I feel like people are writing this team off a bit. I am surprised to see Green Bay as a home dog this week and I wouldn't be stunned if they came out firing at Detroit to try to teach the Lions a lesson in case they meet again in a few weeks.
2. New Orleans Saints (12-3) – I know that everyone is slobbering on the Saints right now. But if they don't win this weekend against a Carolina team that can be explosive then New Orleans will lose a bye week and a Divisional Round home game. As good as they are, I don't see their defense holding up for three straight weeks against elite NFL quarterbacks. The Saints are a pathetic 0-6 straight up and against the spread in Week 17 over the last six seasons.
3. Pittsburgh Steelers (11-4) – I think that Big Ben is going to play this weekend and I expect the spread to be somewhere around Pittsburgh -8.5. The game is off the board and will likely be until around Friday (or when something definitive about Roethlisberger is announced). Honestly, I don't know if it matters. Cleveland's offense is a debacle and the Pittsburgh defense has given up just 7.2 points per game over the last five games and have surrendered nine points or less in four of their last five.
4. New England Patriots (12-3) – As I have said: I am not posting this team higher than No. 4 in the NFL Power Rankings because their defense is absolutely atrocious. I wouldn't expect the Patriots to lie down at all this weekend and I won't be surprised if Tom Brady plays all four quarters. The Pats are 4-1 straight up in their last five Week 17 games and none of them have been games the Patriots needed to win. That includes a 38-7 win over Miami at home last year.
5. San Francisco 49ers (12-3) – Alex Smith now has four come-from-behind wins on the road in the fourth quarter this year. That tied a franchise record set by none other than Joe Montana. This team showed a lot of resilience with that comeback at Seattle last week. That is a telling win. San Fran will have to scoreboard watch this week in St. Louis. They are playing at the same time as New Orleans.
6. Baltimore Ravens (11-4) – The Ravens almost seemed to overcompensate for not having Anquan Boldin by throwing the ball down field too much. I do like their aggressiveness in the deep passing attack early in the game. But I thought they should have been more measured in the second half. The Ravens are just 1-5 ATS in their last six games at Cincinnati and 0-4-1 ATS in the last five meetings overall.
7. Detroit Lions (10-5) – Kudos to this team for its strong run to the postseason. But I was surprised to see them posted as a favorite this week in Green Bay. I am sure the Packers won't play their starters more than a half. But what is Detroit's motivation to keep its starters in since they will have to go on the road the following week?
8. Houston Texans (10-5) – Yes, that's a huge red flag that this team lost to Indianapolis. I don't care that Houston was in a letdown spot. Dan Orlovsky outplayed T.J. Yates. I think Houston will be mailing it in this weekend and I think that they are going to have a very short stay in the postseason. But the underdog is 11-5 ATS in the last 16 meetings with the Titans and if Ben Tate goes off this Sunday the Texans could pull the "upset".
9. Atlanta Falcons (9-6) – And there it is. Atlanta has about 90 percent of what you need to win a conference championship. But that 10 percent that is lacking is in the secondary. And when your glaring, obvious weakness happens to match up with the dominating strength of your two biggest impediments (Green Bay and New Orleans), you just can't get over that.

10. New York Jets (8-7) – Once again: people want to rag on Mark Sanchez. This guy is what he is, and what he is would be mediocre. But the reason the Jets aren't going to the playoffs is that their defense isn't what it was two years ago. They are No. 7 in yards allowed and No. 5 against the pass. But those are just numbers. Watching this team, they don't impose their will physically anymore. And they are now No. 22 in the NFL in points allowed and just No. 15 against the run. They don't dominate enough to make up for Sanchez's mistakes, whereas the last two seasons they did.
11. Cincinnati Bengals (9-6) – On the one hand, I really like and respect how this team plays the game. They are physical, they pound the rock, and Andy Dalton and A.J. Green have been incredible in their rookie seasons. On the other hand, they do not have a single win this year against teams that are currently above .500. Cincinnati outgained Baltimore by 110 yards in the first matchup and they are 7-2-1 ATS in this series (3-2 SU in L5).
12. Dallas Cowboys (8-7) – Tony Romo is going to play this week and I'm sure he will be fine. I don't think there is any way Dallas could keep a secret like that under wraps all week. Before you buy into the Giants finishing off the Cowboys, though, keep in mind that that road team has won six of nine in this series and the underdog is a perfect 5-0 ATS. Also, Dallas was dominating New York in their last meeting before, well, they did what the Cowboys do and blew it in the fourth quarter. However, remember that Dallas was demolished in a similar win-or-go-home situation against Philadelphia a few years ago.
13. Chicago Bears (7-8) – You can't handicap injuries. And right now I am rooting for the Bears to lose as many games as they can by as much as they can because I think that this club will be undervalued heading into next season. That said, the rumor is that Jerry Angelo will remain Chicago's general manager. That may be the case, but unless this guy buys a clue and actually addresses the Bears' problem areas this offseason Chicago will come up short again next year.
14. New York Giants (8-7) – It is amazing how one play can change an entire season, but that is exactly what Victor Cruz's 99-yard touchdown did for the G-Men. The Giants have owned this series lately, going 6-2 SU and ATS, and they have more momentum going into this game than the Cowboys. But I don't trust this team any farther than I can throw them and they are 0-6-1 ATS as a home favorite of three points or less.
15. Miami Dolphins (5-10) – I know that this story has been covered but, man, Brandon Marshall is a mess. He leads the world in dropped passes in key situations and Miami has a definitive ceiling unless he can develop into the game-changing No. 1 receiver that people seem to want to treat him as. Miami is favored over the Jets this week, which is a huge red flag. But before you pile on the Fins this week remember that they are just 1-7 ATS at home against the Jets and just 6-19-2 ATS in the last 27 meetings.
16. Oakland Raiders (8-7) – Oakland has beaten San Diego three straight times and they are 5-0 ATS in their last five meetings. However, they haven't been the favorite in this series in over six years. Also, Oakland has a chance to make the playoffs despite being outscored on the season.
17. Denver Broncos (8-7) – Look, Denver is probably closer to being 5-10 or 4-11 right now than most people care to admit. I don't think Denver's bubble has completely burst, but there is also no denying that their absurd run of luck through November and early December has run its course. They pushed Kansas City around in the first meeting, rushing for nearly five yards per carry. But Tebow went just 2-for-8 in that game and there is no way that Denver can win this week if he puts up those numbers.
18. San Diego Chargers (7-8) – If San Diego wanted to be a spoiler this week and stick it to Oakland they are more than capable of taking out the Raiders. However, with the smart money on a franchise-wide house cleaning – from front office people to coaching staff to roster – you have to think that this team is a prime candidate to just mail it in this weekend. It's not like that would be out of the ordinary for a Norv Turner team.
19. Philadelphia Eagles (7-8) – The Eagles get a lot of credit for not mailing it in against Dallas last week. And I think that they will be motivated this week as well. First, Andy Reid is still coaching for his job and several players are playing for theirs. Further, they are playing at home and the Eagles aren't going to want to deal with the booing and heckling of their fans. The Eagles are 3-0 SU and ATS in their last three games, winning all three by double-digits, and they want to end a disappointing season on a positive note.
20. Tennessee Titans (8-7) – The fact that the Titans are favored this week in Houston is a huge red flag. Tennessee got bombed, 41-7, in the first meeting this year and they definitely have revenge. Also, this has become a very heated rivalry and there is genuine dislike among these teams. So if the Titans can pour one on the Texans – even if it is just the Houston backups – then they will.
21. Seattle Seahawks (7-8) – That had to have been a heartbreaking loss for the Seahawks last week. I'm not sure how they pick themselves up off the mat this week, especially in a series where the road team is just 3-8 ATS. Seattle is 8-2 ATS in their last 10 conference games and 9-3-1 ATS in their last 13 games overall.
22. Arizona Cardinals (7-8) – Reason No. 1,435,898 for why Twitter does a lot more harm than good: Larry Fitzgerald's dad is now ripping Cardinals receivers. Fitz Sr. called out Early Doucet, claiming that he "dropped 5 TDs this year"; even though Doucet has only dropped three of 85 passes this year.
23. Kansas City Chiefs (6-9) – I absolutely think that Kansas City has a big advantage by having Kyle Orton leading them this week. He may not be super familiar with Denver's new read-option offense. But he has intimate knowledge of every player on the Broncos and can help Kansas City exploit their weaknesses.
24. Carolina Panthers (6-9) – The road team is an amazing 18-4 ATS in the last 22 games between Carolina and New Orleans and there is no doubt that the Panthers are going to come to play this week. Carolina lost by only three at home in their meeting this year back in early October. The Panthers are 8-2 ATS in the last 10 meetings and they have won and covered in four of five games.
25. Buffalo Bills (6-9) – The Bills will treat this weekend's game in Foxboro like a Super Bowl even though the Patriots have nothing to play for. Remember: Buffalo actually won the first meeting so they could get their first sweep in this series in over a decade. The Bills are 2-0 ATS in their last two trips to New England and their last three losses there have come by an average of just 6.3 points.
26. Washington Redskins (5-10) – The Redskins have been a good bounce-back team recently, going 4-0 ATS in their last four games after a loss. They are also 4-0 ATS in their last four games in Philadelphia and the road team is 5-0 ATS in this series.
27. Minnesota Vikings (3-12) – What a horror show season for the Vikings, who are actually much better than their record suggests. But that said, I agree with those people questioning why Adrian Peterson was still the feature back in a season that had long ago been left for dead. I don't think he will ever return to be the dominating back that he has been to this point.
28. Jacksonville Jaguars (4-11) – I may be off base here, but I actually think that the Jaguars will still be at least a bit motivated to get a win this Sunday. They have played the Colts so hard over the past decade and come up just short so many times against them that they should probably be trying to take advantage of Peyton Manning's absence as much as they can.
29. Tampa Bay Buccaneers (4-11) – That is now nine straight losses and a 1-8 ATS record for the Bucs over the last two months. How the hell this team beat New Orleans and covered against Green Bay – probably the two games where the most money was bet against them all year - is completely beyond me. That's life in the NFL. I actually don't think that Raheem Morris will be fired. But he will have as much pressure as anyone heading into the offseason.
30. Cleveland Browns (4-11) – Pat Shurmur is being cagey about whether or not Colt McCoy is going to start this Sunday against the Steelers. Who cares?!?!? I like McCoy and am 100 percent convinced he could be a productive NFL starter (as soon as he gets out of Cleveland). But the Browns offense has been better with Seneca Wallace under center. Wallace's mobility is a big asset and he is used to leading teams that have nothing to play for. Cleveland is actually 5-1 ATS in its last six games, but that is more a product of Shurmur's approach than it is any type of actual improvement by this dilapidated group.
31. St. Louis Rams (2-13) – Rumors are swirling that the Philadelphia Eagles are going to snatch up Steve Spagnuolo if St. Louis cuts the cord on him. If I were Stevie I think I would be tanking it this weekend just to get fired and to get the Eagles gig! I actually think St. Louis could be a live dog this weekend in the spoiler role.
32. Indianapolis Colts (2-13) – Two in a row! The Colts have won back-to-back games and they are 4-0 ATS in their last four outings. But I think that going on the road to finish up this dreadful season is a worst-case scenario. The Colts have actually played five of their last seven games at home and after getting over the hump and getting some Ws I don't know what their motivation is.
Robert Ferringo is a professional NFL handicapper and is looking forward to building on his stellar football handicapping resume again this fall and you can check him out here.