2011 NFL Power Rankings - Week 5
by Robert Ferringo - 10/5/2011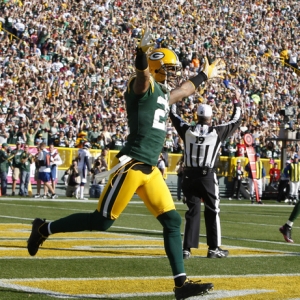 You have all been given a lesson as to why offseason hype is the enemy of beating the NFL odds and consistently winning while betting on the NFL.
Just six weeks ago the Eagles and Falcons were set for a collision course in an epic NFC Championship Game. The Jets and the Steelers were the apparent heavyweights in the AFC and up-and-coming teams like Kansas City and St. Louis were poised to build on last year's success.
Yeah, not so much.
Those six teams – all of which were receiving big buzz heading into training camps – are presently a combined 6-18 against the spread. And while, granted, big Hype Teams like Detroit (3-0-1 ATS) and Houston (3-1 ATS) have made good on their preseason expectations (so far), it is still obvious that the NFL is a hypnotic wasteland of false promise and maniacal illusion.
But learn from your early season NFL handicapping mistakes. Right now, after the first four weeks of the season, there seems to be a Hype Reset throughout the league. And each week there is a natural overreaction by the NFL betting market to whatever happened 15 minutes ago. Stay sharp. Stay disciplined. And as always, don't believe the hype.
Here is my Week 5 version of Doc's Sports Power Rankings:
1. Green Bay Packers (4-0) – I was kind of hoping that the Packers would sleepwalk through last week's game with Denver so we may get a favorable number on them against Atlanta this week. No chance. The Packers are the dreaded 5.5-point favorite this week (that's a red flag number). However, they are still on a 23-9-1 ATS rush and they are by far the league's best team, so at this point anything under a touchdown has to at least be considered. It is tough to nit-pick with this team, but they have allowed the second-most pass plays of 20 or more yards in the league (20) so far.
2. New Orleans Saints (3-1) – Once again, the Saints failed to throw a knockout punch last week against Jacksonville. New Orleans won the game, 23-10, and covered just about every meaningful spread in the game. But they still let a far inferior team hang around and they could do the same thing this week against a Carolina team that they manhandled on the road last year. That is three straight ATS wins for the Saints, and the road team in the Carolina series is 20-8 ATS.
3. Baltimore Ravens (3-1) – I suppose I am eating some crow about this team, which is much better, much quicker than I thought. They are playing with a ton of confidence and they are physically dominating opponents right now. Over the last three years the Ravens are averaging – AVERAGING – a defensive touchdown per game. With Pittsburgh reeling a bit and with four games left against the Browns and Bengals, this Ravens team should come out of its bye ready to wreck shop in the AFC North.
4. New England Patriots (3-1) – I was surprised to see the Patriots laying so many points this week against the Jets. But the Patriots are 4-1 against the Jets at home in regular season games with the wins coming by an average of 22.5 points per game. Also, the Patriots are already 3-1 ATS this season with their three wins coming by an average of 13 points per. That said, this is the worst Patriots defense in more than a decade, and they will be leaving the back door open in most of their games this season.
5. Detroit Lions (4-0) – Ford Field is going to be going absolutely bonkers this Monday night. I mean, it is going to be CRAZY. I remember their Week 3 preseason game against New England and that was one of the wildest crowds/scenes that I have ever seen at a preseason game. And that was preseason! This week that place is going to be electric. One of Detroit's issues right now (after all, they do still keep falling behind by 20 points against middling teams) is that they aren't blitzing because they want to protect their secondary. But if they aren't getting pressure with their front four their defense is very beatable both on the ground and in the air.
6. Pittsburgh Steelers (2-2) – It was not stunning to see Pittsburgh lose at Houston last week. But what was stunning to me was that they were pushed around the way that they were and physically dominated by a Texans team that isn't exactly a bunch of brawlers. Big Ben is injured. But the overarching theme is that, like Chicago, their offensive line is simply an anchor around their neck. This team can't run the ball or pass protect consistently so they are going to have the same problems – injuries, turnovers, inconsistent scoring – for another 14 games. Pittsburgh beat Tennessee, 19-11, last year with Charlie Batch at the helm, despite being outgained by more than 100 yards.
7. San Diego Chargers (3-1) – Norv and the boys finally covered a spread last week, but their effort against Miami was far from convincing. Despite outgaining opponents by 472 yards this season the Chargers are just +6 in scoring differential. They will also be one of the squarest plays on the board this week in Denver. San Diego is 7-1-2 ATS in the last 10 meetings and the favorite is 6-1-2 ATS when these two get together. Let's be a little wary about the Chargers though: their three unimpressive wins have come against teams that are a combined 1-11.
8. Houston Texans (3-1) – We touched on Houston's red zone problems last week and they almost came back to bite them on Sunday. This team has converted just 33.3 percent of its red zone opportunities this year, which puts them in the same breath with teams like Indianapolis, St. Louis and Jacksonville. Their three-year average of turning just 25 percent of their red zone trips into scores is the second-worst in the NFL. Also, I will put the O/U on weeks that Andre Johnson misses at 3.5…and then take the 'over'.
9. Chicago Bears (2-2) – This is a terrible matchup for Chicago because Detroit's front four should simply maul Chicago's pathetic offensive line. And the Bears have the misfortune of playing a team that is going to be sky-high for its first MNF game since 2001. But Chicago has absolutely owned the Lions – especially in Detroit – over the last decade. The underdog is 10-4 ATS in this series and the road team is 5-2 ATS. Chicago's defense is ranked just No. 31 in the league right now, and if they don't get their safety situation stabilized then I think the levy could break on this team.
10. New York Giants (3-1) – Slowly but surely this team is getting healthy on defense and that is having a trickle-down effect on the entire squad. It also doesn't hurt that they have been the league's most efficient red zone team, converting 80 percent of their trips into touchdowns. (Oh, and playing St. Louis and Arizona certainly helps as well.) The Giants are in a perfect letdown spot this week after two emotional road victories. They are also just 4-9 ATS as home favorites and going back to 2005 just 7-11 ATS as a favorite of 8.0 or more. The Giants are just 2-5 ATS in their last seven when laying 8.0 or more.
11. Tampa Bay Buccaneers (3-1) – I don't blame the Bucs for not looking very motivated or interested in their MNF win over the Colts. Indianapolis is toothless and the Bucs were in a letdown spot after beating up on Atlanta last week. I still liked the way that this team took care of its business, and they are getting more mature each week. But now they need to show some real maturity. In between their prime time win and next week's massive NFC South showdown with the Saints they have to travel across country to take on a streaking Niners team. Tampa is 15-5-1 ATS in its last 21 road games, but we'll see how focused they are this week.
12. Tennessee Titans (3-1) – I have been driving the Tennessee Titans bandwagon all year, so I am the least-surprised handicapper in the country that this team is playing well. Chris Johnson still looks awful, but he gets a huge boost this week when stud fullback Ahmad Hall gets back in the mix. Tennessee's secondary – which has faced a pretty weak array of quarterbacks – is still playing excellent. And every week I am more impressed by how this team is able to max-out its defensive effort. We will see if it can continue in the most hostile environment this team has played in yet.
13. Washington Redskins (3-1) – Rex Grossman has more turnovers (seven) than touchdowns (six). But once again, just like in Chicago, he is starting to get too much credit for being the quarterback of a team with an outstanding defense and strong running game. Washington leads the NFL in third down defense, allowing just a 26 percent conversion rate, and they have managed 15 sacks while allowing just a 54.6 percent completion rate against their secondary.
14. New York Jets (2-2) – Uh-oh. This is another team that should be 1-3 right now and is hanging by a thread. It is not the fact that the Jets have gotten beaten the last two weeks, it's how they have gotten beaten, getting pushed around and outmuscled by bigger, more physical teams. This team is also racking up injuries and their depth is being tested early. The road team is 18-7-1 ATS in the last 26 meetings between the Jets and Patriots. And even though the Jets have been blown out in Foxboro in their last several regular season trips there, this team has still won two of four straight up, including last January's playoff win here.
15. Philadelphia Eagles (1-3) – Wait, I'm sorry, who was it that was laughing about the Eagles wrapping their future in with Mike Vick, a proven loser? I'm telling you – when you even out the good and the bad that this guy brings to a team he is a third-tier NFL quarterback. But the issue now is that this team had paper-thin depth and is feeble at the power positions. Making matters worse, Jason Peters is out so the team will have to reshuffle the offensive line again. And Trent Cole, the defense's lone standout, will miss time now and further weaken the defensive line. The Dream Team is now 1-6 ATS in its last seven games and Vick has lost five of six outright as a starter. Philly is 0-7 ATS as a favorite.
16. Atlanta Falcons (2-2) – This team is slipping fast, and I haven't liked much of anything I have seen. They shouldn't have beaten Philadelphia (who stinks as well) and their second-half performance against Seattle was grotesque. I don't know how the Falcons expect to get "revenge" against Green Bay this week when they are allowing opponents to complete 68.3 percent of their passes against them. To make matters worse, Roddy White suddenly has a case of the 'dropsies,' and I feel like this group is backpedaling. The Falcons are just 4-16-1 ATS as a home underdog of between 3.5 and 10.0 points.
17. Oakland Raiders (2-2) – The problem is that this defense, for all of the talent and veteran presence they have, is just No. 30 in points allowed. They can't be a physical, run-the-ball-and-play-good-defense team unless they actually start playing more D. Oakland has been a shockingly good bounce-back team at the window recently, going 12-2 ATS after a loss against the spread. They are also 4-1 ATS as a road underdog and have an opportunity to catch Houston reeling from losing Johnson.
18. San Francisco 49ers (3-1) – It's extremely simple: those Harbaughs can coach. San Fran has covered all four of its closing lines so far this year despite the fact that they have been outgained in every one of their games. The Niners are going through what I call the 'Year-After Effect'. Last year was supposed to be their time as the West favorites. They fell on their face. But for all the reasons that they were last year's favorites, they are winning games now. We will see if it can continue and we will see how they make the transition to the favorite role this week.
19. Dallas Cowboys (2-2) – Is there anyone else out there wondering whether or not Rob Ryan would even have a job if he A) wasn't named 'Ryan,' B) didn't have crazy long hair, and C) wasn't constantly praised for acting like a big-mouthed psychopath on the sideline? The guy is a dud. He has been a defensive coordinator for the Raiders, Browns and now Cowboys since 2004 and here are the year-by-year rankings for his defenses, in yards allowed: (Oakland) 30, 27, 3, 22, 27, (Cleveland) 31, and 22. Dallas is presently No. 4 in the league in total defense. But does anyone really expect that to continue?
20. Buffalo Bills (3-1) – Believe me, in another month-and-a-half people are going to be looking back at Buffalo's 3-0 start and wondering, "Was that real?" This is still a franchise of losers, and they will break their fans' hearts once again. Remember: were it not for huge blown leads by Oakland and New England the Bills could very easily be 1-3 right now and talking about Andrew Luck. Buffalo is back in its preferred underdog role this week (7-3-1 ATS as a dog). But they are just 7-15-1 ATS at home and just 3-10-1 ATS as a home dog recently.
21. Minnesota Vikings (0-4) – I simply cannot believe this team wouldn't go track down David Garrard, force-feed him about 25 percent of their offense, and then play out the string. Donovan McNabb has been an epic disaster and it is time for him to run, not walk, away from the game. I feel bad for this Vikings defense that has been going all out. But we're going to find out about what type of control and respect Leslie Frazier is going to get in this locker room because this team could be on the verge of packing it in. Minnesota is 8-3-1 ATS as a home favorite but they are just 2-8-1 ATS in conference games.
22. Miami Dolphins (0-4) – Chad Henne's separated shoulder could be an opening door for this team. At this point, they needed to make a change under center (because they don't appear to be making a coaching change any time soon) just to try to change up their karma. Let's give Matt Moore a shot, and having two weeks to make the move is actually beneficial to this situation. Now it is simply on Brandon Marshall to stop dropping passes and maybe this offense can start to produce.
23. Carolina Panthers (1-3) – The Panthers are 5-1 ATS in their last six games against the Saints, and I have a feeling that this week is going to be like Carolina's Super Bowl. Remember: the Panthers put a scare into Green Bay at home and last week they were about two yards on an Olindo Mare field goal away from being ahead at Chicago in the fourth quarter. This offense is gaining more and more confidence every week and this team, much like Cincinnati, has stunningly outgained every one of its opponents this year. The defense is a whole other story, though, as I don't see this group getting any better until they get a talent influx.
24. Cleveland Browns (2-2) – This team does an awful lot of hooting, hollering, and jumping around for a group that is still terrible. Memo to the Browns: you don't have to jump around and wave your arms after a third-down stop or downing a punt. See, good teams do that stuff all the time, so they don't have to celebrate it.
25. Arizona Cardinals (1-3) – Kevin Kolb has blown three consecutive game-ending drives over the course of the last three weeks. Kolb has had the ball and his team down four points or less in each of the last three games. I'm not outright blaming him – this team is thin on depth and overall talent – but I'm just saying that he needs to learn how to close games out if this team is going to compete. The Cardinals are just 6-13 ATS in their last 19 games overall and they are just 2-7 ATS as a road underdog.
26. Denver Broncos (1-3) – This secondary is on pace to become one of the worst of all time. They have allowed opposing passers a 110.7 rating while completing 69.6 percent of their passes. Champ Bailey hasn't played in any of the last three games, and to say that the team has missed him is an understatement. Denver is 8-21-2 ATS in divisional games and despite their mile high altitude edge they are just 11-27-2 ATS in their last 40 home games.
27. Cincinnati Bengals (2-2) – This team has outgained all four of its opponents so far and is a solid 3-1 ATS despite having Marvin Lewis at the helm. The primary reason for the Bengals "resurgence" (i.e. – that they don't suck) is that their defense has reverted to its 2009 form. Their front seven is among the most underrated in the league and they are presently the No. 1 total defense in all of football. Cincy has covered six of seven overall and five straight as an underdog. Also, A.J. Green is going to be a superstar in this league a lot sooner than later.
28. Kansas City Chiefs (1-3) – I'm not willing to completely write this team off because I feel like they have been a little better on the field than the numbers suggest. However, this week's game at Indianapolis really is one of their biggest of the year because with the tension in this locker room a 1-4 start might just spark the powder keg. On the other hand, if they can beat up the beaten down Colts this week then Kansas City could find itself back in the West race. The Chiefs are just 2-8 ATS in their last 10 conference games and just 2-8 ATS in their last 10 against the Colts.
29. St. Louis Rams (0-4) – Mercifully, the Rams have a bye this week to try to regroup. But on the other side they have to face the Packers, Cowboys and Saints. But after failing to cover a single line yet this year I think that the Rams may have some value in those three games. I think they will beat Dallas and they should be catching double-digits against both Green Bay and New Orleans. A 2-1 ATS (albeit 1-2 SU) run wouldn't surprise me.
30. Jacksonville Jaguars (1-3) – This team is rapidly starting to remind me of the 2011 Carolina Panthers, who were simply disgusting by last November. Jacksonville has scored just 39 points so far this year and their 27.1 yards per point rank is nearly twice the league average. I suppose the good news is that they are $35.4 million under the cap, which is by far the most in the NFL.
31. Seattle Seahawks (1-3) – It is kind of a "chicken or the egg" situation going on between the Seattle offense and defense right now. They are dead last in time of possession, with the offense spending just 24:30 on the field and the defense 35:30. Can the defense just not get off the field or is the offense just that terrible that they can't hold the ball? The Seahawks are just 6-22 ATS as a road underdog and just 7-20-1 ATS against a team with a winning record.
32. Indianapolis Colts (0-4) – It is nearly time for the white flag to be raised. This team is a horror show and they simply continue to lose starters to injury. Things are going to get much, much worse here before they get better.
Robert Ferringo is a professional NFL handicapper and is coming off an exceptionally profitable 2010-11 football season (college and pro). He banged home back-to-back winning football weeks and has banked $3,000 in profit over the last week-and-a-half. He is looking forward to building on his stellar football handicapping resume again this fall and you can check him out here.