2011 NFL Power Rankings - Week 9
by Robert Ferringo - 11/1/2011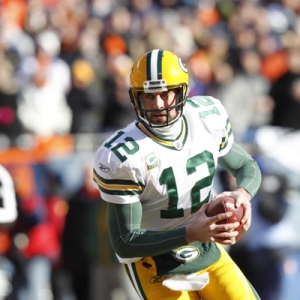 The season is halfway in the bag and things are starting to get intense. However, one of the best suggestions that I can give to anyone looking to make money betting on the NFL in the second half is that you need to ignore a team's record when breaking down games in November and December.
The general betting public gets way too wrapped up with a team's record when trying to figure out who a better team is going into a game. But the quality of a team's schedule, performance against expectations, and statistical dominance are all key factors when breaking down numbers this time of the year. And overall win-loss marks can be deceiving on the surface.
Further, every team in the league still has something to play for. Whether it is a Titans or Falcons team clinging to a division race, a San Francisco team aiming for a first-round bye, or Miami and Indianapolis looking for its first win, every team in the league still has some motivation, so be sure not to write anyone off at this stage of the game.
With that in mind, here is my Week 9 version of Doc's Sports NFL Power Rankings:
1. Green Bay Packers (7-0) – The Pack is back from its bye week and they head to San Diego this week. This is a tricky matchup because the Chargers are one of the rare teams with the offensive ability to match Green Bay. The Packers are on a 25-10-1 ATS run and they are a solid 6-2 ATS in their last eight road games. But beware: with 84 percent of the public action on the Packers they are one of the squarest plays on the board.
2. Pittsburgh Steelers (6-2) – There is no way that we should have written this team off as "too old". However, even though Baltimore is starting to drag a little bit I wouldn't automatically assume that the Steelers are going to avenge their disgusting 35-7 loss in Week 1 with a blowout this week. Prior to that game these teams had played nine straight games decided by a touchdown or less and six of eight meetings had been determined by four points or less. Pittsburgh still has serious offensive line issues. And just because New England's pathetic defense couldn't exploit them that doesn't mean Baltimore won't. Again.
3. New England Patriots (5-2) – I'm not going to crush the Patriots for losing to a very motivated Pittsburgh team on the road last week. In fact, that loss may have actually added some value to this group heading into this weekend. New England is an incredible 25-9-1 ATS in their last 35 games after a loss and they are 6-1 ATS after failing to cover a spread. The Patriots don't matchup all that well with the G-Men, but it is not like New England hasn't blown out some good teams in Foxboro over the last few years.
4. Baltimore Ravens (5-2) – You have to remember that, with the exception of some long-term veterans, this is a pretty young Ravens team. They cut ties with most of their vets in the offseason and right now that may be catching up with them a bit in the locker room. I do think that Baltimore is going to carry over some momentum from their outstanding comeback against Arizona last week. Baltimore is just 2-5-1 ATS in the last eight games against the Steelers, but the Ravens are 9-3 ATS after failing to cover a spread and are 4-1 ATS when facing a team with a better record.
5. Detroit Lions (6-2) – The Lions have won six straight road games outright. That is impressive, but barely noteworthy…until you consider that they were just 5-46 straight up on the road prior to that run. This is a good time for a bye week for the Lions. They get a chance to heal up a bit and they now have two weeks to prepare for a tough rematch with Chicago next week after the Bears are done with a "Monday Night Football" encounter.
6. San Francisco 49ers (6-1) – How will the Niners handle success? They are coming off another convincing win but now have to make another East Coast flight to play a wounded Washington team. That game comes with San Fran as a road favorite, and they don't want to get caught looking ahead to a more appealing home game with the Giants next week. I expect the Niners to be able to run the ball at-will this week against Washington. Look for San Fran to use a lot of traps and counters, similar to what Buffalo used so effectively against the 'Skins front last week.
7. New York Giants (5-2) – I think that the Giants are getting an awful lot of love for their 5-2 record this week despite the fact that they have exactly one win (27-24 at home over Buffalo) against a team with a winning record. The Giants are always the most predictable team in the NFL: they flop as a big favorite (see: vs. Seattle, vs. Miami) but they always come to play as an underdog (see: at Philadelphia). New York is 16-6 ATS on the road against a team that is above .500 and they are 13-6 ATS as a road underdog. Further, New York is a sparkling 29-13 ATS in its last 42 road games. We are going to find out a lot about this team this weekend but I, for one, don't think that they are up to the task.
8. New Orleans Saints (5-3) – Wow. I don't even know what to say about New Orleans over the last two weeks. Instead we are going to have to just throw out both results and come to the conclusion that the Saints are still suspect in too many areas – the most glaring being their overall lack of physicality – to be counted on. The Saints don't have a killer instinct against bad teams and they are a below average road team. New Orleans is 7-2 ATS at home off a loss, and if they cannot afford to be swept by a division foe with two games against Atlanta still left on the docket.
9. Atlanta Falcons (4-3) – The Falcons seemingly saved their season with a gutty win at Detroit two weeks ago. They can't fall on their face here on the road against winless Indianapolis and I don't expect them to. The Falcons offense is tailor-made to attack Indy's soft Cover-2. As long as Atlanta can pound the ball in the red zone and that Matt Ryan is accurate near the goal line I can see Atlanta putting up a big number this week. The Falcons are 5-2 ATS as a road favorite and they are 7-1 ATS against a team with a losing record.
10. Houston Texans (5-3) – No one ever questioned whether or not Wade Phillips could coach defense. He has fashioned this Texans group into the No. 4 defense in the league without Mario Williams. One of the biggest stats for this team is a 2-to-1 interception ratio for the defense. They have 10 picks while the offense has thrown just five. Their plus-six turnover differential is No. 2 in the AFC and No. 5 in the NFL. That comes just one year after finishing 15th in the league in turnover margin. Houston is 4-1-1 ATS as a favorite, but beware: they are just 1-6-1 ATS after a win and are not used to performing in the role of heavy favorite.
11. Chicago Bears (4-3) – The Bears have owned Michael Vick in his career and Chicago has had a lot of success against Andy Reid at the window over the last decade (4-2 ATS). Chicago's Cover-2 is going to make Vick beat them with intermediate throws and routes in the middle of the field. Vick did throw for 333 yards against Chicago last year, but the overwhelming majority of those came after the game was in hand (Chicago was up 31-13 at the start of the fourth quarter). Don't sleep on the Bears, who have had two weeks to prep, to pull the upset here.
12. New York Jets (4-3) – The Jets have dumped all three of their road games this year and they looked pretty awful doing so last month. They have had two weeks to prepare for this game and that should give them a big edge against Buffalo's quirky misdirection offense. This may also be the biggest test that the New York offensive line has faced since getting manhandled by Baltimore five weeks ago. How they hold up against Buffalo's surging front will be critical. The Jets are 8-1 ATS as an underdog of a field goal or less and, somewhat surprisingly, they are taking less than half of the total action on this game. Something seems very off about that spread.
13. Philadelphia Eagles (3-4) – I am going to avoid the total overreaction to Philadelphia's performance last week that seems to have pervaded the media. The Eagles are always excellent after a bye week and all they did was beat up on a Dallas team that is apparently just as shaky as they are. But Philadelphia hasn't fixed its defensive problems or its offensive line issues. Mike Vick isn't a better decision-maker today than he was three weeks ago and the Eagles are still a sub-.500 team laying nearly double-digits in a primetime spot. The favorite is just 2-7 ATS in the Chicago series and the Eagles are just 4-9 ATS against a team with a winning record.
14. Buffalo Bills (5-2) – That was an unreal effort from a Buffalo team that is unwittingly in first place in the AFC East right now. But teams off a shutout win are never a strong play the following week and Buffalo is facing a Jets team that they have lost to three straight times by an average of 19 points per game. The underdog is 8-3 ATS in the last 11 meetings and the Bills are favored in this rivalry for just the second time since 2005 (10 games). Buffalo is 6-2-1 ATS at home, but this game is once again going to come down to whether or not the Bills can turn Mark Sanchez and the Jets offense over.
15. Tampa Bay Buccaneers (4-3) – The underdog is 13-6 ATS in the Tampa-New Orleans series and the Bucs have covered three of four against the Saints. That includes two straight outright wins as an underdog in trips to the Superdome. However, both of those wins did come in late-season games where the Saints were resting players. Teams off a bye that are playing within the division, on the road, are just 11-25-4 ATS going back over the last decade. Tampa is running into a team off a loss and with revenge and this could be a bad spot for the Bucs.
16. San Diego Chargers (4-3) – Normally I would expect a MNF letdown from a team the following week. But not San Diego. This team is reeling a bit but I think a short week actually helps them out because they get right back to it. The Chargers are 22-7-3 ATS in their last 32 games as an underdog and a perfect 5-0 ATS as a home dog. It wouldn't stun me if Norv found a way to cover this week's number but fail to win the game.
17. Tennessee Titans (4-3) – My bandwagon has some shaky wheels and some uncomfortable seats, but the Titans are still alive and kicking in the AFC. This team needs to just get over Chris Johnson's contract and ride Javon Ringer. They should use CJ as a change-of-pace guy and should be splitting him out in more receiver-based packages to get him in space. But they need to run the ball and right now Ringer is by far the more effective back. The Titans have been outgained by nearly 670 yards in their last four games, but they are 2-2 in those contests.
18. Oakland Raiders (4-3) – This week's game against Denver is one of Oakland's biggest of the year. Not only do they have a chance to pick up yet another AFC West victory and sweep a rival, but this is the game that is going to tell us whether Carson Palmer has anything left in the tank or not. Oakland is 0-8 ATS after a bye with an average loss by two touchdowns. However, they have physically dominated Denver over the last two years and are 9-2 ATS in this series. Darren McFadden will be ready to go for this team. But Oakland is just 16-35-2 ATS against a team below .500 and they are a horrendous 8-22 ATS as a favorite. Caveat emptor here.
19. Kansas City Chiefs (4-3) – Jonathan Baldwin made an instant impact in the Chiefs offense and Kansas City is suddenly looking both potent and competent in the passing game. They should be able to exploit the league's No. 27 pass defense this week and Miami has allowed a stunning 14 touchdowns to just two interceptions on the season. They need to be wary of a letdown after their big win on Monday night. Home teams off a MNF game are just 5-14 ATS going back to 2008
20. Dallas Cowboys (3-4) – Dallas' statistical edges this year belie the fact that they are, in fact, still losers. They do get three of their next four games at home with only a road trip to Washington mixed in, so if this team is going to make a run in the NFC East it has to be this month. Dallas is in a letdown situation here and double-digit favorites in the NFL this year are just 5-10 ATS. But Dallas dominated St. Louis in a similar spot two weeks ago and they are perfect 5-0 ATS in their last five games against Seattle.
21. Cincinnati Bengals (5-2) – Last week's 34-12 win over Seattle kind of sums it up for the Bengals: they won by 22 points but were outgained by nearly 160 yards. This team's offense is too basic to beat good defenses. They are 5-2, but they have five games left against the division, and the Ravens, Steelers and Browns are all in the Top 5 in the NFL in total defense. Then again, so are the Bengals. Their front seven is dominating people right now against the run and the pass. That is no fluke. They should extend Chris Johnson's misery this weekend, but we will see if Cincy is looking past Tennessee to back-to-back games against the Steelers and Ravens.
22. Carolina Panthers (2-6) – Yes, Cam Newton's offensive numbers (18 touchdowns) are impressive. But he is just killing his team with turnovers (12). He needs to take better care of the football. Carolina is on the bye this week. But unless they picked up some linebackers while trick-or-treating on Monday this team just kind of is what it is heading into the season's second half. They are on the right path, but man their defense is wretched.
23. Washington Redskins (3-4) – And the ship is officially sinking. For about the 10th year in a row I was almost able to talk myself into Washington as a sleeper team in the NFC East. But they are a disaster right now and with that group of skill people I don't see things getting any better. The 36.6 average total points (scored and allowed) per game is second to only Cleveland (35.3). The Redskins are 7-16-2 ATS in their last 25 home games but, inexplicably, I think that they may be able to bang heads with San Francisco this week.
24. Minnesota Vikings (2-6) – Minnesota fans are going to be left to wonder what could have been for this team this year if they had been willing to follow the lead of some other teams and start rookie Christian Ponder from Day 1. Minnesota is off this week and will use the extra time to prepare for a rematch with Green Bay. They have to hope Antoine Winfield's neck heals up over these next two weeks.
25. Cleveland Browns (3-4) – The Browns are going into this week's game with Chris Ogbonnaya and a fresh-off-the-street Thomas Clayton as their two running backs. That's a problem for a team averaging a paltry 3.2 yards per rush. The Browns have lost three of four, with an ugly 6-3 win over Seattle mixed in, but all of Cleveland's losses this year have come against teams with winning records. They are just 1-8-2 ATS in their last 11 games and they are 0-6 ATS in their last six games as an underdog.
26. Seattle Seahawks (2-5) – In news that shouldn't be shocking to anyone, Pete Carroll is starting to get called out in the local media for being a terrible in-game coach. In other news, water is wet. The Seahawks are back on the road this week and they are a horrendous 15-35-2 ATS in their last 52 road games and 6-20-1 ATS as a road underdog. Were it no for that fluke win at the Giants three weeks ago Seattle's only win this year would have been a home victory over Arizona in a game in which they were outgained. Despite Seattle's improved defense the 'over' is 14-4 in their last 18 games.
27. Jacksonville Jaguars (2-6) – Blaine Gabbert's play has been rocky all season long, but it seems to have gotten worse over the last three weeks against some of the better defenses. He is completing just 45.7 percent of his passes overall and over the last three weeks he is a feeble 31-for-76 (40.8 percent).
28. Denver Broncos (2-5) – I have been saying it for weeks: Joe Montana couldn't win with this team. The Broncos are pathetic right now, and so little of it has to do with Tim Tebow. No, Tebow isn't helping and he is a debacle under center. But this team can't run, can't block, their skill people are among the league's worst, and they can't defend.
29. St. Louis Rams (1-6) – I am not only giving the Rams a lot of credit for their win over New Orleans (they moved up from No. 31), but also because it looks like they will get Sam Bradford back this week. St. Louis has played the toughest schedule in football to this point but things are starting to soften up. Yes, four of their next six are on the road. But only one of those games (at San Fran on Dec. 4) comes against a team above .500. The road team is 7-3 SU in the AZ-STL series, but the Rams are still just 1-7 ATS in their last eight.
30. Miami Dolphins (0-7) – This team is only -59 in scoring differential so far this year and it has been stunning to watch them give away so many games. This team is much, much better than its record suggests (Tampa Bay is -38 in point differential but is 4-3, for example). But the trouble with Miami is that it is going to be difficult to predict the time when wanting to quit and mail in the season overrides not wanting to go 0-16.
31. Arizona Cardinals (1-6) – I have to give credit to the Cardinals for even having the ability to stake a 20-point lead against Baltimore. But this team is horrible and has now dumped six straight overall. One of Kevin "Happy Feet" Kolb's feet is not so happy this week; he may miss the St. Louis game with turf toe. That would mean we are all in for the John Skelton Experience. There is no line on the Arizona-St. Louis game, but I think if Skelton is under center the Cardinals will be a small (-1) home dog.
32. Indianapolis Colts (0-8) – That is now four straight ATS losses and a 2-6 ATS mark overall for the Colts. However, I have noticed a strange trend: in four of the last five weeks there has been a reverse line movement toward the Colts after their opening line has been released. Again this week: the majority of books released this game at 8.5 or 9.0 and it was immediately played down to 7.0, where it has held despite the Falcons taking more than 85 percent of the action. Apparently the sharps are still all over this team waiting for them to get that first 'W'. I wouldn't hold my breath.

Robert Ferringo is a professional NFL handicapper and is coming off an exceptionally profitable 2010-11 football season (college and pro). He banged home back-to-back winning football weeks and has banked $3,000 in profit over the last week-and-a-half. He is looking forward to building on his stellar football handicapping resume again this fall and you can check him out here.