2011 NFL Predictions: Top 5 Teams Against the Spread
by Trevor Whenham - 9/6/2011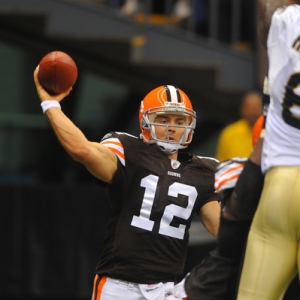 It's never easy picking the teams that are going to be the kindest to bettors each season in the NFL. For proof of that you need to look no further than the Detroit Lions. Two years ago they were the worst team against the NFL point spread in the league at 4-10-2 ATS. Last year they were the best ATS squad in the NFL at 12-4 ATS.
That's an incredible improvement, but Detroit had the perfect storm of factors to make it possible — they were good enough to keep games close, but they had been bad for a long time so the public didn't pay attention to them and took a long time to notice that they were a much-improved squad. There is a lot of hype surrounding the Lions this year, so it isn't likely that they will top the league from a betting perspective this season.
The rest of the Top 5 ATS teams last year were made up of three very good teams that did what they were expected to — Atlanta, New England, and Pittsburgh — and Tampa Bay, which was a surprise overachiever like the Lions.
So, which five teams are going to be the ATS kings this year? Which squad will be this year's Lions? If we could predict that accurately we'd all be rich, but here's my best guess:
Atlanta Falcons - The Falcons earn a spot on this list because they have been the models of consistency the last couple of years. Both years they were 11-5 ATS, and both years that was the second best ATS mark in the league.
They are at least as good as they have been the last two years, and they could be even more explosive on offense thanks to their upgrade at receiver.
They had a truly terrible preseason, but that should have more of an impact on the perceptions of the public than it will have on their regular season performance.
Their biggest advantage from a betting perspective is that they aren't based in a major media market and they don't get as much attention as other good teams do. That's great news for bettors — it's easier to make money betting on a good team when they aren't a public team as well.
Miami Dolphins - I am much more bullish on the Dolphins than a lot of people are.
It has become popular to doubt Chad Henne as a quarterback, but I don't think he gets enough credit. He hasn't been great, but his stats compare reasonably well to guys like Mark Sanchez who get a lot more respect, and this is the point in his career when he could take a big step forward.
There are some interesting tools around him. He has a solid receiving corps with one star, a running game with potential, nice lines on both sides of the ball, and some decent defensive pieces.
I don't think they are championship-caliber or close to it, but they have the chance to be much better than people think, and if they do that then they could easily cover a lot of spreads without people really noticing.
Cleveland Browns - This is my pick for this year's Lions.
Last year they were the second worst team in the league at 5-11 ATS. This year Colt McCoy is more experienced, and he seems more focused and determined to succeed. He doesn't have a ton of talent around him, but he has some pieces to work with.
The team is also finally done with Eric Mangini. Any coach would be an upgrade after that moron, but Pat Shurmur has a chance to be very good.
I don't think the Browns will be great, but like Detroit last year they could be better than expected, could keep their losses close, and could cover a lot of spreads.
Tampa Bay Buccaneers - Last year the Bucs were successful ATS because they caught people off guard. This year I expect them to again be successful, but this time because they continue to be good.
Their defense should be about as good as it was last year, and there is a solid chance that the unit will continue to improve. That means that their scoring margin will widen and that makes it easier to cover spreads — even if the public gives them more respect.
Though they should get more respect this year, I still don't think that the public will be in love with them. That's great news from a betting perspective.
Dallas Cowboys - It's tougher for the Cowboys to cover spreads than a lot of teams because they are such a public team. They have been a disappointment for a couple of years, though, so the public's love affair has dimmed a bit.
I don't love Dallas this year, but I think they should be better than they have been recently — especially defensively — and that should have an impact on their success against the spread.