NFL Predictions for Week 4 Player Props
by Alan Matthews - 9/29/2011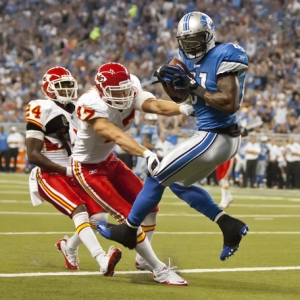 We're back with our weekly look at some special Bodog NFL props, and we have had some success so far. For example, last week in the 'last team to be unbeaten prop,' I recommended against the favored Patriots, suggesting they might lose to the Bills. And they did. I also said the Washington Redskins would lose at Dallas, and that happened. "The Jets, I believe, will go down this week in Oakland." Correct! Houston wasn't supposed to win in New Orleans and didn't.
That leaves only three unbeatens: Buffalo, Detroit and Green Bay. I didn't even address Buffalo last week because, let's face it, they are the Bills. It wouldn't shock me if they lost in a letdown game at Cincinnati this week. I thought the Lions would lose either last week at Minnesota – and it took a franchise-record rally to win for Detroit – or this week at Dallas. I recommended Green Bay in this prop and that's looking good right now with a likely win Sunday vs. Denver.
Anyways, let's get back to some NFL predictions for individual player props for Week 4, with NFL odds offered at Bodog.
First off, will Lions WR Calvin Johnson score two or more touchdowns this week? "Megatron" is playing like an MVP right now, as he is the first player in NFL history to score at least two touchdowns in each of a team's first three games. He's already halfway to last season's total of 12 TD catches. The 'no' option on Johnson scoring at least twice this week in Dallas is a big -400 favorite, with 'yes' at +250. Johnson isn't actually tearing it up in yards (225) or catches (16), but Matthew Stafford throws him jump balls when the Lions are in the red zone. The Dallas pass defense was lousy last year, but has been much improved so far. And with Detroit having an impotent running game, I would imagine that a safety follows Johnson everywhere he goes (in addition to whichever cornerback is on him). Thus as much as I'd like to say take the 'yes' option, I just can't see two more this week.
Did you happen to see New England's loss to Buffalo last week? Patriots WR Chad Ochocinco dropped a sure long touchdown pass from Tom Brady. It could have cost New England the game, as it was down 31-24 at the time, but the Pats did go on to score on that drive before eventually falling. Brady is setting passing records left and right, but Ochocinco has only five catches for 87 yards. There's also a prop on whether he will be a Patriot for the entire season amid rumors the team might cut him. 'Yes,' he will be a Patriot all year is at -300 and 'no' is at +200. I happen to like 'no' here. Ochocinco has been a good soldier so far, but you know he's just aching to speak out, and if he does Bill Belichick will dump him immediately.
There are a few other Patriot player props this week. You can bet on how many receptions Wes Welker has this week off his 16-catch performance against Buffalo. The 'over/under' is 7.5, with the 'over' a -140 favorite. I think the 'over' is easy money, with Welker going 'over' in two of three games. The Raiders aren't good against the pass, and you know Brady will throw at least 40 times. Welker probably gets 10 catches.
As for Brady, he threw a career-high four picks last week vs. the Bills – Brady had four all of last year -- and you can bet on how many he throws this week vs. the Raiders and this season. For Week 4, the 'over/under' is .5 and for the season it's 14.5. I think you have to go 'over' this week – a tipped ball or Hail Mary attempt that is snagged by a Raider makes you a winner. But you have to go 'under' the season total as Brady has never thrown more than 14 picks in a season in his Hall of Fame career.
Finally, what's up with Titans running back Chris Johnson? He has just 98 yards on 41 carries this season, a 2.1 yards-per-carry average. You can bet on when his first 100-yard game this season will be: this week vs. the Browns (+200) or Week 5 or later (-300). I think you have to go with this week considering Cleveland is 29th in the NFL in rush defense, allowing 128.7 yards per game. Cedric Benson had 127 in Week 1 against Cleveland and Dolphins rookie Daniel Thomas was just five yards short of 100 last week (in Week 2 the Colts had no one close, but Indy can't run the ball).