NFL Predictions: Week 6 Player Props and Betting Picks
by Alan Matthews - 10/14/2011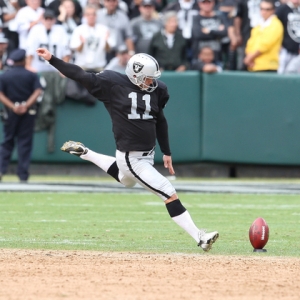 Other than Calvin Johnson, who got us again last week, it was a very productive betting week on Bodog's NFL player props in Week 5 if you followed my advice.
I did recommend taking Megatron to catch two touchdown passes for the fifth week in a row at +200 and things looked good with him catching an early long score from Matthew Stafford. But then the Bears' defense went and made Jahvid Best look like Barry Sanders, so the Lions didn't really need to throw deep to Johnson much after that. So Johnson finished with just one.
But that was about all I missed. In the prop comparing former Eagles QBs, Arizona's Kevin Kolb and Minnesota's Donovan McNabb in their matchup, I recommended taking Kolb with more passing yards (-35.5) and interceptions and McNabb with more touchdowns. Booyah! The Cards got crushed, but Kolb threw for 232 yards and two picks while McNabb had 169 and 0. And McNabb scored a rushing touchdown while Kolb was held off the board.
Also, I looked at Jets QB Mark Sanchez's potential day against the New England Patriots' No. 32 pass defense. I recommended taking the 'over' 57.5 percent completions and the 'under' 36.5 passes attempted. Figured the Jets would be run heavy, and they did run the ball 25 times. But really their offense just stinks right now. Anyways, Sanchez was 16-for-26, a 61.5 percent completion percentage. So that's a double win there.
So let's look at a few Week 6 props that Bodog offers and keep the gravy train rolling!
The Raiders, fresh off an emotional win in Houston after the death of owner Al Davis, host the Browns this week. You won't see kicker props too often, but you can bet on a few props on Oakland kicker Sebastian Janikowski, who is starting to prove that he was well worth a first-round pick. SeaBass already has tied the NFL record with a 63-yard kick this year (in the opener vs. Denver) and then hit four field goals in Sunday's win over the Texans, with three of at least 50 yards. Janikowski has made 11-of-12 field goal attempts this season, including 5-of-6 from at least 50 yards away. You can bet on whether the former FSU star will break the NFL record with one from more than 63 yards ('yes' only at +300) and 'over/under' of total 50-yard kicks this year (8.5, with both at -115). I say it's a no-brainer to take that 'yes' option and the 'over'. He's clearly got the leg and coach Hue Jackson has shown he isn't afraid to let Janikowski try the long ones.
Did you see that Bears offensive line in Monday night's game against the Detroit Lions? It was comically bad, with six false-start penalties in the first half alone, which was a season high for any team in a full game. Jay Cutler is under siege on every pass play. And it just so happens the Bears host the Vikings on Sunday night. They will have to face NFL sack leader Jared Allen, who has seven sacks in his past three games and 8.5 on the year – on pace to shatter the NFL record with 27. The 'over/under' on sacks this season by Allen is 18.5. He might get there on Sunday! Take the 'over'.
Cowboys QB Tony Romo has been one of the stories of the season because of how good he has been and how boneheaded in losses to the Jets and Lions. He threw three picks against the Lions in the second half of a 27-3 Dallas collapse two weeks ago, with two returned for scores. Romo also had a crucial pick that led to the Jets' come-from-behind win in the opener. You can bet on whether Romo has a pick this week against the lousy Pats defense ('over/under' .5 with the 'over' a huge -280 favorite) and whether he throws a pick six ('yes' only at +700). I think here you just have to go value and you may be covered either way: take the 'under' on the picks at +225, but jump on that +700.
Finally, the Broncos don't play this week, but they made news by announcing that Tim Tebow, to the joy of the fans in Denver, will be the team's starting quarterback when the Broncos come out of the bye in Week 7. You can bet on Tebow's total starts this season, with the 'over/under' at 7.5 (both at -120). Denver has 11 games left and this is like stealing money: take the 'over'. There's no chance John Fox goes back to Kyle Orton now, and I wouldn't be surprised if Orton is traded. Only way Tebow doesn't go 'over' is if he is injured.
Doc's Sports has the bookies shaking in their boots as our expert NFL picks have helped $100 bettors earn more than $2,000 on the season thus far. Doc has a big card coming this weekend and we look to extend our Top Play run for football (9-3 this season for Top Plays). Click Here for the best college football and NFL handicapping the Net.