NFL Week 5 Player Props and Betting Predictions
by Alan Matthews - 10/7/2011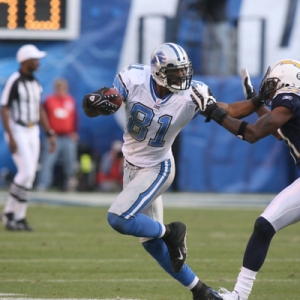 It was a fairly good week in terms of recommending Bodog's NFL player props in Week 4. Just 2-2 overall for those that were strictly for last week, but if you look at the prices you came out ahead if you happened to bet on all four.
Let's start with the Patriots' props I addressed last week against the Raiders: 'Over/under' Tom Brady interceptions at .5 (off a four-pick week vs. Buffalo) and the 'over/under' 7.5 catches total for the incredible Wes Welker. I did say it was worth taking Brady on the 'over' because one pick can come via tipped ball, Hail Mary, a receiver's drop, etc. I would still recommend that every week. However, Brady didn't throw one. But that makes the 'over/under' 14.5 total picks this season even better, with me suggesting the 'under'. As for Welker, he added nine more catches last week and paid out at -140 if you took the 'over' as I suggested.
Another receiver burned me and he's the NFL MVP right now: Detroit's Calvin Johnson. He had his record fourth straight week with two touchdown catches, this time leading a rally past Dallas. I didn't think it was possible Megatron would hit two scores again and the 'no' was at -400 with the 'yes' at +250. So that one hurts. But we got it back on Titans running back Chris Johnson. Bodog offered a prop on whether his first 100-yard game would be in Week 4 vs. the Browns (+200) or later (-300). I recommended the Cleveland game and Johnson did indeed rush for 102 yards.
Let's try to do better than .500 this week, however.
Calvin Johnson getting two more TDs, this time on Monday night against the Bears, is again a Bodog prop: 'no' at -300 and 'yes' at +200. I'm going 'yes' this week as Chicago's defense has been lousy this year and ranks 29th against the pass. Drew Brees, Aaron Rodgers and Cam Newton have all had big games the past three weeks, so Johnson should get his chances.
Another interesting prop is the matchup between two former Philadelphia quarterbacks: Minnesota's Donovan McNabb and Arizona's Kevin Kolb. Of course, the Eagles traded McNabb to Washington an offseason ago to make room for Kolb, who then quickly lost his job to Michael Vick. You can bet on who has more passing yards this week between the two – Kolb at -35.5 – more touchdown passes – McNabb at +185, Kolb at -225 – and more interceptions – both at -115.
There's probably not much other reason to watch this game than this bet. Neither guy has been spectacular. Kolb is averaging 262.5 yards passing per game with five TDs and four picks on the season. McNabb is averaging just 170 ypg (weighed down heavily by an opening week 39-yard effort) with four TDs and two picks this season. These two seem to be trending in opposite directions. McNabb has three TDs and just one pick in the past two games, while Kolb has one TD and three picks in the same stretch. Neither defense is good against the pass, with Arizona No. 26 and Minnesota No. 28. The Cards will certainly throw more than the Vikes, who have Adrian Peterson. So go with Kolb on the yards and picks (so, in a negative way on the interceptions) but McNabb on the TDs just because of the value (at worst I think it's a push).
There are two more props on Welker this week, but they are for the season: Will he break Marvin Harrison's single-season record of 143 catches and will he break Jerry Rice's season record of 1,848 yards. 'No' is -300 on both with 'yes' at +200. Welker currently has 40 catches for 616 yards, so that averages out to 160 catches for 2,464 yards. But that's over a 16-game NFL schedule and at this silly pace. Welker hasn't played a full 16 games since 2008. Welker could get hurt or the Pats could clinch home-field advantage by Week 14 and wouldn't need to go full-bore. You have to go 'no' on both.
And speaking of the Patriots, their last-place pass defense faces the struggling Jets this week. New York is 30th in rushing, so one would presume the Jets would throw all day since the Pats can't stop anyone through the air. You can bet on two Mark Sanchez props: 'over/under' completion percentage at 57.5 (both -115) and 'over/under' passes attempted at 36.5 (also both -115). Sanchez already has thrown in 44 times in two games this year and 35 in another. Last year in three games vs. the Pats (including playoffs) his high was 33. He completed at least 64 percent of his passes in two of those games. I think the Jets do pound the ball this week – 'over/under' for Jets rushing yards is 105.5 – to eat the clock and keep Brady and Co. off the field. So take the 'under' on Sanchez's attempts, but the 'over' on completion percentage because there will be a lot of safe, short passes.