This Week in NFL Betting By the Numbers
by Darin Zank - 12/14/2011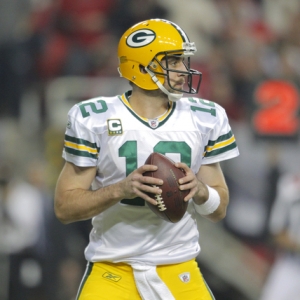 Can it be? Just three weeks to go for the regular season NFL schedule? It seems like just yesterday the Buffalo Bills were the hottest thing since the wildcat, and the Detroit Lions were shoo-ins to break their long playoff drought. What, that's not the case anymore? Well, anyway, as we continue sifting through the numbers that make NFL handicapping so much fun, here are a few figures that stand out.
Random thought: I wonder what kind of NFL odds you could have gotten on a parlay with one team going undefeated this season and another team going winless. At least 3/1, eh?
20 – Number of games it's been since the Green Bay Packers even trailed in the fourth quarter. Try to wrap your mind around that. The last time Green Bay trailed in the final quarter of a game that mattered came when they lost at New England one year ago this week, a game Aaron Rodgers missed.
19 - The number of different Packers who have scored at least one touchdown this season. For comparison, the Rams have scored a total of 14 touchdowns. For this week JustBet is listing the Pack as a 14-point favorite on the road at Kansas City.
45.6 - Average number of points scored in Week 14 games, the highest average since week 5.
10-6 – The record on the 'over/unders' last week, the first week since early October the 'overs' outnumbered the 'unders'. Our guess, though, is last week was a burp in the overall late-season trend toward the 'unders'. This week JustBet is listing seven games with totals of 45 and above. We're willing to wager more games will play 'under' this weekend than 'over'.
2-0 – Houston's record with rookie TJ Yates at quarterback after he directed the Texans 80 yards for a score in the last two and a half minutes to win at Cincinnati Sunday. Houston gets my "Circle the Wagons" award for this year after losing LB Mario Williams and QB Matts Schaub and Leinart for the season and various others for stretches, and still making the playoffs for the first time in franchise history. For this week JustBet is listing the Texans at -6.5 at home over Carolina.
Also 2-0 – The Colts' ATS record with Dan Orlovsky starting at quarterback. But don't get excited; Indianapolis still stands a good chance of going winless this season. Two weeks ago, after falling behind 31-3 at New England, Orlovsky and Indy rallied to score 21 points in the fourth quarter to snatch a back-door cover as 20-point dogs. Then Sunday Orlovsky threw a 13-yard TD pass to Jacob Tamme on the last play of the game to make the final score 24-10 in their loss at Baltimore. But the Colts covered as they were getting 16 ½ points. There's talk the injured Peyton Manning might get a few MVP votes, but an MVP award should be given for things done on the field. It's not the Most Valuable Non-Player award. We could give out one of those each year, because somebody always goes down, costing their team dearly. We could start this year; if the Colts finish 0-16 we'll call it the Manning Award. For this week JustBet is listing Indy at +6 ½ at home vs. Tennessee.
3- Number of teams who have canned their coaches so far this season, with two or three more probably to follow. Jacksonville, to little surprise, dumped Jack Del Rio a couple of weeks ago, while Monday Miami fired Tony Sparano and Kansas City dismissed Todd Haley. Now, with the Jags and Dolphins I can understand. But the Chiefs? They win their division last year, and while that might have been a bit of a fluke, this year they lose an all-pro safety and last year's leading rusher, rally from 0-3 to 4-3, then lose their starting QB and struggle with the backup. And they can the coach? KC is in danger of becoming one of those franchises that can't sustain success because they lack continuity. They're now on their fifth head coach in the last dozen seasons. Romeo Crennel, 24-40 as HC at Cleveland a few years back, takes over for Haley this week as the Chiefs get ready to host the Packers. Good luck.
6 – Games the Buffalo Bills have lost in a row, after falling at San Diego Sunday, 37-10. Buffalo thought it was on its way to the playoffs for the first time in over a decade with its 5-2 start. Since then they haven't won a game. This week the Bills host Miami.
110 – Combined yardage of the two field goals Matt Prater kicked late Sunday to win the game for the Denver Tebows, errr, Broncos. First, Prater kicked a 59-yarder at the buzzer to send the game vs. the Bears into overtime tied at 10. Then he booted a 51-yarder to win the game. Denver has now won six games in a row to take over first place in the AFC West, and yet they've still been outscored on the season. For this week JustBet is listing the Broncos at +6 at home vs. the Patriots.