This Week in NFL Betting By the Numbers
by Darin Zank - 12/22/2011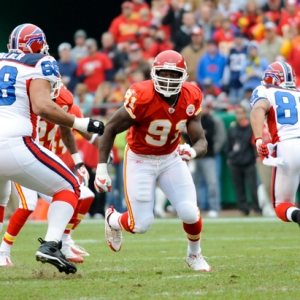 The Green Bay Packers survived game No. 13 two weeks ago, but couldn't get past No. 14 Sunday in Kansas City. On the other hand, game No. 14 turned out to be the charm for the Indianapolis Colts, who avoided the prospect of going winless by beating Tennessee Sunday.
Here follows a few other numbers we think you might find of interest.
36:11 – The time-of-possession for the Chiefs in their upset victory over the previously perfect Packers on Sunday. So there it is, folks, the blueprint for beating Green Bay. KC ran the ball 39 times for 139 yards, sacked Aaron Rodgers four times (and hit him on several other occasions), and committed zero turnovers. And QB Kyle Orton found wide-open receivers for big yardage several times. Even Packers fans knew their team wasn't infallible, and who knows, maybe Sunday's loss will be good for the Pack. Sometimes it's a good thing to get smacked in the mouth; Keeps you on your toes. For this week Bookmaker is listing the Chiefs as one-point favorites over Oakland, and Green Bay hosts Chicago Christmas night in a game that has yet to be lined.
9 – Victories by the Detroit Lions this season, their most since 2000, after coming from behind to win in Oakland on Sunday, 28-27.
12 – Seasons since the Lions have made the playoffs. Now, they're one win away from snapping that drought. For this week Bookmaker is listing Detroit as a 2.5-point favorite at home over San Diego. The Lions then finish the regular season with a visit to Lambeau Field.
203 – Yards rushing by Miami RB Reggie Bush in the Dolphins' 30-23 victory at Buffalo. The Fish have now won five of their last seven games and are 6-1 ATS over that span. And even though they're four games under .500 at 5-9, they've outscored their opponents this season by 17 points. For this week Bookmaker is listing Miami as a 9.5-point underdog at New England.
+500 – Odds Bookmaker is offering on the Philadelphia Eagles to win the NFC East. This "Dream Team" looked more like a nightmare during its 4-8 start, but with two straight wins and some help from the Giants and Cowboys, it's not all that far-fetched that Philly can win its division. Bookmaker is listing the Eagles as 1.5-point underdogs for their game Saturday at Dallas.
3-4 – The Baltimore Ravens' record on the road this season after getting drilled at San Diego Sunday night. Baltimore has won some playoff games on the road in recent seasons, but the Ravens would much rather play a few postseason games at home. And thanks to the Steelers' loss at San Francisco Monday night, Baltimore still leads Pittsburgh in the AFC North. For this week Bookmaker is listing the Ravens as 13-point favorites over the Browns.
573 – Yards of offense racked up by the New Orleans Saints in their 42-20 victory at Minnesota Sunday. New Orleans has now won six games in a row to get to 11-3, but they trail San Francisco by a game in the conference record tiebreaker. For this week Bookmaker is listing the Saints as a 6.5 -point favorite for their game Monday night over Atlanta.
3 – Overtime victories for the Arizona Cardinals this season after beating Cleveland Sunday, 20-17, in extra time. So Arizona has won four straight games by a total of 14 points to get to 7-7. For this week Bookmaker is listing the Cardinals as four-point underdogs at Cincinnati.
0-4 – Record of the Chicago Bears since QB Jay Cutler broke his thumb. Chicago is now 7-7 on the season and two games back of Atlanta and Detroit in the NFC wild-card race. After four games with Caleb Hanie it looks like Da' Bears, with their playoff hopes on the line, will go with Josh McCown at QB Christmas night vs. the Packers.
0-2 – Record of the New York Giants vs. the Washington Redskins this season. How embarrassing.
1,000 – Pounds of marijuana Bears WR Sam Hurd is alleged to have been looking to buy PER WEEK for redistribution. According to my sources, that's a whole lot of pot. And that's not to mention the five to 10 kilos of coke he wanted weekly. Yowza. My guess is we won't be hearing about Mr. Hurd catching any passes in the NFL anytime soon.