NFL Handicapping: Green Bay Packers Tough Start
by Trevor Whenham - 10/9/2012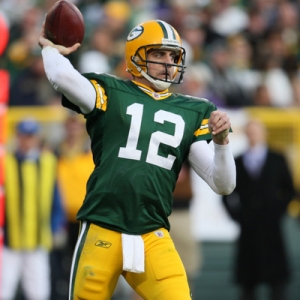 Coming off one of the best seasons we have seen in years, few would have expected the Packers to stumble out of the gate like they have. Their season certainly isn't lost or anything, but at 2-3 they are in a tougher position than they would have liked to have been through five games — probably by a wide margin.
So, is the start an indication of big problems and a lost season? Or are they going to be just fine — will this start be long forgotten by the time December rolls around? Here are six factors to consider when considering the Pacers in your pro football handicapping:
Hangover
Last year the Packers finished the season at 15-1, and pretty much everyone was sure that they would win the Super Bowl. They were stunningly dominant, and Aaron Rodgers looked immortal. At home in their first playoff game, though, they not only lost to the Giants, but they were totally overwhelmed. The game wasn't nearly as close as the 37-20 score would indicate. It was an absolutely crushing loss, and it was one that can be very hard for teams to bounce back from. All summer the players could only think about what had happened and replay it a million times over. When they play again it can lead a team to question itself, and it can rattle their confidence at the foundation. That seems to be a big part of what has plagued the Packers. It will pass eventually — hopefully sooner rather than later for the sake of this team and their season.
Looking at the losses
The first thing you have to remember is that if the replacement refs hadn't been quite so incompetent, the Packers never would have 'lost' to Seattle, they would be a far more respectable 3-2, and we wouldn't be talking about them with nearly as much concern. Their first loss to San Francisco in a very competitive game isn't a particular concern since the Niners are the best team in the league in my eyes. The second half against the Colts obviously wasn't ideal, but the emotion over coach Pagano's leukemia made that a unique situation. In short, there hasn't been a truly horrifying loss, nor one that makes you concerned that all is hopeless for this team. Their win against Chicago, meanwhile, could prove to be very useful down the stretch if the Packers get things turned around and the division becomes a fight.
Remaining schedule
Their trip to Houston next week is brutal — it would have been a major test no matter how well they were playing. Even if we call that a loss, though, they have St. Louis, Jacksonville and Arizona before their bye week, so they could easily be 5-4 by the time they get a break. In the second half of their season they don't play a truly elite team, so it's definitely a manageable situation. If things go poorly for this team they will look for excuses, but their schedule will not be a viable one.
Aaron Rodgers
Rodgers has been far from terrible. Many quarterbacks would kill for his 68.8 percent completion rate (actually his best as a starter), and his 10-4 TD-Int. ratio is respectable. When you look at his numbers, though, one major number jumps out. Last year his yards per attempt were a very impressive 9.25. This year that number has plummeted by nearly two and a half yards to 6.92. A YPA of less than seven just isn't that impressive. Because YPA is an indicative stat it also tells us that the issues extend beyond just Rodgers. In other words, the team is struggling offensively more than Rodgers is. Because his fundamentals are sound and his accuracy is strong I don't see any real reason to panic about him at this point. We know how good he can be, and we have no reason to believe he won't improve.
Joe Philbin
One factor that doesn't get enough attention here is the departure of Joe Philbin. He had been a coach with the Packers since 2003 and the offensive coordinator since 2007, but now he is in his first year as the head coach at Miami. The respectable start the Dolphins and Ryan Tannehill are off to despite a lack of talent in key positions is testament to how talented and likable Philbin is. Tom Clements, the QB coach for the Packers since 2006, made the move up to OC, so the transition should have been smooth. Clearly, though, the absence of Philbin, and perhaps the fact that Clements is no longer working as closely with Rodgers, is having an impact on this team. Time should breed familiarity, and familiarity should lead to comfort and increased performance, but it seems like this was a bigger impact than it seemed.
Betting performance
The good news? The Lions have been a worse team to bet on this season. The Lions are 0-4 ATS, while the Packers are 1-4 ATS. Considering they were a wildly profitable 11-5 ATS last year, though, this is definitely far from what many expected. The poor start hasn't really scared the public off yet, though — despite giving up a touchdown on the road nearly 80 percent of bets were placed on the Packers against the Colts last week, and a small majority of the early action has been on the Texans this week as they are giving up 3.5 points to the Pack this week according to the most recent NFL odds on Sportsbook.ag. The Packers are clearly a major public team, and even a rough start and terrible betting performance hasn't been able to shake that faith. If they do wind up at 5-4 or better by their bye week then the public faith will be as strong as ever.