2012 NFL Player Props for Offensive Prowess
by Dave Schwab - 8/22/2012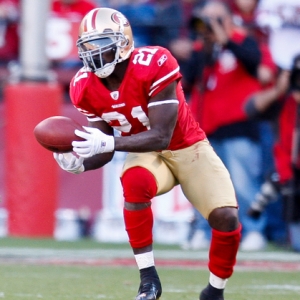 The start of the 2012 NFL regular season is just two weeks away, but there is still plenty of time to take advantage of the numerous wagering opportunities that exist for prop bets for individual player performances. The following is a look at two of our favorites on the offensive side with money lines provided by BetOnline Sportsbook.
Most Receiving Touchdowns
There are certain receivers in the NFL that have demonstrated a knack for getting into the end zone even though they may not be at the top of the list for receptions and receiving yards. A perfect example of this last season was New England tight end Rob Gronkowski, who burst onto the scene with an NFL-high 17 receiving touchdowns, while ending up sixth on the list in total receiving yards. He has been opened at +500 to duplicate that feat again in 2012.
There is one receiver that has demonstrated an incredible ability to rack up the yardage and the touchdowns. Detroit's Calvin Johnson led the league in receiving yards with 1,681 and was second on the list in touchdown catches with 16. While there may not be much value in his +300 line, his overall ability makes this phenom the closest thing to a sure bet on the list.
Our pick for this prop bet at +900 is Green Bay's Jordy Nelson. He may not bask in the limelight of some of the more high-profile wide receivers on this list, but he knows how to score. After a relatively quiet couple of years in the league, he posted a breakout season in 2011 with 68 catches for 1,263 yards with 15 resulting in TDs. It also helps to have the reining league MVP, Aaron Rodgers, throwing you the ball.
Most Rushing Touchdowns
Just like catching the ball for scores, there are a few running backs in the NFL that have a way of sniffing out the goal line better than most. Last season it was Philadelphia's LeSean McCoy, who led the league with 17 rushing touchdowns but was fifth on the list in total rushing yards. This year he has been opened at +400 to repeat that feat, but some of the value may be lost due to the fact that the Eagles may look to spread the ball around a bit more this season in an effort to preserve their young back's health.
The favorite in this prop is San Francisco running back Frank Gore at +300. He is a back with tremendous potential, especially on a team that will usually look to run the ball in short yardage situations. However, in the past three seasons he has scored only a combined 21 touchdowns on the ground. There have been some injury issues that have limited his playing time, but overall his past performance does not seem to merit these lofty odds. His scoring output this season could also be hampered by the arrival of receivers such as first-round draft pick AJ Jenkins and long-time veteran Randy Moss.
Looking at the complete set of players with odds for this prop, the one name that jumps off the page is not even a running back. The Jets' back-up quarterback Tim Tebow has been opened at +800 to score the most touchdowns on the ground this season. He is not the only QB on the list with Carolina's Cam Newton also at +800, but the air of uncertainty of how he will actually be used this season actually adds value to his odds. If he suddenly becomes a scoring machine in goal-line situations, look for New York to milk this talent to its fullest. It may be a bit of a stretch, but given Tebow's overall athletic ability, he is our pick for this prop.