2012 NFL Power Rankings - Week 6
by Robert Ferringo - 10/9/2012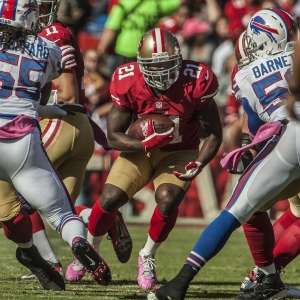 Bye weeks are becoming more prevalent, and over the next six weeks it will become even more difficult for bettors to get an edge on the sportsbooks. Fewer games means fewer opportunities to exploit weak spots, and that means that the books will continue to hold a big edge over the players through one of the most difficult times on the sports betting calendar.
October is a lean month. With baseball wrapping up and with the NBA and college basketball close-but-not-close-enough betting options, football is center stage. As a result, the sportsbooks are able to dedicate all of their resources into fending off the players and stocking the Las Vegas and offshore coffers.
But that is when we, the players, need to really focus and hone in, stick to our core principles and long-term game plan, and pick our spots wisely as we get into the "meat" of this pro football betting season.
With that in mind, here are Doc's Sports Week 6 NFL power rankings:
1. San Francisco 49ers (4-1) – The 49ers bounced back from their first loss of the season by beating their next two opponents, 79-3. That is the type of focused killer instinct that championship-caliber teams have. And that is what makes me think that they can fend off the Giants this week in a big revenge spot. Baltimore beat New England at home in its Championship Game revenge situation in Week 3 (but didn't cover). We'll see if the Niners can do the same.
2. Houston Texans (5-0) – My biggest takeaway from Houston's kind of disappointing "Monday Night Football" showing is that they absolutely did not want to put the ball in Matt Schaub's hands at any critical point in the game. The Texans ran the ball on their last four third down attempts of the game, with two of those coming on third-and-five or longer. This team has coasted a little too much for my liking and I haven't seen a killer instinct yet, which is why I have moved them out of the No. 1 spot and into No. 2.
3. Atlanta Falcons (5-0) – I don't know if there has been a more impactful free agent pickup this year than Asante Samuel. He doesn't have an interception yet this year. But Samuel, along with Mike Nolan's schemes, has completely changed the tenor of the Falcons defense. They are much more aggressive and attack-minded (the same can be said for the offense), and you can see the positive results that Atlanta's more aggressive attitude is having.
4. New England Patriots (3-2) – I was one of the few people that wasn't panicking and selling this team when they got off to their slow start. They still have some rough edges on offense. But the defense is much better than it had been the last three years, and they have rushed for over 200 yards in each of the last two weeks. This week's trip to Seattle is a mammoth trap, however, off the Peyton Manning Game and before a rivalry game with the Jets. Be wary.
5. New York Giants (3-2) – This team isn't even close to healthy right now, and their trademark inconsistency is still there. But I am not in a rush to bet against the Giants, even this weekend against revenge-minded San Francisco. The Giants are 36-15-1 ATS in their last 52 road games and they are 8-1-1 ATS against a team with a winning record. They have also covered six of seven in this series.
6. Baltimore Ravens (4-1) – I still don't really feel like this team is a viable Super Bowl contender. They get by on a lot of talent, a great attitude, and a ferocious defense. But I still just don't like the way the offense is set up because I don't like their receiving options or their passing scheme. The Ravens are on a 0-3 ATS slide and the books moved their line from 4.0 down to 3.5 this weekend. Something tells me we will see a big effort from this group.
7. Chicago Bears (4-1) – Four defensive touchdowns in two weeks (by the same two players) would be an aberration if it occurred on any other team. But this is what Chicago does. I will admit that their 11.6 yards per point is comically low. And that could put them in line for a regression that makes them a strong "under" play in the next month. They just lost Alshon Jeffrey for at least a month, and Earl Bennett and Johnny Knox are hurt. So this team is starting to have some serious issues at receiver. But they enter their bye week in a strong spot.
8. Pittsburgh Steelers (2-2) – This team is just 8-7 over the last three years when Troy Polamalu doesn't play. He will not be on the field this Thursday night when the Steelers travel to Nashville. Pittsburgh is 0-6 ATS in its last six road games and they are 3-13 ATS following a win. Pittsburgh is also 5-16-1 ATS on the road against teams with a losing home record. The Steelers are starting to become a team that plays up or down to its level of competition, and that is not a good look for them.
9. Minnesota Vikings (4-1) – The Vikes are living proof of what I have been preaching in this space for years: if you run the ball and play good defense and if you play more violently than your opponent then you are going to win a lot of games. Be wary of hopping on the bandwagon with this team though. Their style and personnel is not conducive to being a strong favorite. Minnesota is just 9-19-1 ATS after a win of two touchdowns or more and just 4-10 ATS after a win.
10. Denver Broncos (2-3) – No one in football has played a more difficult schedule than the Broncos. They have squared off with Houston, Atlanta, Pittsburgh and New England, two of which they played on the road, and their lone "easy" game came against division rival Oakland. I am not giving up on this team at all. They received awful news about D.J. Williams this week. He will now miss the first nine games of the season instead of just six. Denver desperately needs him to get back to boost that shaky defense.
11. Arizona Cardinals (4-1) – I know Arizona has gotten off to a hot start. But I really think this team is still doing it with smoke and mirrors and that they aren't any better than a nine-win outfit. Arizona is No. 31 in total offense and No. 31 in rushing, with both a direct result of their horrific offensive line. Kevin Kolb has been a hero. But I would still go back to John Skelton when he gets healthy.
12. Green Bay Packers (2-3) – I really don't see myself betting on this team the rest of the year. They just can't stop anyone. Their defense is pathetic. And really the only difference between the Packers and the Saints right now is Clay Matthews and a couple opportune moments from the secondary. This team isn't really that good at all. And, for as much firepower as they have on offense, it is blatantly obvious that they are missing former coordinator Joe Philbin.
13. Seattle Seahawks (3-2) – I wanted to put the Seahawks ahead of the Packers since they "beat" them. But I couldn't do it because everyone knows that "win" was garbage. If this team wants to keep climbing it needs to find creative ways to convert in the red zone. Seattle has scored a touchdown on just 28.6 percent of its red zone attempts this season.
14. Cincinnati Bengals (3-2) – The Bengals will never scrub the stench of "loser" off of them until they learn to win games like the one they just lost to the Dolphins. That game was inexcusable. They could be prime upset candidates this week. Despite taking over 75 percent of the early betting this week, the line on their game at Cleveland plummeted from 3.0 to 1.0. That should be a huge red flag.
15. Philadelphia Eagles (3-2) – This team is 3-2 but probably should be 0-5. So I am still looking to bet against The Dream Team/Dynasty Team. They have converted just 43.8 percent of their red zone attempts into touchdowns, and I can only take a team that is averaging three turnovers per game so seriously. But that defense is good enough to carry this group to at least eight wins. Whether or not they get the other two will depend on long it takes them to realize that LeSean McCoy deserves 25-30 touches per game.
16. Dallas Cowboys (2-2) – It was kind of nice going one week without being inundated with Dallas Cowboys prattle. But here they are – the same old Cowboys. This team is talented enough to go to Baltimore and get a win this weekend. But you just know Romo is itching to turn the ball over three times and to crumble under the immense pressure of the Baltimore crowd.
17. St. Louis Rams (2-2) – So far this year the teams that have played on Thursday nights are just 2-5-1 ATS in their following game. So the idea that St. Louis has an advantage of having extra time to prepare for Miami doesn't hold water. The Rams have not been a good team off-surface; they are just 1-5 ATS on grass. And St. Louis is just 2-10 ATS in its last 12 road games.
18. Tampa Bay Buccaneers (1-3) – I feel like this team is better than its record and the victim of a difficult schedule to this point. They should've beaten the Giants and suffered close losses at Dallas and against Washington. This is a mammoth game for Greg Schiano's first season. Tampa Bay is on the edge, and they just had two weeks to prepare for a home game against a reeling Kansas City team. If the Bucs can't find a win this week then things could spiral out of control for them. Tampa Bay is just 7-22 ATS in its last 29 home games.
19. Detroit Lions (1-3) – Detroit comes back off a bye as a desperate, wounded team. But they have a terrible matchup this week at Philadelphia. The Eagles' press coverage on the outside is going to force Matt Stafford to make some stick throws in the middle of the field. That is a danger zone for Stafford because the ball has been sailing on him all year. The Lions are 3-12-1 ATS in their last 16 games and 1-11 ATS in their last 12 conference games. Detroit is 0-6-1 ATS in their last seven road games.
20. San Diego Chargers (3-2) – I was more impressed with this team in a loss to a 0-4 team than I had been in any of its wins over the other crop of losers they have faced so far this year. Take away Atlanta, who throttled San Diego 27-3, the combined record of San Diego's four other opponents this year are just 4-15.
21. Carolina Panthers (1-4) – If you haven't yet, you need to sell your stock on this team. The problem is that their "high-powered offense" isn't high-powered. At all. These guys were able to surprise people last year because A) they were 2-14 the previous season and B) no one had time to prepare for Newton because of the lockout-shortened offseason/preseason. But the Panthers weapons are mediocre (Steve Smith needs to stop celebrating every eight-yard catch), and that is not good enough to compensate for their bottom-tier defense.
22. Washington Redskins (2-3) – It could be a huge mistake starting Robert Griffin this week against Minnesota. The Vikings hit harder than anyone that the Redskins have played yet this year. And if Griffin is already dealing with concussion issues then 60 minutes running from Jared Allen is not an enjoyable prospect. This will be very interesting to see how Mike Shanahan plays this hand. And especially so because this team isn't going anywhere this season with that pathetic defense anyway.
23. New Orleans Saints (1-4) – Nope. Still not impressed. New Orleans really should've been buried at home on Sunday night were it not for some questionable officiating and no one on the Chargers sideline noticing that Jared Gaither couldn't walk. They still can't stop anyone and they are going to get buried when they actually start playing quality opponents. If the Saints played this poorly through the soft portion of the schedule things can only get worse.
24. Indianapolis Colts (2-2) – Feisty. The Colts are young and feisty. But they are hitting the road this week after three straight home games and an excessively emotional upset win. All of this screams "letdown" this week going on the road to face the Jets. But the Colts defense has been tough enough to bang heads with Minnesota and Green Bay and the offense is in the Top 10 in total yards and passing yards.
25. Miami Dolphins (2-3) – These guys still aren't all that good, but I will admit that they are much better than I thought they would be. The Miami front seven is legitimately disruptive in both the running and the passing game. They are physical on both sides of the ball, and they are a young group that is building a lot of confidence. I am not sure I want to jump on them as a favorite though. Miami is just 22-50-1 ATS in its last 73 home games and are facing a team with extra rest.
26. Jacksonville Jaguars (1-4) – The Jaguars will stick with Blaine Gabbert because they have no other options. Chad Henne is even worse, although I do think he could lead a "spark off the bench" run of two or three games if the Jags do make a change. But is should be obvious by now that Gabbert will never be a viable NFL starter. Jacksonville has played a brutal schedule to this point and comes out of the bye with road games at Oakland and at Green Bay. Not good.
27. New York Jets (2-3) – This team is so much worse than it looked on Monday. The Jets needed fluke plays, special teams scores, and Houston to go into its shell to keep that game competitive. They are a debacle and are completely disorganized. And I don't understand all of the people rushing to defend Mark Sanchez. He is a loser. He has never accomplished anything to warrant getting the benefit of the doubt, and as long as he is under center I feel comfortable with every bet I place against him. The Jets are off a MNF heartbreaker and they have a huge game at New England next week. Expect a 'D' effort this Sunday.
28. Buffalo Bills (2-3) – I hope that everyone that predicted Buffalo would be a "sleeper" team this year feels like a dumb ass right now. I have deigned their last decade-plus of steady losing as the "Flutie Curse". (When that becomes "A Thing," remember you heard that here first!) They have given up 45 or more points in three of five games this year. The Bills are just 4-10 ATS in their last 14 games, and I have seen nothing from this group to make me think they can turn their season around.
29. Kansas City Chiefs (1-4) – Would you believe me if I told you that the Chiefs have a Top 5 offense, a Top 10 defense, and the No. 2 rushing offense and the No. 8 passing defense in all of football? Well, it's true. Romeo Crennel has a Top 10 offense and defense and still can't keep from starting 1-4 and getting outscored by an average of 10 points per game.
30. Cleveland Browns (0-5) – I know Brandon Weeden is a rookie, so we're supposed to be super-patient with him. But the guy just doesn't look like he knows what he is doing. He makes a lot of questionable decisions for a guy whose strength out of college was supposed to be his maturity. Maybe the fact that he was a 27-year-old man playing against 19-year-old kids (oh, and having Justin Blackmon didn't hurt) had something to do with his college success. The home team is 5-1 straight up and the underdog is 8-1-1 ATS in Cleveland's series with Cincinnati.
31. Tennessee Titans (1-4) – I think I am one of the few people that isn't really surprised that Tennessee is this bad. They grossly overachieved last year, and the talent on this roster is pretty thin everywhere. Oh, and I was a month ahead of the mainstream media about the fact that Chris Johnson is a waste of space right now. Matt Hasselbeck will get the start this Thursday against Pittsburgh and the Titans have the benefit of playing the Steelers off an emotional, physical home win against Philadelphia.
32. Oakland Raiders (1-3) – I'm going to hold the line on what I said last week: "I have nothing to say about this bunch of losers. If you bet on them you are an idiot. That is my honest, professional opinion. Now, that is not to say you can blindly fade this team or that you want to bet against them every week, because even the worst NFL teams beat some numbers. I am just saying that if you willingly put money down on Carson Palmer and the rest of these losers then you deserve every heartbreaking, soul-crushing thing that comes your way. You've been warned!"
Robert Ferringo is a professional NFL handicapper has banked nearly $10,000 in football profit over the last 11 months he has had football picks. He turned a profit last week and will have a pair of 7-Unit Game of the Year selections this weekend. He will keep it going this week and is looking forward to building on his stellar football handicapping resume again this fall. You can check him out here.