Week 8 NFL Teasers Advice: Best Five for Basic Strategy Teases
by George J Monroy - 10/25/2012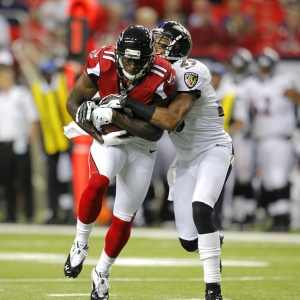 Week 8 of NFL football is about to begin, and after the last two weeks of the underdogs and then favorites dominating, there might not be a better time to think about using a basic strategy teaser to get the best of the spread. So if you are a bettor looking to add teasers into your sports betting arsenal, check out our weekly NFL basic strategy teasers advice and picks here at Doc's Sports.
For those readers unfamiliar with a basic strategy or Wong teaser, they are a two-team wager that allows you to move the line by six points in either direction for each team. So for a basic strategy teaser to have positive expected value, we look for teams that that are either a 7.5-point to 8.5-point favorite or a 1.5-point to 2.5-point underdog and move the line in their favor, and, thus, cross through major NFL key numbers. Both teams, of course, need to cover their adjusted lines. We are convinced that effectively picking your sports for basic strategy teasers is a great long-term strategy to increase your NFL betting bankroll.
Let's take a minute and examine the Top 5 lines to tease over the weekend.
-- Atlanta Falcons @ Philadelphia Eagles
Original spread: Falcons +2.5 (Sportsbook.ag)
Six-point teaser: Falcons + 8.5
By now we have all heard about Andy Reid's 13-0 record after a bye week. And while the Eagles will be rested and ready to silence their critics by scoring a big win over the visiting Falcons, there are still a few things standing in their way. For one, the Eagles have not won a game by more than two points all season. The second problem is that the Falcons are also coming off a bye week and will be just as prepared.
The line on this game is spot on. The Falcons are probably not going undefeated this season and have to lose sometime, but it is hard to imagine them getting blown out by a mistake-filled and clumsy Eagles team. Teasing the Falcons to 8.5-point underdogs will add just enough of a cushion to allow them to lose the game and still cover the spread.
-- New England Patriots @ St. Louis Rams
Original spread: Patriots -7.5 (5Dimes)
Six-point teaser: Patriots -1.5
The Patriots have had a rollercoaster of a season and just cannot hold on to a fourth-quarter lead. But the team's recent troubles are the exact reason why this week is the perfect time to add them in a teaser.
The Patriots, and their fans, are almost in full-blown panic mode, so the team will be looking to correct a few mistakes and get a statement win. I simply have a difficult time believing that the Patriots will overlook the Rams. Coach Bill Belichick will have the team ready to play on Sunday -- they may not cover the spread, but they shouldn't have any trouble winning the game outright. The extra travel to London might have an unexpected impact on both teams, so teasing the Patriots to 1.5-point favorites takes off the pressure of expecting them to blow the Rams out.
-- Seattle Seahawks @ Detroit Lions
Original spread: Seahawks +2.5 (Sportsbook.ag)
Six-point teaser: Seahawks +8.5
The Lions offense just looked miserable on Monday night against the Bears -- they only managed to score once late in the game during garbage time. This is a matchup that will be controlled by the Seahawks, who have played nothing but close games all season, and, excluding the Dallas game, they have not won or lost by more than seven points. The Seahawks might not win this game, but they will control the tempo and make it a low-scoring, grind-for-every-inch affair.
Both teams have played close games over the last few weeks, and with the Lions coming off a short week having played on Monday and the Seahawks coming off long week, expect a close Seahawks loss or a straight up win. Teasing the Seahawks to 8.5-point dogs gives them extra room for error during a game where points will be at a premium.
--Carolina Panthers @ Chicago Bears
Original spread: Bears -7.5 (Sportsbook.com)
Six-point teaser: Bears -1.5
I have some reservations about this game because Chicago is always liable to throw in a stinker just when you least expect it. The Bears have been on a roll and look like one of the best teams in the league, which is the polar opposite of the Panthers, who are in a funk and look like one of the worst in the league.
Barring any unexpected meltdowns, the Bears should easily win this game. Teasing them to 1.5-point favorites simply adds some breathing room just in case Jay Cutler decides to have one of those games where he throws three or four interceptions.
--San Diego Chargers @ Cleveland Browns
Original spread: Browns +2.5 (5Dimes)
Six-point teaser: Browns +8.5
I like this teaser the least because Cleveland has struggled at consistently scoring points all season, but there definitely is some value in teasing them to 8.5-point underdogs. The Browns will be a home underdog against a continually inconsistent and underachieving Chargers team. Fans never really know what to expect from San Diego as they are always likely to take a game off for no apparent reason.
The Chargers are 2-2 coming off of a bye week over the last four years-- with all four games being closely contested (they won by six points twice and lost by one point twice). Brandon Weeden has really improved after his atrocious rookie debut. I wouldn't be surprised if the Chargers lost this game straight up, but getting the Browns with +8.5 points at home is not a horrible position to have.
Conclusion
These are the five best games to take advantage of with a basic strategy teaser. You can bet them in any two-team combination that you like. Oftentimes we will center a few bets around one side of a basic strategy teaser we feel very confident about. Remember to check back in with Doc's Sports for our weekly basic strategy teaser analysis. Remember to bet wisely and may the spread be with you.