Basic Strategy NFL Teasers: Best Options for Week 15
by George Monroy - 12/13/2013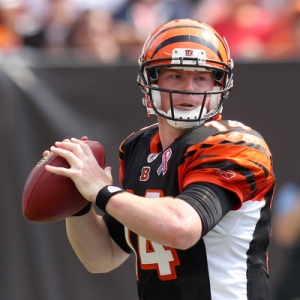 As the NFL regular season comes to a close, the one constant for bettors has been basic strategy teasers. The wager has won at an 80 percent rate all year and would have brought in a profit for anyone wagering on each teaser week-in and week-out. Last week the teasers went 1-2 and had their first losing week of the season. The wager made bettors a profit for 14 straight weeks of the season. For those that are unfamiliar, basic strategy teasers are two-team, six-point bets that utilize favorites of 7.5 to 8.5 points and underdogs of 1.5 to 2.5 points and adds or subtracts six points for each game.
There are still a few weeks left in the NFL regular season, so it is never too late to jump on the basic strategy teaser bandwagon. This week there are three teasers on the docket, and they feature three home underdogs receiving eight or more points. So let's take a look at the matchups and figure out which have the best value to wager on.
Buffalo Bills at Jacksonville Jaguars
Original spread: Jaguars +2
Six-point teaser: Jaguars +8
The Jacksonville Jaguars will finally face a spread that is under a touchdown for the first time this season. The team has seen some of the largest lines in NFL history and has failed to cover most of them. The Jaguars are only 1-4 ATS as a home underdog, but they have won three games in a row. Neither team really has any incentive to win anymore, and to be honest both would benefit from losing and hoping for a better position in next year's draft. Expect Jacksonville to keep this game close or to win it straight out. Taking the eight points feels like a gift.
Cincinnati Bengals at Pittsburgh Steelers
Originals spread: Steelers +2
Six-point teaser: Steelers +8
The Steelers have lost two games in a row and are 6-7 ATS this season. This teaser feels like a loss waiting to happen, even though Pittsburgh is receiving more than a touchdown's worth of points at home. The Bengals have one of the best ATS records in the league at 8-4-1 overall and 5-3 as a favorite this season. The team is also still in the mix for the top seed in the AFC and will be coming into this matchup motivated and hungry for a win. Taking a home team plus eight points is never a horrible play, but if any of this week's teasers were going to lose, it would probably be this game. The Steelers could easily get blown out in this matchup.
Arizona Cardinals at Tennessee Titans
Original spread: Titans +2.5
Six-point teaser: Titans +8.5
The Cardinals have the best ATS record, with a 9-4 mark, in the entire NFL, while the Titans have the worst ATS record as a home underdog, going 0-3 so far this season. Arizona is still right in the playoff mix and cannot afford to lose this game. The Titans, on the other hand, are 5-8 and all but eliminated from the playoffs with three games left to play. The Cardinals last three wins have been by double-digits, with two of them in the 20-point range, while the Titans have lost their last two games by 12 points or more. This is another teaser that seems like it could lose.
Ready to bet on some NFL winners? Doc's Sports wants to help you get started by giving you $60 worth of picks completely free. No obligation. No salespeople to deal with. You don't even need to give us a credit card number. Click here to get started and get your free picks in minutes.
Read more articles by George Monroy