Basic Strategy Teasers: Best Options for Week 8
by George Monroy - 10/23/2013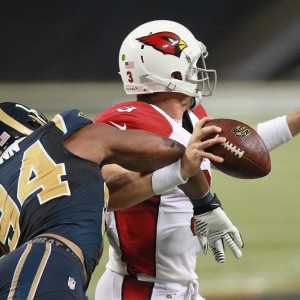 Basic strategy teasers continue to be an excellent wager for football bettors every week. Last Sunday the teasers went an astounding 6-1 and are 33-9 on the entire season for a nearly 79 percent win rate. Basic strategy teasers, for those that are not familiar with the wager, are a positive expected value bet—which essentially means that they should turn a profit by blindly wagering on them—that moves spreads past the strongest NFL key numbers of three and seven. Teasers in general allow bettors to add or subtract points to the spreads of each game. Basic strategy teasers are six-point, two-team teasers that only deal with favorites of 7.5 to 8.5 points and underdogs of 1.5 to 2.5 points.
Last week, the only team that did not cover the teaser was the Kansas City Chiefs, who played a tougher-than-expected matchup against the Houston Texans and missed covering by half a point. This week there are only three basic strategy teasers to choose from, which might imply that sportsbook are becoming concerned with how well the wager has performed this season and are moving their spreads away from those numbers. Let's take a closer look at the teaser options for this week and figure out which have the best value to wager on.
Cleveland Browns at Kansas City Chiefs
Original spread: Chiefs -8
Six-point teaser: Chiefs -2
The Kansas City Chiefs continue to play inspired football and are not only the last undefeated team left in the NFL, but they also have an excellent 5-2 ATS record. The team has averaged a 14-point margin of victory over those matchups, and might not lose their first game until Week 11, when the team heads into Denver to face Peyton Manning and the Broncos. This week the team is receiving a ton of teaser value as a two-point home favorite against the Browns. Cleveland is coming off of a two-game losing streak where they lost by an average of 16 points per game. The Chiefs are the strongest teaser of the week and are probably a solid favorite to cover the original spread of eight points.
Atlanta Falcons at Arizona Cardinals
Original spread: Falcons +2.5
Six-point teaser: Falcons +8.5
The Falcons may have started off the season on a disappointing note, but the team is receiving excellent teaser value this week against the Cardinals. Arizona has lost two games in a row and does not have enough offensive firepower to beat the Falcons by more than one touchdown. The Cardinals rank 17th in passing yards while Atlanta ranks third. Both squads are in desperate need of a win to stay within striking distance of the division lead, so expected a closer game that stays within the 8.5 points.
Pittsburgh Steelers at Oakland Raiders
Original spread: Raiders +2.5
Six-point teaser: Raiders +8.5
The Raiders, surprisingly, are an above-.500 ATS team and should be able to cover the spread at home against a bad Steelers team. Pittsburgh is coming to the matchup with two straight wins and is probably the better team in this situation, but asking them to win by more than eight points on the road is probably too much to hope for. The team still has problems on offense and was not able to score more than 20 points in each of their last two victories. Oakland might not win this game, and this is probably the weakest teaser of the bunch, but it is still a very solid proposition to be a part of. Taking the home team plus 8.5 points against a bad Steelers team is the way to go.
Last Week: 6-1; Season: 33-9
After more than four decades handicapping the NFL, at Doc's Sports we know our stuff. We want to give new clients a chance to try our service completely free. Click here for $60 worth of free NFL picks. The sign-up is hassle-free, and there is no obligation.
Read more articles by George Monroy