Grading the 2013 NFL Coaching Hires
by Trevor Whenham - 1/21/2013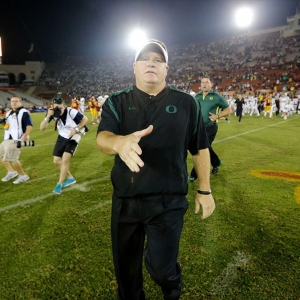 Eight NFL teams — fully a quarter of the league — fired their coaches last year, which is yet more proof of how thankless the job of NFL head coach has become. All eight vacancies have now been filled, which means it is a good time to grade the hires. Before we look at each team and grade their coaching hire in turn, let me just say that this is an impressive group of new coaches. Most years there are a couple of picks that leave you scratching your head — or imagining how soon the team will be hiring again. This year, though, it's hard to find major fault with any of the picks. Teams did a far worse job filling GM vacancies, but on the coaching front the early returns are that this was a strong offseason.
Bruce Arians, Arizona Cardinals
Arians was a hot name after his incredibly classy an effective interim coaching job in Indianapolis this year, so the timing was right for him. I can't help but be a little concerned that he is 60 and only now getting his first job, and that he is taking over a team with a horribly broken offense and a toxic culture. I'm not hugely optimistic about his tenure, but then I wouldn't be optimistic if the ghost of Vince Lombardi himself took over this team right now. Until they have a viable QB it's going to be a challenge. Arians is a good guy and a solid hire, though.
Grade — B+
Doug Marrone, Buffalo Bills
Some people have criticized this hire because Marrone didn't have a winning record in four years in the lousy Big East. Those people are morons. This is a very strong hire. He turned a total mess of a program at Syracuse into a handful to play against. Before that he was the offensive coordinator for the New Orleans Saints, and Drew Brees was twice the NFC MVP and once the NFL Offensive Player of the Year under Marrone. He is a tough guy who oozes confidence, and he has the swagger and lack of baggage that Buffalo desperately needed after the debacle that was the Chan Gailey era.
Grade — A-
Marc Trestman, Chicago Bears
I love this hire. Trestman has been off the radar for NFL fans because he has been in the CFL four five years as the head coach of the Montreal Alouettes. I'm a Canadian who watches a lot of the CFL, though, so I can tell you that Trestman has done a phenomenal job in the league. He has won the Grey Cup twice and lost in the championship game a third time in five years. He's offensively creative and very professional. He has an incredible earlier history as well. He was the QB coach at Miami in 1983 when Bernie Kosar led the team to a National Championship. He was offensive coordinator for the Raiders in 2002 when the team made the Super Bowl and Rich Gannon was MVP. He faces some challenges, but is a great hire for an offense that badly needs an overhaul after Lovie Smith neglected it for far too long.
Grade — A
Rob Chudzinski, Cleveland Browns
Chudzinski also spent time, like Trestman, at the University of Miami. He won a National Championship as a starting tight end. As tight end coach and then offensive coordinator from 1996 to 2003, he coached three all-American tight ends and won another championship. His NFL time has been less impressive, but he did a masterful job in Cam Newton's rookie year as his offensive coordinator. I don't love this hire because the team needed a home run after the ownership change and the problems they have had. He not a bad hire, though.
Grade — B-
Gus Bradley, Jacksonville Jaguars
Bradley has been offensive coordinator for the Seahawks for four years. His first was in the last year of the Mora era, so it hardly counts. It's testament to his ability that Pete Carroll kept him around, though. In his first year under Carroll, the offense was a disappointing 27th in yards allowed. Last year it was fourth. He was particularly impressive in the way he cultivated a killer secondary from scrap parts. The team needs help in every aspect of the game, and his coordinator hires will be crucial, but he's a quality guy who was due for an opportunity. He probably won't pull off miracles here, but can anyone shine in the short term with this team where it is at?
Grade — B
Andy Reid, Kansas City Chiefs
I'm really glad that Reid got out of Philadelphia. He had been there too long, and both he and the team needed a change. I only wish that he hadn't jumped right back into coaching again. A year off to get some perspective, relax and recharge would have been a better idea. Still, you can't blame the Chiefs for aggressively pursuing him. After some poor decisions they need a home run coaching hire, and Reid isn't nearly as much of a gamble as an unproven guy would be.
Grade — B+
Chip Kelly, Philadelphia Eagles
The Eagles got their man. It wasn't cheap, and it really wasn't easy, but they did it. There is an obvious risk every time a college coach makes the jump. Saban, Petrino and Spurrier were horrendous. Carroll has been good, though, and Harbaugh has been great. The degree of success Kelly has depends on two things — his ability to sell his systems to pro players and his ability to adapt what he does to his personnel. If nothing else, though, it will be exciting. Kelly hasn't run a perfect program at Oregon, but he certainly turned around the program in a hurry. It's hard not to be optimistic here. The only thing somewhat holding back my optimism is that he backed off of the move to the NFL twice before making the plunge. The coaches who succeed making the move commit absolutely, so hopefully Kelly is now at peace with the change.
Grade — A
Mike McCoy, San Diego Chargers
McCoy isn't Norv Turner. For that reason alone he gets a top grade. Turner had been terrible for the last few years and stayed far too long. In his four years as offensive coordinator for the Broncos, he has worked with Kyle Orton, Tim Tebow, and Peyton Manning. Each guy obviously bring wildly different skills to the table, but McCoy did a very good job of quickly and effectively adapting the offense to them and getting as much out of them as he could. That's a sign of his skill. He has a very good weapon in Philip Rivers if he can get him back on track and a reasonably talented roster. McCoy is a strong hire who should be poised for success right away.
Grade — A
Read more articles by Trevor Whenham