Monday Night Football Betting: Jets at Falcons Bookie Advice
by CarbonSports - 10/7/2013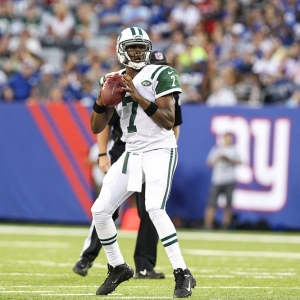 There's a general rule of thumb out there that preaches, "Don't bet against the Atlanta Falcons when they play in the Georgia Dome." Ask most fans or gamblers, and they'll tell you the same. It's become one of these strange betting points because they win at home quite a bit. But last time I checked, the Falcons were 1-4 ATS in their last five home games, and they are simply not the team we expected them to be this season at all. It's not that they don't win games in Atlanta. More so, it's that they have trouble covering.
A funnier, slightly less informed, mantra tells people to just bet freely against the New York Jets. The franchise has been in complete disarray for the past three seasons, and Rex Ryan has become one of the laughingstocks in the league. Frankly, the Jets are lucky that Tampa Bay seized the reigns as the most dysfunctional bunch of idiots in the NFL. Despite almost weird circumstances, however, the Jets are 3-1 ATS this season, with a win-loss record that is actually better than Atlanta's.
This is how whacky the 2013 NFL season has been, and it's why you have to pay close attention to the details in order to understand where your money is safest. So in order to prepare you for this game – because it's not nearly as simple as you might think – how about we play a few rounds of "Did You Know?"
New York Jets (2-2) vs. Atlanta Falcons (1-3)
Monday, October 7th --- Georgia Dome --- 8:15pm EST
NFL Betting Line: Atlanta -10.5 (44.5)
Did you know that the Jets have allowed the second-fewest yards per game defensively? Their 283.0 total yards against is behind only Houston. Rex Ryan may be an enormous dink both literally and figuratively, but he's a defensive mastermind. Over the course of the first four weeks of the season, I couldn't tell if the Jets were running in to good teams that just played badly or if the Jets forced them to perform like that. Three straight fist fights with Tampa, New England and Buffalo were completely forgotten when the most underrated team in the NFL – Tennessee – steamrolled them last weekend. The Jets can play defense. Don't underestimate this.
Did you know that Atlanta allows far more yards and points defensively? This part is the shocking dilemma for Falcons fans. They have ridiculous offensive firepower, but to obtain and maintain that level of talent on Matt Ryan's side of the ball, they've had to forfeit depth and skill on defense. The Falcons have given up 393.3 yards per game this season along with 26.0 points. Keep in mind that the Falcons struggled to stop the St. Louis Rams before guys like Sean Weatherspoon went on the injured reserve. You can throw against this defense with a high chance of success.
Did you know that Geno Smith isn't terrible? I know, I'm finding it hard to believe as well. Smith has completed 57.4 percent of his passes for 1,090 yards. His 1:2 touchdown-to-interception ratio is alarming but understandable given that he's just a rookie. As I've written before, rookie quarterbacks will sometimes play like rookie quarterbacks. Smith isn't a lost cause, and if there's one thing we know about him it's that he isn't scared to throw. Santonio Holmes and Kellen Winslow both being hurt gives Smith less weapons to use, but he'll find people. He was efficient at spreading the ball around at West Virginia. He'll do it tonight in the Dirty Dirty if he has to.
This game ultimately comes down to the fact that the Jets have played admirably when they face teams that can't run the ball effectively (or elect not to). Buffalo, New England and Tampa all decided to throw wildly against the Jets secondary, which is a mistake because it's the best part of their football team. Without Steven Jackson, the Falcons have no rushing ability whatsoever, and their so-so offensive line will have their hands full with the Jets blitzes. There is literally no way for Matt Ryan and Atlanta to offset the pass protection teams set up because nobody is scared of Jacquizz Rodgers or Jason Snelling (who is a full back anyways).
There is nothing sexy about the Jets offense, and that's why almost everyone is leaning away from New York tonight. That's fair, but it also ignores the simple fact that defense is half of this game. If the Jets can force an ugly game like they did over the first three games of the season, Atlanta is in trouble. The point cushion here gives you a ton of breathing room in a game that should be played tight to the chest.
Don't blindly bet on Atlanta just because you're not paying attention. The Jets are not a good football team by any stretch of the imagination. The truth that a lot of gamblers and football fans won't accept is that Atlanta might be just as bad overall.