Monday Night Football Predictions: 49ers at Redskins Week 12 Odds
by Alan Matthews - 11/21/2013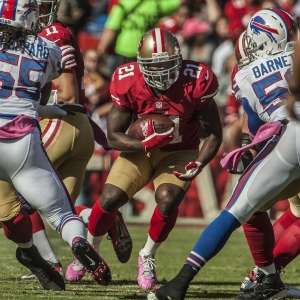 Around this time last season in the NFL, we were supposedly witnessing an offensive revolution. The read-option was tearing up opposing defenses. And the two best dual-threat QBs were Washington's Robert Griffin III and San Francisco's Colin Kaepernick, both first-year starters. RGIII would lead Washington to a season-ending seven-game win streak and its first NFC East title in 12 years. Griffin became one of the league's most popular players and beat a stellar class for NFL Offensive Rookie of the Year.
Kaepernick, who was in his second year, only got the starting job when very capable Alex Smith went down with a concussion in the 49ers' 10th game of the year. Kaepernick shined in his debut on Monday night against the Bears and never looked back. It perhaps took him a bit longer to break into the national consciousness, but he definitely did in the playoff game against Green Bay when Kaepernick set an NFL record for his position by rushing for 181 yards. He also passed for 257 and totaled four touchdowns and looked like the most unstoppable player in the league. The Niners played in their first Super Bowl since winning XXIX but lost to Baltimore. Kaepernick had the highest-selling jersey of any player entering this season.
Griffin and Kaepernick were the future of the league and the Redskins and 49ers must-watch TV and NFC contenders for years to come. Uh, not so fast.
49ers at Redskins Betting Story Lines
RGIII is starting to get a reputation as a prima donna, and he often clashed with Coach Mike Shanahan this offseason as RGII was rehabbing his torn-up knee suffered in the Skins' playoff opener against Seattle. However, Shanahan refused to play Griffin in the preseason. Things may have come to a head on that unstable relationship last week in Washington's 24-16 loss against Philadelphia that all but ended the Redskins' playoff hopes at 3-7. Griffin III had led Washington back from a 24-0 hole and had third-and-one at the Philly 18 with under a minute left. So what does he do? He lofts up a pass to no one in particular in the middle of the field near the end zone, and it's easily picked off for the Eagles win. Did Griffin say my bad afterward? No, he passed the buck and even hinted the Eagles seemed to know the Redskins' offensive schemes all day. Hint: it's the coaching staff's fault.
Veteran receiver Santana Moss said on a Washington radio show this week that a RGIII needed to take responsibility for the boneheaded throw and become more of a leader. Of course, less than 24 hours later Moss was on spin control, and the Skins say their locker room isn't divided. It sure seems to be. Griffin has been passing better lately, but his completion percentage and rating are both significantly down from 2012, and he's going to throw a lot more interceptions. He might also have more yards and TDs, but the Skins have trailed so much that Griffin has put up a lot of garbage-time yards/points. Griffin's rushing numbers are way down, and he seems skittish to run sometimes.
As for Kaepernick, no one has called out his leadership ability, but he's struggling worse than Griffin. Kaepernick was brilliant in Week 1 against Green Bay, completing 69.2 percent for 412 yards and three scores. Maybe he just needs to face the Packers every week as Kaepernick hasn't been very good since. He has passed for more than 200 yards once -- the 49ers are a run-first team -- and has completed more than 56 percent of his passes only three times. In San Francisco's current two-game skid, Kaepernick is 28-of-53 for 218 yards, two TDs and two picks. He's also not doing much on the ground, carrying seven times for 41 yards in that stretch. He's really only had three games where he made a difference with his feet.
To be fair, the Niners (6-4) are weak at receiver outside of Anquan Boldin, and he's been average since a stellar opener. They just got Mario Manningham back and desperately need Michael Crabtree to make his season debut. That's not expected Monday but maybe next week.
Injury-wise, the Niners will be without two key starters on Monday: left guard Mike Iupati and cornerback Tarell Brown. The Niners lost No. 2 receiver Leonard Hankerson for the rest of the season this week to a torn LCL. Tight end Jordan Reed suffered a concussion last week and is questionable. He's been terrific this season.
49ers at Redskins Betting Monday Night Football Week 12 Odds and Trends
At Bovada, San Francisco is a six-point favorite with a total of 47. The Niners are 7-3 ATS (4-1 on the road) and 5-5 "over/under" (3-2 on road). The Redskins are 3-7 ATS (2-2 at home) and 6-4 O/U (3-1 at home). San Francisco has covered 11 of its past 15 after a loss. The Niners are a historically good MNF team, covering 21 of their past 26. Washington is 7-2 ATS in its past nine against teams with a winning record. It is 2-5 ATS in its past seven Monday games. The Skins are 1-7 ATS in their past eight against the NFC. The over is 4-0 in the Niners' past four against teams with a losing record. The under is 6-2 in Washington's past eight home games against teams with a winning road record. The favorite is 4-0-2 ATS in the past six meetings.
Monday Night Football Predictions: 49ers at Redskins Betting Picks
With both QBs struggling and some receiver depth issues, it could be one of the most run-heavy games of the season. The Redskins are No. 1 in rushing offense and No. 19 in stopping it. San Francisco is No. 5 and No. 12, respectively. Overall, the Niners' defense is far superior to Washington's, which is one of the worst in the NFL. Griffin better not turn the ball over this week, because San Francisco ranks first in the NFL by scoring 105 points off of 21 opponent turnovers.
Technically, Washington isn't out of the playoff chase, because the NFC East is so lousy, but why would anyone expect a team that has yet to piece together back-to-back wins could get to at least 8-8? The Niners will play with much urgency as a loss would likely knock them out of the final wild-card spot in the NFC. Win here, and things might be OK with three home games in the next four and the only road test at Tampa Bay. I think San Francisco does, by a touchdown. Take the under.
At Doc's Sports our handicappers are obsessed with football and passionate about finding you winners. Want proof? We'll show you what we mean by giving you $60 worth of our member's picks absolutely free. No obligation. No strings. Click here to get started right now.
Read more articles by Alan Matthews