Monday Night Football Predictions: Cowboys at Bears Week 14 Odds
by Alan Matthews - 12/5/2013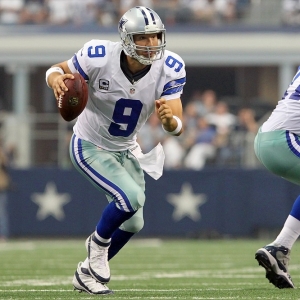 In my opinion, if you were to rank the most popular teams in the NFL since the advent of the Super Bowl, the Chicago Bears and Dallas Cowboys might be Nos. 1-2. I think the only team that might squeeze out one of the two would be Green Bay, but it's close. The Bears had perhaps the most popular team in league history, the 1985 "Super Bowl Shuffle" champions. Dallas is of course known as "America's Team". The Bears and Cowboys are on national TV often and draw huge ratings. Just about every week a Dallas game is among the most-wagered at any sportsbook.
So you have that story line for Monday night's matchup as well as both fighting for playoff spots. The Cowboys (7-5) are in much better shape. They are tied with Philadelphia for the NFC East lead with Dallas currently holding the tiebreaker via a Week 7 win in Philly. Look for the East to be decided in Week 17 in Big D when they play again. Chicago (6-5) is a game back in the standings behind Detroit in the NFC North, but it's really two because the Lions swept the season series. The Bears probably are going to have to win out. The Lions may lose this week in Philly but should be favored the rest of the way: vs. Baltimore (next Monday), vs. the Giants, at Minnesota (final game in Metrodome).
So really this game is more important to Chicago. The wild card is probably a pipe dream for the Cowboys and definitely the Bears. The NFC South runner-up will take one spot and probably the 49ers (8-4) the other.
Cowboys at Bears Betting Story Lines
The stats say this should be a shootout because both defenses are flat-out lousy. Dallas is last in yards allowed, the only club entering Week 14 to have allowed more than 5,000 yards (421.6 per game). The Cowboys are No. 31 against the pass and 26th against the run. They have allowed an NFL-record four 400-yard passers. There is some good news: star middle linebacker Sean Lee will return this week after missing the past two games. He's the quarterback of the defense.
Chicago is about as far away from the "Monsters of the Midway" as the Bears have been in decades. While the Bears are mediocre against the pass, they are being steamrolled in the ground to the tune of 153.6 yards per game. A few years ago, that might have been a three-game total. In the Bears' past three games this year: 174 yards allowed to a Baltimore team that is terrible on the ground (Bears won that one in OT); 258 yards to a so-so Rams attack; and 246 yards last week against Minnesota, which is somewhat understandable because Adrian Peterson put up 211 on 35 carries. He simply owns the Bears, even when they were good on that side of the ball. The Bears have been destroyed injury-wise on defense. Their best tackle (Henry Melton) and cornerback (Charles Tillman) are out for the season, and Lance Briggs, their best linebacker, hasn't played since Week 7 and won't Monday. He could return in Week 15.
Josh McCown has been a revelation at quarterback in place of the injured Jay Cutler, and McCown will go again with Cutler already having been ruled out. In his six games played this year, four starts, McCown hasn't had a game rating of less than 90 and has nine touchdowns and just one interception. There are some in the Windy City who believe the Bears shouldn't give Cutler a huge extension this offseason because McCown has proven any QB can thrive in Marc Trestman's system. Maybe that's true, but Chicago isn't going to turn the team over to a 34-year-old journeyman. Cutler will be back next year, even if it's on a one-year franchise tag.
As good as Brandon Marshall and the Cowboys' Dez Bryant are, the best receiver in this game right now is second-year Bear Alshon Jeffery. The Vikings couldn't stop him last week as Jeffery caught 12 balls for a team-record 249 yards and two scores. It was his second 200-yard game of the year, which is as many as the Bears had in their history previously.
Chicago visited Dallas for a Monday night game in Week 4 last season and won 34-18. Tony Romo was terrible, throwing five picks. Two were returned for TDs, although by guys who won't play Monday in Briggs and Tillman. The Cowboys ran the ball only 14 times. They tend to fall in love with the pass this year as well.

Cowboys at Bears NFL Week 14 Betting Odds and Trends
At Sportsbook.ag, this game is a "pick'em" with a total of 49.5. Dallas is 8-4 ATS (4-2 on road) and 7-5 "over/under" (4-2 on road). Chicago is 2-9-1 (0-5-1 at home) and 8-4 over/under (4-2 at home). The Cowboys are 3-8 ATS in their past 11 December games. They are 1-7 ATS in their past eight Monday games. The Bears are 1-6 ATS in their past seven following an ATS loss. They have covered just three of their past 16 home games. The over is 4-0 in the Cowboys' past four following an ATS loss. The under is 4-1 in Chicago's past five against teams with a winning record. The underdog is 4-1 ATS in the past five meetings.
Monday Night Football Predictions: Cowboys at Bears Betting Picks
While both defenses stink, the weather is going to be a huge factor. Temperatures will be in single-digits at kickoff with winds around 15 mph, although there's no snow in the forecast, which is a shame as nothing beats football in the snow. That cold should definitely keep scoring down, so I love the under here more than my side pick, which will be the Bears in a close game.
I'm guessing turnovers play a huge role here. They would anyway, but with the ball feeling like a rock it's bound to slip out a few times. Both defenses are bend-don't-break types that emphasize forcing turnovers. It's what former Bears coach Lovie Smith learned in Tampa Bay under Monte Kiffin, the grandfather of the Tampa 2 and now the Cowboys' defensive coordinator. Dallas is No. 3 in the NFC with 25 takeaways while the Bears are fifth with 23.
I actually trust McCown over Romo to protect the ball. So can Dallas run on this defense? The Cowboys are 27th in rushing at 85.1 yards per game and 27th in stopping it. I'll go with Matt Forte as the difference over DeMarco Murray.
Doc's Sports has been handicapping the NFL since before every single player currently in the league was born. That's experience. You can get that experience on your side absolutely free. Doc's wants to give you $60 worth of free NFL picks - the same ones that members get. No obligation. Click here to get started today.
Read more articles by Alan Matthews