2013 NFL Draft Grades for Round 1
by Robert Ferringo - 4/26/2013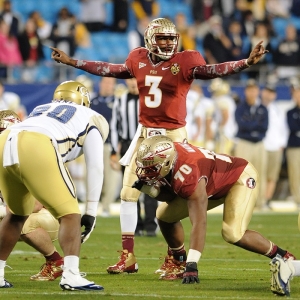 Finally, NFL general managers started to listen.
For years, in my NFL Draft previews and analysis, I have been screaming that too much attention has been given to overhyped skill position players. And that one of the keys to building a solid, winning foundation is to use the annual NFL Draft as a place from which to stockpile the largest, strongest, meanest mutants allowed on a football field.
The buildup, and immediate follow-up, to the 2013 NFL Draft seems to be that it lacked excitement, or glitz, or intrigue. And one of the biggest reasons for that had to do with the fact that the team with the top overall pick, Kansas City, was debating between two offensive tackles rather than two quarterbacks or some Heisman-winning running back.
Seven of the first 11 picks in the 2013 draft were offensive or defensive linemen. An offensive guard was taken before a quarterback, running back or wide receiver. All told, only four offensive skill position players were taken in the opening round as o-linemen (nine), linebackers (four) and defensive linemen (seven) highlighted the field.
You win in the NFL by being bigger, meaner and more physical than your opponent. The NFL can try to shield itself from multi-billion dollar lawsuits by changing rules to make the game "safer". But it is still a nasty, violent affair that is won and lost in the trenches.
Here are some snap-judgment draft grades for Round 1 of the 2013 NFL Draft:
Miami Dolphins – C+
Dion Jordan definitely has talent and could be a Jason Taylor-type player. But a team with the variety of needs that Miami has shouldn't be trading second-round picks for hit-or-miss linebackers.
New York Jets – D+
It is easy to pile on the Jets right now. But, seriously, what the hell are they doing? Milliner could be a very good corner. But all he is going to face is constant Revis comparisons. Milliner has a lengthy injury history, and I think he's more of a gamble than people let on. Also, why didn't they take Jarvis Jones with their second pick? The Jets pass rush has been horrendous, and Jones is exactly the type of big-play guy that Rex Ryan desperately needs.
Buffalo Bills – F
Losers. The Bills are just losers. E.J. Manuel was a fourth-round pick, not a first. Buffalo has made one terrible decision after another this offseason. I don't think Buffalo should've taken Ryan Nassib, either (apparently I'm the only one). In fact, they shouldn't have drafted a quarterback period. But to watch them flop and flounder around like this was, well, both expected and hilarious. Just a typical move from this loser franchise, and I can't wait to hear all the desperate, pathetic Bills fans try to talk themselves into Manuel as the quarterback of the future.
New England Patriots – A+
The Patriots gave up a pick they didn't really want or care about and picked up four other selections – three in rounds No. 2 through No. 4 – with which they can now address needs and/or gamble on high-risk, high-reward guys. Great move. Mix in the bumbling of their retarded division "rivals," and the rich just keep getting richer.
Cleveland Browns – C+
This was kind of a reach for a guy that is still very raw. I'm not sure if they had suitors, but the Browns should've been begging to trade out of this slot.
Pittsburgh Steelers – A+
This is why the Steelers are the Steelers. Jarvis Jones was one of the best 5-10 players in the country this season. He fits perfectly into Pittsburgh's system and he has high-end potential. The Steelers didn't have to give up picks to get a guy that I felt should've been gone long before this.
Cincinnati Bengals – C-
Maybe Tyler Eifert will turn into something. But I'm just not really a fan of taking tight ends in the first round of the draft. That's especially true when you look at how many impact tight ends have been snagged in later rounds the last several years. Eifert is a reach.
Baltimore Ravens – A-
I really should just give the Ravens an A or A- every year. Until Ozzie Newsome proves otherwise, I will trust every decision he makes when it comes to drafting players.
Houston Texans – A-
I am a fan of Hopkins' work, and Houston actually needs some receiving help. I thought this was a good, bold pick on a guy that will get to learn at Andre Johnson's side for another year or two.
Indianapolis Colts – B-
Ho-hum. The colts grabbed a defensive end that is solid-but-not-spectacular. I actually thought they could've done better.
Jacksonville Jaguars – B+
I think it is fine that the Jaguars went with a rock right tackle here. But this team is way under the salary cap and could've signed a veteran tackle and taken a shot here with a defensive player with upside.
Tennessee Titans – B-
The only reason this grade is so high is because I really like Warmack. He is another guy with a chance to have a decorated 8-12 year career. The problem is that the Titans so obviously need defensive help they should've gone in that direction.
Kansas City Chiefs – A-
Obviously, we'll know more 10 years from now. But if the Chiefs were right in taking Eric Fisher over Luke Joeckel then they just picked up a bookend left tackle for the next decade. Can't ask for more than that.
San Diego Chargers – A
The Chargers needed offensive line help. They got offensive line help from the best line in the country. Sometimes it is just that easy.
Oakland Raiders – B+
I'm a little worried about the talent that Hayden faced at Houston. But the fact that Oakland addressed a need with a viable prospect – you know, someone that other scouts actually had going in the first round – and that they made a trade to acquire more picks was a shockingly savvy move from this franchise. Good work.
Denver Broncos – B
Denver wanted an athletic defensive lineman and they grabbed one. But how good is Sylvester Williams really going to be?
Philadelphia Eagles – B
It was definitely funny to see that just because Andy Reid left Philadelphia his draft strategy is still alive and well. The Eagles line is in shambles, so this was really an easy pick.
Dallas Cowboys – B+
This was just a smart, simple move by the Cowboys. Their offensive line has been in shambles, and after going 30 years in between first-round offensive linemen taken in Round 1 (1981 to 2011), the Cowboys have now picked two first-round o-linemen in the last three years.
New York Giants – B
Yeah, I bumped this grade up a bit because I'm a Syracuse grad. But Pugh is a horse. The Giants aren't desperate for line help, which is smart because they can work the youngster as a guard, tackle and maybe even a center, and let him naturally find his NFL position.
Washington Redskins – D
Just because I can't stand Dan Snyder, and because I still think the Redskins gave up WAY too much to get Robert Griffin.
Detroit Lions – C
Really? Defensive line help? That is the one area of relative strength on this atrocious team. They had their pick of the litter of linebackers and secondary players, and they went with a defensive end. Brilliant.
Chicago Bears – C+
Look, I love it that the new Bears front office is FINALLY addressing what has been Chicago's glaring, obvious problem on the offensive line. So as a fan they get an A+. But, objectively speaking, couldn't they have waited on Long? And doesn't Chicago need some back seven help now that they are going away from the Cover-2?
Minnesota Vikings – B+
I like the picks of Sharrif Floyd and Xavier Rhodes. Those guys were outstanding values late in Round 1. But Minnesota gave up four picks for Cordarrelle Patterson, which is insane. That dropped their overall rating from an A+ to a B+.
Green Bay Packers – B
There aren't many teams that have had the wild swings of genius and get-out-of-here as the Packers have with their first-rounders in the past 10 years. Defensive end Datone Jones looks to keep it going, and I'll predict this guy either as a bust that isn't with the team in three years or a potential Pro Bowler.
Tampa Bay Buccaneers – B+
The Bucs didn't have a first-round pick. They traded it to the Jets for Derrelle Revis. It was a very smart move. The Bucs don't need more young players; they need guys that can produce.
Carolina Panthers – A-
I'm not as high on Lotulelei as a lot of people are. But the bottom line is that a lot of people had him as a Top 5 or Top 10 pick and he fell to Carolina. He fills a hole on the defensive line, and they pulled the trigger.
New Orleans – B-
I just don't know that Vaccaro is as good as some of the other first round safeties we've seen go in the last several years. The Saints need to address the position. But is Vaccaro an answer or will he just be another question mark?
Atlanta Falcons – A-
The Falcons wanted a cornerback and they got a cornerback. Good show. But here is my question: why did they feel they needed a corner when their pass rush is one of the worst in football?
Arizona Cardinals – A-
The Cardinals upgraded their offensive line, which they definitely needed to do, and grabbed a fast, athletic player that could punch the clock for the next 12 years with some solid production. I'll take it.
St. Louis Rams – B
I don't mind the Rams going after Tavon Austin. He could be a game-changer. But they gave up way too much for a guy that is 50-50 to hold up against an NFL pounding. What salvaged their night was snagging Alec Ogletree at the end of Round 1.
San Francisco 49ers – B
I like the pick, but I don't know that I liked the 49ers trading up to get Eric Reid. I really hope that this Super Bowl favorite isn't planning on starting a rookie at safety.
Seattle Seahawks – B
If Percy Harvin can stay healthy, then he was a steal for a first-round pick (No. 25 overall) and a couple other selections. The problem is, Harvin never stays healthy.
Read more articles by Robert Ferringo