NFL Handicapping: ATS Studs and Duds
by Trevor Whenham - 10/7/2013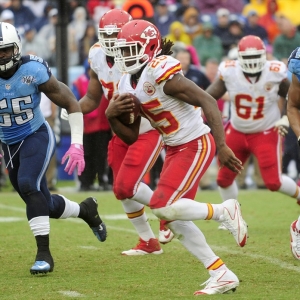 The NFL season is still young, but we have seen enough already to have a sense of which teams are strong for bettors and which teams really aren't. Here's a look at the studs and duds of the season to date when it comes to covering spreads:
Studs
Kansas City Chiefs (4-1 ATS): The Chiefs haven't been the most exciting team in the league to watch, but they have been remarkably competent. That competence combined with reasonably modest expectations that have led to reasonable spreads have made the Chiefs a spread-covering machine. The only game they didn't cover was when they beat the Cowboys by just a single point as three-point favorites. They could see bigger spreads in the next month with games looming against the Raiders, Browns, Bills and suddenly imploding Texans, so we will get a much better idea of what they are made of soon.
New Orleans Saints (4-1 ATS): The Saints have been good offensively, though perhaps not quite as sharp as they have been in the past. What has made them so dangerous, though, is that they can finally play defense. They aren't the best defensive team on the planet by any means, but compared to where they have been in recent years they are dynamic. That certainly makes it easier to cover spreads, but games in the next six weeks against New England, Dallas and San Francisco will test whether the changes are for real and whether the team can keep being the best friend of bettors.
Seattle Seahawks (4-1 ATS): The last two games have dimmed the luster of this team from a betting perspective somewhat. They were one point favorites against the Texans, but they needed a heroic comeback and overtime to win. Then they fell short against a very good Indianapolis team. At this point they are a tough team for bettors to trust on the road, but at home they are extremely tough until they prove otherwise — and with Tennessee, Tampa Bay and Minnesota their next three home opponents, they could keep it up for a while.
Arizona Cardinals (4-1 ATS): The first three teams on this list make sense. The last two, starting with Arizona, are more of a surprise. The formula isn't that tough to figure out — they have yet to be a favorite, but they have won three games and lost close in a fourth one. This is not a great team by any means, but they are better than the public thinks. They quite possibly won't be favored until they travel to Jacksonville Nov. 17, so they could keep doing what they are doing for a while.
Dallas Cowboys (4-1 ATS): In the wake of Tony Romo's brutal interception to throw away a win against Denver, the storyline has been about how Romo can't get it done when things matter. While that may or may not be true, the ATS record suggests the team is better than the public expects. They are a perfect 3-0 ATS at home, and are the only team to cover a spread against the Chiefs — which they did in Kansas City.
Duds
Houston Texans (0-5 ATS): This is a team self-destructing right before our eyes. Heading into the season Matt Schaub was a Top-10 QB in the eyes of most, and he was at the helm of the second or third most dangerous contender in the AFC. Now it is far from a certainty that he will still be a starter by Thanksgiving. It's a remarkable decline and has made it extremely tough for this team to do anything — at least against the spread. Their 31-point loss at San Francisco as four point underdogs on Sunday was just plain pathetic, and it makes it hard to believe that there are quick fixes here.
Jacksonville Jaguars (0-5 ATS): Jacksonville is a horrifically bad team with little talent, bad injury issues, no real reason for hope in the short term, and a challenging schedule. As bad as they have been, this team is not going to get any better in a hurry.
New York Giants (0-5 ATS): What a mess. In the first game they lost a tight one in Dallas, and we had no idea yet of how much trouble this team was in. Even their home loss to the Broncos in Week 2 could have been worse. In the next three weeks, though, they completely gave up and played as poorly as they possibly could. No team is worse at running the ball, and no squad has allowed more points. They should be better than they are, but so far they have been lousy, and they have given few signs that they are going to improve in a hurry. This is a broken team.
Pittsburgh Steelers (0-4 ATS): This team hasn't given up like the Giants have, but they just aren't very good right now. They can't run, they can't stop the run, and despite moving the ball through the air reasonably well, they can't score. This is not a good team right now. They have been so competent for so long, though, that the public has been slow to adjust to the new reality. Until that happens — and it could take some worse performances than they have had so far — this team will continue to struggle to cover spreads that are more inflated than they should be.
Read more articles by Trevor Whenham