NFL Handicapping: Denver Broncos and John Fox
by Trevor Whenham - 11/5/2013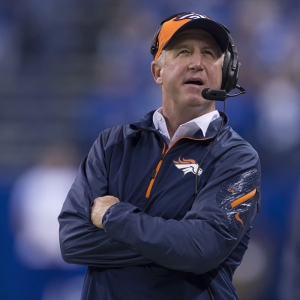 The unfortunate illness of Denver Broncos head coach John Fox has created an interesting handicapping situation. Fox had tried to delay a needed heart procedure until the offseason, but after feeling dizzy on Saturday he was forced to have surgery and will miss at least a month and likely more. Defensive coordinator Jack Del Rio has been named interim coach until Fox can return. Here are six factors to consider when trying to determine what this situation might mean from a betting perspective:
Fox was a good fit: Fox was clearly working well with Peyton Manning and the rest of this team. Manning is so much of an in-game manager that Fox didn't have to do as much as a lot of coaches do during a game. Still, the importance of the relationship between a head coach and his team is crucial, and this was generally a good one. That doesn't mean that Del Rio isn't going to have a good relationship or that the team will inevitably take a step back without Fox. It just has to be considered as a possibility. Fox and Del Rio have different personalities. That means that there is an inevitable adjustment facing the team.
Del Rio is experienced: Del Rio has been a head coach for a long time, and he has a year and a half working with this team. If anyone can come in and take over this team effectively, it is Del Rio. Things could absolutely be worse — like if they had gone with their second choice and elevated running backs coach Eric Studesville. There is some concern that it is the offense that has been driving this team this year, so there could be issues with a defensive coach at the helm. Fox is very defensive-minded, though, so that concern is minimized.
Defense is a work in progress: Early in the season this defense was just plain lousy. It has improved as personnel has returned, but it is still a very long way from the strong unit it was last year, and it is going to take a whole lot of work to maximize the potential the team has. Now the defense is not only missing the mind of Fox, but Del Rio, who is still technically defensive coordinator, will be limited in the time he can spend with the defense as well. They may add more defensive staff, but that won't be a meaningful solution. The fact is that this defense will be working short-handed from a coaching perspective just when they need all the coaching they can get.
Could be a rallying point: We don't have a direct precedent to learn from here, but what happened to the Colts last year is close. When Chuck Pagano was stricken with leukemia, it became a major rallying point for the team. They played for their coach, and the results were impressive. It wouldn't be unreasonable to expect something similar here. Fox is popular with his players, and the early response from players has certainly indicated that they have him in their thoughts as they prepare for next week and beyond.
Public will overreact: This is the kind of situation that the public really gets worked up about — especially when it happens to a very public team like the Broncos. Add in the fact that Houston head coach Gary Kubiak is facing a health crisis of his own, and the health of head coaches, and what it means to teams, is at the forefront of people's minds. In the short term, at least, there is a good chance that the public will overreact, and there could be value here.
What happens when he comes back?: There is a possibility for a rough transition to the absence of Fox now. As important to consider, though, is the possibility of a rough transition — or at least a distraction — when he returns. Estimates are that he could be out for about six weeks. That means he will be returning to the fold very close to what will be expected to be a long playoff run. That return to action worked well for Indy last year, but Del Rio is a stronger personality than Bruce Arians, so nothing is certain.
Read more articles by Trevor Whenham