NFL Handicapping: Flaws of the Major Contenders
by Trevor Whenham - 11/11/2013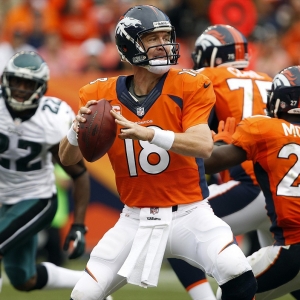 Through 10 weeks of the NFL season, there are 10 teams with at least six wins. There is still plenty of football left to play, and anything could happen, but chances are fairly good that one of those 10 teams is going to be the Super Bowl Champions when all the dust settles. All 10 teams are varying degrees of very good, but none are close to perfect. Here's a look at the biggest flaw of each of the 10 serious contenders in the NFL:
Kansas City Chiefs (9-0): The Chiefs have the best scoring defense in the league, and that defense has helped them to keep finding ways to win. To say that the offense is not explosive, though, would be an understatement. They have scored more than 26 points just twice this year — against lousy teams in Jacksonville and the Giants. They do enough on offense, but just barely, and if the defense has a bad day they are unlikely to be able to score enough points to bail themselves out.
Seattle Seahawks (9-1): This team, frankly, sucks on the road. They lost in Indianapolis, and with the exception of this week's drubbing of an Atlanta squad that has clearly quit, each road game has been tight. The home games have increasingly been tighter, too — only beating Tennessee by a touchdown and needing overtime against Tampa Bay. The road struggles are a concern, but not as much of a concern as their inability to move the ball through the air right now.
Denver Broncos (8-1): In the closing seconds of Denver's win in San Diego last weekend Peyton Manning went down and struggled to get up. His knees and ankles were obviously bothering him. He stayed in the game, which he could do because he had called a timeout. The fact that he stayed in even though Osweiler was warming up and the game was in hand, though, is a sign of Denver's problem. Manning has been absolutely brilliant, but he can't take his foot off the gas, and he is one hit away from an injury in many parts of his body — ankle, knee, neck. Osweiler can't get a sniff of action, so if Manning goes down this team would be completely doomed.
New England Patriots (7-2): When this team isn't playing the Steelers, they really struggle to pass. The return of Rob Gronkowski has been a real boost, and chemistry is improving. When the game is on the line, though, we can't trust Tom Brady to come through like he has in the past because he lacks that sure thing that has made him great — Moss, Welker, and so on. Brady has frequently been visibly frustrated by the woes, and a team that we are used to seeing near the top of the league in offensive output has now been outscored by seven teams.
New Orleans Saints (7-2): The Saints can be dominant, as they showed in their Sunday night evisceration of the Cowboys. They have lost two in a row on the road, though — at New England and the Jets — and neither performance have been particularly good at all. Their other two road wins — by eight at Chicago, and by two in Tampa Bay — have been far from impressive, too. Like the Seahawks, this team just isn't the same when they aren't sleeping in their own beds. You can't play at home forever in the playoffs.
Carolina Panthers (6-3): The Panthers have finally awoken. They have won five straight, and their defense is stellar. While the offense has scored at least 30 points in five of the six wins, though, they aren't nearly as easy to trust. Cam Newton is far better than he was last year, but he's still not at his best through the air when things get intense.
Detroit Lions (6-3): In their last three games the Lions have beaten the Bears by two, the Cowboys by a single point, and lost by a field goal to a Bengals team that is lousy on the road. This team has all sorts of talent, but they just seem to be incapable of playing to their full potential and putting opponents away. It's as if they don't want to exert any more energy than is absolutely necessary. That lackadaisical approach undermines their immense talent on offense.
Indianapolis Colts (6-3): Andrew Luck has quickly become fond of the heroic late comeback, and the team seems to have developed the horrible habit of cruising early and looking to come back late. It barely worked against Houston, and this week against St. Louis they never even showed up. Until this team can play 60 minutes, they will go nowhere. Their old QB is as dangerous in Denver on the first possession as he is on the last regardless of the score. The Colts need to channel that.
San Francisco 49ers (6-3): In their six wins the Niners have played as well as any team in the league. They have been terrifying. In the three losses, though, they have been varying degrees of lousy. They have run into some very good defenses — especially Seattle and Carolina — but they have shut down completely in the face of that pressure. The defenses they will face in the playoffs will be even better, so it's hard to have faith in this team as they currently stand. Needless to say, their 32nd-ranked passing game, which completely shrivels up when challenged, is at the root of the issues.
Cincinnati Bengals (6-4): We've talked about how the Seahawks and Saints have real issues on the road. They look unbeatable, though, compared to these Bengals. At home they are 4-0. Away from home, though, they have lost four of six games, and at least three were completely winnable. They will improve their record going forward because they only go on the road two more times in their final six games, but this team just isn't mentally tough enough to win when the games really matter, and with four losses already they just aren't going to be able to play more than one game at home in the best-case scenario in the playoffs.
Read more articles by Trevor Whenham