NFL Handicapping: Have Falcons Given Up?
by Trevor Whenham - 11/21/2013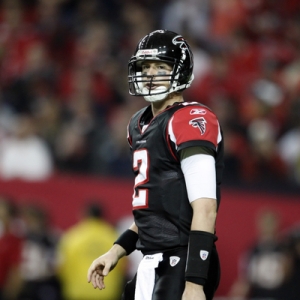 If you look up disaster in the dictionary, you see a picture of the 2013 Atlanta Falcons. They were viewed as legitimate threats to win the NFC by many, but there are college teams that could give them a run for their money given how they have been playing lately. They are 2-8, and they are lucky to have those two wins. It has been very, very ugly — the most disappointing situation in the league by far, and that's saying something given the messes in places like Washington, Tampa Bay, Houston and Minnesota. So, what has gone wrong, can it be fixed, and what does it mean for bettors going forward? Here are seven factors to consider:
Pride: Simply put, this team has none. They are getting beaten down — by crushing injuries, bad luck, real depth problems and mounting losses — and they are letting it defeat them. Contrast them to the Patriots. New England has been crippled by injuries, has major deficiencies at receiver and elsewhere, and they have had every excuse to quit. Thanks to immense will throughout the team, and the strong leadership of Tom Brady, though, the team will win their division and be in the mix for the glory in the AFC if the Broncos stumble. Maybe the Falcons have more issues, but not enough to account for the five-win difference at this point. They just don't care. They accept losing, and that apathy has grown with each loss. It's a profound absence of toughness and leadership. We can't be that surprised by that, though — to a lesser extent it's the same problem that has plagued them in the playoffs in recent years. This team just doesn't have a killer instinct, so adversity is beating them down instead of fueling them.
Matt Ryan: Ryan has not been very good. To be fair, he was solid earlier in the season, and he has gotten worse as the season has progressed. His numbers actually aren't that different than his career marks — 66.1 percent completion rate (63.2 percent on his career), 7.10 YPA (7.18 career) and 89.2 QB rating (90.7 career). His ratio of 18 touchdowns to 12 interceptions is a touch below what we have come to expect, but not exceptionally so. And to be fair again, between the injuries to his receivers and his offensive line, not to mention an inept running game, he is more than a little handicapped and it is a miracle he has been able to put up the numbers he has. What stands out, though, is how passive Ryan has been. He has been criticized in the past for not being the most aggressive, strong leader on the field. This year that has been especially true. When things have gone poorly, Ryan hasn't stood up and tried to overcome them — he has just let them happen, and he looked unhappy about it. He clearly and obviously doesn't trust his receivers without Julio Jones in action. The problem is that his play selection and body language make that very obvious, so it's as if he is showing opposing defenses what he is going to do — or at least what he is not going to do. He can't run effectively, and he won't throw deep, so it's not a wonder defenses are finding it easier than usual to contain him.
Coaching: You can't blame Mike Smith entirely for what has gone on in Atlanta, but you can't excuse him for it, either. Injuries and setbacks are a reality in this league, and you can certainly deal with it better than Smith has. Smith has been with this team since 2008, and he is coming off a 13-3 year, so he certainly knows the talent he has and should be able to get more out of it than he has. Smith has been given an endorsement by management, but you have to take that with a grain of salt because GM Thomas Dimitroff is on shaky ground thanks to this season as well. The guy was named Sporting News Coach of the Year last year, so that could buy him some time. It also makes this collapse that much more striking, though, and that could work against him. The more the losses pile up, the more uncertainty there will be around his future and the more of an impact that could have on the team.
Running game: Last year, despite their 13-3 record, this team was horrible on the ground. Their 87.3 yards per game average was just 29th best in the league. Improving that was the biggest focus of the offseason. Oops. This year they are averaging just 73.1 rushing yards per game — better than only Jacksonville. I could go on and on, but the facts are simple — they really, really can't run the ball. That's not going to change in a significant way this year, and it is crippling their offense.
Depth: I clearly have little respect for this team, but you have to sympathize with their injury woes. Roddy White was out early, so Julio Jones was the man in the receiving game. As White healed, Jones went down for the year. Steven Jackson was the big addition to the running game, but has been limited by injuries. The offensive line has been crippled, with the loss of left tackle Sam Baker the biggest issue. Defensively, they have been hit hard as well, with guys like linebacker Sean Weatherspoon and defensive end Kroy Biermann being sorely missed. The mindset of the team that has been made evident by all the hardship makes it hard to believe that they could ever have reached their lofty preseason expectations, but the injuries have certainly made that impossible.
Schedule: Things certainly don't get any easier the rest of the way for this team — a squad that has already lost to some pretty underwhelming teams like the Jets at home and the Dolphins, Cardinals and Bucs on the road. Three opponents — New Orleans tonight, and San Francisco and Carolina, are all but certain to be losses barring dramatic changes on both sides between now and game time. A trip to Green Bay will be very tough, and playing in Toronto against Buffalo could be a challenge as well because the Bills are feisty. Only hosting the Redskins seems like a reasonably winnable game, and even in that one the Falcons will be at such a disadvantage in the running game that nothing is certain. I can easily say that anything over four wins would be a surprise at this point, and I would frankly be surprised if they even got as high as four.
ATS: This team has been just as lousy for bettors as they have been on the scoreboard. Their two wins represent the only times they have covered spreads. They are likely to be underdogs at least four times down the stretch, but given that they are a perfect 0-6 ATS as underdogs so far, that doesn't inspire. Along with betting against Jacksonville and Houston every time they play, betting against the Falcons has been the most profitable thing to do in the NFL this year.
Read more articles by Trevor Whenham