NFL Handicapping: Quarterbacks That Will Exceed or Disappoint Expectations
by Trevor Whenham - 7/23/2013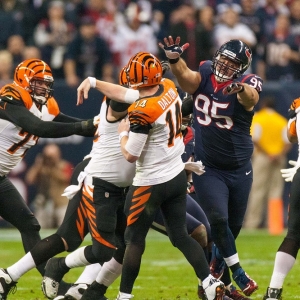 As we get ready for the next NFL season, here's a look at three quarterbacks poised to exceed the expectations the betting public seems to have for them as well as three who are good candidates to fall short of the faith in them:
Exceed
Andy Dalton, Cincinnati Bengals
There seems to be a sense out there that Dalton has to prove himself as a legitimate franchise QB this year. I don't think that that is really true, but, regardless, I expect a strong year from him. He's entering his third season, so things are going to slow down for him now as much as they ever will. His biggest fault throughout his career has been that he is too tentative at key times. With added comfort, that should be less of an issue. While he has been tentative, he has never been sloppy, either — he has thrown 30 red zone touchdowns in his career without a single interception. Dalton has some nice tools around him, with A.J. Green being one of the best weapons on the planet. The team is solid, and I expect Dalton to lead it well. They aren't a real contender, but they will still win some big games this year — a clear sign that they have their QB for the next decade in place.
Christian Ponder, Minnesota Vikings
Like Dalton, Ponder is entering his third season, and I expect to see a nice step forward. Ponder made some strides last year — especially earlier in the season. I think he absolutely has the ability to take a much bigger step ahead this year. The biggest reason for my enthusiasm is his lack of long passes in his first two years. He has a very good arm, and he is confident in the pocket, yet he only rarely threw 20 yards or further. As he matures and becomes a better player he will feel more comfortable making those longer passes. Combine the ability to stretch the field with decent wheels and a weapon like Adrian Peterson in the backfield, and you have all the ingredients for some nice offensive numbers. The other advantage he will offer from a betting perspective is that the Vikings are essentially a forgotten team right now, so he can play well and deliver value without drawing a lot of public attention.
Cam Newton, Carolina Panthers
Newton is a clear example of how fickle the public can be. After his rookie year many were ready to name the league after him. Last year, though, he didn't take a big step forward in performance, and some attitude and character questions were raised. Expectations have fallen dramatically — and mostly unfairly — as a result. His biggest issue has been his accuracy — especially on third down and in the red zone. The issues he has faced are as much mental as physical — he has the tools to be a much more accurate passer than he has been. With time — and the maturity that comes with it — we should see a more prepared and grounded QB who delivers better numbers than expected.
Disappoint
Matt Flynn, Oakland Raiders
I find it very hard to get excited about Flynn. Last year he went into Seattle as the presumed starter but was beaten out by a rookie no one really saw as a contender for the starting job at the start of training camp. Flynn only threw nine passes last year. Now we are supposed to believe he is the answer in Oakland? His new team is far worse than his old one, his confidence can't be improved by what has happened, and unless he got an arm transplant somewhere along the way he still doesn't have the deep ball touch that he needs. Oakland's QB woes will continue.
Russell Wilson, Seattle Seahawks
I have nothing but respect for Wilson, and I expect him to have a long and successful career. I just don't believe that the expectations on Wilson and the Seahawks this year are realistic. The team is the third choice to win the Super Bowl. While they should be solid, I just don't trust Pete Carroll and the chemistry of this team to deliver on expectations. Wilson caught a lot of teams off guard last year, and they didn't have a good sense of how to contain him and his will to win. Now teams will be ready for him, and that should give Wilson some issues in the short term — at least until he can adjust. I'm not for a second suggesting that Wilson will struggle badly or that the Seahawks will be lousy. I just expect them to be well below the truly elite levels that the odds suggest people expect — and Wilson's play will be a reason for that.
Joe Flacco, Baltimore Ravens
We'll keep this one simple. Flacco is a great QB, and in the playoffs last year he proved it. Combine all the factors working against him this year, though — the dreaded and very real Super Bowl hangover, the massive new contract he earned, the heart transplant and search for identity the team faces after losing Lewis and Reed — and it just doesn't make sense to expect him to perform at his highest levels this year.
Read more articles by Trevor Whenham