NFL Handicapping: Teams with QB Uncertainty
by Trevor Whenham - 8/26/2013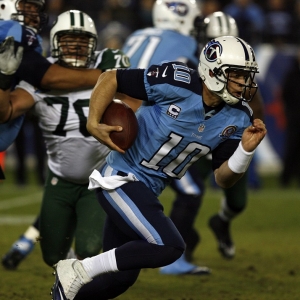 It seems like a reasonably strong era for quarterbacks in the NFL. Despite that, though, there are at least a quarter of the teams in the league that have real uncertainty at the position. While most teams have named their opening-day starter, or at least it seems clear who it will be, at least eight teams could face a change at the first speed bump along the way.
For bettors, quarterback uncertainty can be an opportunity or a headache depending on how you feel about the team in question and their chances. Either way, the more uncertainty there is, the closer attention you have to pay to the position and what drama develops around it. Here are the eight teams in the most immediate risk of facing the need to change:
Jacksonville Jaguars
Blaine Gabbert won the starting job over Chad Henne and then was ruled out of the rest of camp with an injury. It makes sense to go with Gabbert, since he was a Jags' draft pick and they want to try to maximize that investment. Henne is a talented guy, though, and the new coaching regime has little loyalty to Gabbert and little patience for playing lousy football. While Gabbert will be given more chance with this lousy team than he would be given with a contender, it would be far from earth shaking to see Henne given a start in the first half of the season even if Gabbert stays healthy.
Philadelphia Eagles
Chip Kelly finally gave Michael Vick the starting nod, but he didn't exactly give the veteran a ringing endorsement. Kelly is far more invested in the style of play and the execution of his vision than he is in the players who are executing it. He has a more-than-capable backup in Nick Foles, and since neither is the ideal choice for what Kelly would like to be doing he won't hesitate to make a change. The no-huddle, high-paced approach of Kelly will be very challenging for the quarterback's mentally, and it would be easier for Vick to falter under that added pressure than he would under a more straightforward system — and we saw last year that he is capable of poor play even under a standard system.
New York Jets
If you don't know what is going on here, then you just aren't paying attention. Sanchez vs. Smith is more high-profile and more entertaining than most UFC main events. As I write this there hasn't been a winner, though with the third game of the preseason things got ugly. Smith got the start and was lousy. Sanchez was given a chance to prove himself -- and likely sew up the early starting duties -- when Rex Ryan made the truly moronic decision to have him play the fourth quarter behind a backup offensive line. Instead, he hurt his shoulder, and his fate is unknown. Now they are looking to bring someone else in. Last year the team struggled in part because they didn't have a clear answer to the QB question. They may not be any better off in the short term.
Oakland Raiders
Matt Flynn will most likely be the opening-day starter, but that is as much because of a lack of competition as anything — when Terrelle Pryor is your chief competition you had better win the job. He's trying hard to not win the job, though -- he looked lost in the third preseason game against the Bears. Flynn still has not played as a starter at any point in his career in meaningful games, and after heading into Seattle last year as the presumed favorite he faltered badly in camp. Is he capable of winning in Oakland? He stands about as much chance of anyone on this sorry excuse for a team. Do I trust him to play well enough to keep his job? Not even slightly. And, if Pryor does somehow manage to win the job then he'll be the definition of temporary. If he was an NFL QB he would have proven it by now.
Arizona Cardinals
Bruce Arians is a good, talented coach. He's also only getting his first chance to run his own team at age 60. He knows his time is limited, and he needs to make the most of it. He's also a slave to detail, and he won't tolerate sloppiness or mistakes. Carson Palmer is a potentially solid choice for now in Arizona, but he certainly doesn't represent the long-term future. Arians likes enough about this team that he isn't going to let the ship go down with the captain. He'll make a change if and when it is needed — even if that means relying on a young and inexperienced option.
Buffalo Bills
I'm starting to feel bad for new head coach Doug Marrone. First round pick E.J. Manuel was winning the race, but then he got hurt. Kevin Kolb was in position to secure the starting job for at least a while because Manuel needed a minor knee procedure. But then he got hurt -- a head injury in the third game of the preseason. Now it's a total guess what will happen -- it depends entirely on how quickly people can get healthy and ready to go. Will Kolb return first and be ready to be a placeholder until Manuel is ready? Or will Manuel return first and be rushed into readiness? In the meantime, the team is looking to bring in a veteran presence to help them along -- likely Matt Leinart, who is all but certain not to be a threat to factor into the team's long-term plans. However this plays out, it seems very likely that we will see at least one change in quarterback during the season.
Chicago Bears
This is less likely than most teams. New coach Marc Trestman has little loyalty to Jay Cutler, though — especially because he currently has no contract beyond this year — and is not likely to tolerated the bone-headed mediocrity that has marked Cutler's career. Trestman is looking to change the culture on this team and make them much more consistent on both sides of the ball. If Cutler can't do that then he won't hesitate to make a change. The biggest thing working in Cutler's favor, though, is that the depth chart behind him is far from inspiring. It could be more likely to see a change after the season when the team has more time to find a workable long-term solution.
Tennessee Titans
Jake Locker is facing a make-or-break season. He is an immensely-talented guy, but he has yet to look like an NFL quarterback for more than short stretches of time. If he can't make the leap this year then he may not ever make it, and the team needs to find someone who can lead them into the future. Ryan Fitzpatrick is not a long-term solution, but he is more than capable of holding this team together and performing decently if called upon. Locker is on a very short leash. He needs to show he can make good decisions or he will make the decision easy for the Tennessee coaching staff.
Read more articles by Trevor Whenham