NFL Office Pool Picks Week 7
by Trevor Whenham - 10/14/2013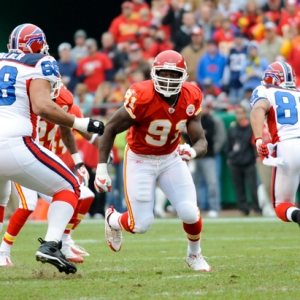 Last week was a strange week — mostly predictable, but with a couple of real head scratchers. In other words, it was just another week in the NFL. This week promises more of the same. It's weeks like these — not stunningly difficult but far from easy — that separate the office pool pretenders from the contenders. Here's how the week plays out:
Seattle at Arizona: I just don't trust this Seattle team. They have been underwhelming on the road, and they tried their hardest to lose at home last week. They were sloppy and unfocused in the most advantageous building in the league. It's a gamble, but take the Cardinals.
Tampa Bay at Atlanta: This should be a good game, but it just isn't because both of the teams are in a very dark place. I don't trust either of them at all, but the Falcons have more complete talent and are at home. That means they have fewer excuses to lose. Take the Falcons.
Cincinnati at Detroit: These are two frustratingly inconsistent teams that I just can't get a handle on. The Lions have injury woes, but they are at home where they haven't lost year, and the Bengals have not generally traveled well. Take the Lions.
Buffalo at Miami: The Bengals are scraping the bottom of the barrel for quarterbacks, and just generally have some issues. The Dolphins have been solid, and they are coming off a bye week, which gives them an extra opportunity to prepare to shine. Take the Dolphins.
New England at New York Jets: The Jets were frustratingly flat last week, and I just don't trust them from week to week. While the Patriots have plenty of flaws, their defense is improving every week, and in beating the Saints they showed just how incredibly tough they can be. Take the Patriots.
Dallas at Philadelphia: The winner here will be 4-3 and, remarkably, in control of the NFC East. Ridiculous. The pick here is complicated by the fact that we don't know who will be starting for the Eagles as I write this — though my money is on Foles. Philly hasn't won at home, and the Cowboys haven't won on the road, so location isn't a strength for either team. Philly should be stronger at home, though, so they get the edge. Take the Eagles.
Chicago at Washington: I quite like this Chicago team and the direction they are moving in. I really don't like much about this Washington squad right now. Take the Bears.
St. Louis at Carolina: I have been shocked by few results this season more than I was by St. Louis destroying the Texans on Sunday. I don't trust them to maintain their momentum in another tough road game, though, and the Panthers are better recently than their 2-3 record suggests. Take the Panthers.
San Diego at Jacksonville: I was impressed by the heart that the Jaguars showed against the Broncos and especially impressed by Justin Blackmon. Still, until the Jaguars show that they are good enough to win it just doesn't make sense to pick them — not against any opponent. Take the Chargers.
San Francisco at Tennessee: Tennessee was handed the chance to beat the Seahawks on a silver platter and couldn't take advantage of it. Now they face a team that will ultimately be proven to be the top squad in the NFC West — one that is finally feeling confident again after a rough patch. Take the Niners.
Cleveland at Green Bay: Brandon Weeden is not an NFL QB. It's as simple as that. It would take exceptional circumstances at this point to justify picking him — especially on the road. Green Bay loves playing in Green Bay and is going to be tough here. Take the Packers.
Houston at Kansas City: Kansas City is unbeaten, believing completely in themselves, and playing outstanding defense — they sacked Terrelle Pryor 10 freaking times! Houston is a horrible, sloppy mess, and now they have QB issues — even more than before. Take the Chiefs.
Baltimore at Pittsburgh: Remember when this used to be a great rivalry? That wasn't very long ago at all, but it feels like an eternity given the state of the matchup right now. The Ravens are only okay. The Steelers are lousy. There have been many classics played between the two teams, but this will not be one. Take the Ravens.
Denver at Indianapolis: I really like this Indianapolis team. Manning is going to be extremely fired up for this one, though, and until they falter, you can't bet against Denver's current trend. Take the Broncos.
Minnesota at New York Giants: Ugh. A lousy game. Neither team is in a good place. The Giants are horrific, though, so betting against them is slightly more comforting than betting on them. Take the Vikings.
New to Doc's Sports? We'd like to offer you $60 of free, no obligation picks. Try us out. See why experience matters, and why we have been around for so long while others have come and gone. Click here to sign up today.
Read more articles by Trevor Whenham