NFL Power Rankings - Week 14
by Robert Ferringo - 12/3/2013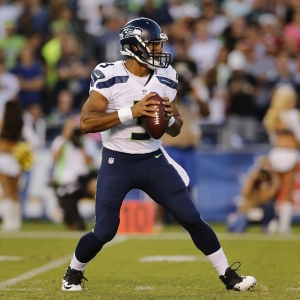 Weather will be a major factor this week in the NFL as we have several dome teams heading out into the elements in some of the key games this weekend.
Indianapolis heads to Cincinnati. Detroit will travel to Philadelphia. Baltimore hosts Minnesota. And Dallas will head up to Chicago on "Monday Night Football". The temperature should be at or below freezing in all four of those games and wind, snow, and rain could all be major factors.
Oddsmakers sometimes overstate the impact of the weather. However, I would keep the elements in mind this week in each of those contests. The weather could have a major impact on the totals in all four of those games. Remember: everyone is moving much slower in December. Everything is more deliberate as the stakes get raised anyway. But when you add 30-degree weather into the mix, there is no one moving as fast in and out of the huddle as they were back in September.
Here are Doc's Sports Week 14 NFL Power Rankings:
1. Seattle Seahawks (11-1) – I don't see how anyone can or will beat this team in the Emerald City this postseason. Seattle has a stranglehold on home-field advantage. The oddsmakers and the bettors were obviously impressed with Seattle's effort on Monday night as the spread in their clash with San Francisco dropped from 3.0 to 2.5. That is a significant move. Seattle is 13-3 ATS in their last 16 games against teams above .500, and they are now 8-2 ATS in their last 10 road games.
2. Denver Broncos (10-2) – The line on the Broncos game actually moved up two points from its open of 10.0 on Sunday. The public is pouring money into Denver after their excellent show in Arrowhead on Sunday. They are 4-0 ATS in their last four against the Titans, but that Broncos secondary looks like an EZ-Pass. Denver is 4-1-1 ATS in its last six home games and 6-1 ATS against teams below .500.
3. New Orleans Saints (9-3) – New Orleans doesn't have a problem on the road. They have a problem against teams that play a certain brand of football. The Saints simply do not respond well when they take on tough, physical, run-oriented teams. They are just like the early 00s Colts. New Orleans is 21-6 ATS in its last 27 home games and 4-0 ATS after a loss.
4. New England Patriots (9-3) –The Patriots will likely be favored by over two touchdowns this week when the Cleveland quarterback is announced. But if you discount Week 17, New England is actually just 1-7 ATS in its last eight regular season games as a favorite of 10 points or more.
5. Kansas City Chiefs (9-3) – The injuries continue to pile up for the Chiefs, and it looks like Brandon Albert will miss this week's game. However, this week is another instance where having Andy Reid will pay dividends. He is used to scheming for the Redskins and for Mike Shanahan. The Chiefs are 3-0 SU and 2-1 ATS this year against Reid's former NFC East mates.
6. San Francisco 49ers (8-4) – This is a big-time revenge game for the 49ers this week after getting embarrassed up in Seattle back in Week 3. The home team is 7-2 ATS in this series, and the favorite is 5-1 ATS in the last six meetings. San Fran is stronger in the passing game, going up against a weaker Seattle secondary, than in the September match.
7. Carolina (9-3) –Much like the Chiefs in the AFC, the Panthers are wining this year thanks to A) a rock-solid defense, B) a quarterback that is avoiding mistakes, and C) a favorable schedule. Also like K.C., Carolina faces its toughest divisional opponent twice in the next three weeks.
8. Cincinnati Bengals (8-4) –The weather could definitely be a factor in the Queen City this weekend. There is a 60 percent chance of precipitation with snow, sleet and freezing rain apparently on the menu. That's a far cry from their trip to San Diego last week.
9. Arizona Cardinals (7-5) –The Cardinals actually outgained the Eagles last week. But there was no way that they should've covered that game, only doing so thanks to a fluke defensive penalty in the last two minutes. In a quirk, there have been five sweeps in six years in the Cardinals-Rams series. Arizona lost the first meeting, and the home team is just 2-5 ATS in the last seven meetings.
10. Philadelphia Eagles (7-5) –Nick Foles interception – even though it was wiped off the board by a penalty – almost completely changed my perception of him. Anyone that can be that stupid to throw that pass, in that situation, at that point of the game and on that part of the field, is not someone to trust. The Eagles are on a rush, though, and they are catching Detroit in an overconfidence spot.

11. Detroit Lions (7-5) – I couldn't be less impressed with Detroit's Thanksgiving win. The Packers are pathetic. The Lions are a poor man's Cowboys. Detroit has the hype, the flash, the gaudy statistical numbers, and has the public fooled. But there is no doubt that, like Dallas, the Lions will make an idiotic mistake at the wrong time to blow a wager.

12. Indianapolis Colts (8-4) – That was just a vintage, BS, Andrew Luck front door cover on Sunday. They took advantage of being at home against a weak Titans team. But the Colts have allowed an average of 30.3 points per game in their last three road tilts and are 2-2 SU and ATS in their last four away from home thanks to blown double-digit leads by the loser Texans and Titans.

13. Baltimore Ravens (6-6) –The Ravens have dominated in this situation in recent years, going 18-5 ATS as a home favorite facing an NFC opponent. Minnesota is one of the few weak teams on the Ravens schedule, and Baltimore's defense has been night-and-day better at home than on the road.

14. Miami Dolphins (7-5) –Ryan Tannehill is in a groove right now. He has posted a quarterback rating of 84 or higher in five straight games. And those have come against some very good defenses (Bengals, Bucs, Panthers, Jets). The Dolphins are on a 4-1 ATS rush. But back-to-back road games in cold weather venues might be too much for them.

15. Pittsburgh Steelers (5-7) –The Steelers have had extra time to prepare, and they know that they are actually, somehow, still in the playoff mix in the AFC. Pittsburgh has beaten Miami five straight times since 2004, and they are 5-2 ATS in their last seven conference games. But the public is on the Steelers by a 2-to-1 bet count, yet the spread actually moved from an open of -3.5 to -3.0. That's significant.

16. Chicago Bears (6-6) – Marc Trestman channeled his inner Mike Martz by electing to kick the field goal on second down in overtime. Robbie Gould was also the victim of the Announcer Jinx as Fox's play-by-play man said earlier in the game that he felt Gould was the best kicker in NFL history.

17. Green Bay Packers (5-6-1) – Honestly, this rating is still high without Aaron Rodgers. Without him this is probably one of the five or six worst teams in football, and there is really nothing that they do well. Even if Rodgers comes back, I feel like there is no putting the toothpaste back in the tube for these guys. They stink. They know they stink. And a banged-up and out-of-form Rodgers won't be able to compensate for their negative momentum.

18. San Diego (5-7) –Phil Rivers did everything he could to keep this Chargers team in the hunt. But in the end they simply can't make up for their terrible back seven on defense and lack of running game. Granted, the Chargers have lost four very close games in their last five outings, falling to three teams in the playoff picture (Cincinnati, Miami, Denver) and losing in overtime at Washington by an average of just over six
19. Dallas Cowboys (7-5) –I am not going to overreact to Dallas' win over feeble Oakland on Thanksgiving. The Raiders are a bad team, and that is a game that Dallas should win going away. I still don't trust this defense at all, and that is going to be a major problem for them down the stretch. Dallas has gotten wrecked, at home, in their last two meetings with Chicago, including a 34-18 loss last year. The underdog is 4-1 ATS in the last five meetings.
20. New York Giants (5-7) –Eli Manning has actually never beaten the team that originally drafted him, San Diego. He is 0-2 SU and ATS against them. The Giants have won five of six and are 5-2 ATS in their last seven games. However, a quick scan of the schedule reveals that the last two nondivisional playoff-caliber teams they faced on the road, Kansas City and Carolina, beat them 69-7. The public hates the Giants this week, with only 25 percent of the bets coming down on New York. Of course, that's when the G-Men always play their best.
21. Tennessee Titans (5-7) –The Titans put forth a really good effort this year under Mike Munchak. And they are a team that I will be looking hard at next preseason. But their season is over. We will see if this team folds, but my gut instinct is that they will continue to battle during December even though they are just 2-8 ATS in their last 10 December games. The Titans are also just 10-25 ATS in their last 35 games against a team with a winning record.
22. St. Louis Rams (5-7) –There is no doubt in my mind that the Rams should've covered the spread last week in San Francisco. But Jeff Fisher coached the second half of that game with two hands around his neck, eschewing a field goal when the team was down 17 points and calling that awful fake punt that set up another San Fran TD. It was a terrible game for Fisher, who, according to reports, is 89-59 ATS (60 percent) in his career as an underdog.
23. New York Jets (5-7) –The Jets are who we thought they were. And we thought they were terrible. Geno Smith is a train wreck, and that juggernaut defense is simply not as good as people think. The public has jumped ship on this team, and only about 30 percent of the bets this week are coming in on the Jets, who are 2.5-point favorites.
24. Oakland Raiders (4-8) –The road team in the Raiders-Jets series is just 1-6 ATS. Oakland is now making back-to-back treks across the country. I predicted that this Oakland team, which is woefully short on depth on both sides of the ball, would fade late in the season. They are 11-24-1 ATS in their last 36 games in December, and I think that the travel will take its toll this weekend.
25. Buffalo Bills (4-8) –What complete and total losers the Bills are, fumbling and bumbling away a win in vintage Buffalo style last week. They have been very good on the rebound, going 7-2 ATS after a loss. But the Bills are just 1-6 ATS in their last seven road games, and you have to wonder where they are at, mentally, after choking that game away last week.
26. Cleveland Browns (4-8) – Caleb Hanie was just signed by Cleveland in case that Brandon Weeden and Jason Campbell are held out this week thanks to their concussions. Whoever is under center will have simple instructions: throw it to Josh Gordon, who is averaging nearly 130 receiving yards per game. The Browns somehow have the No. 4 defense in football and are in the top five against the run and the pass. But they have an unusually low 12.4 yards per point on defense.
27. Washington Redskins (3-7) –There is really nothing more to say about this team. They are terrible. Anyone betting on the Redskins at this point is getting exactly what he or she deserves.
28. Tampa Bay Buccaneers (3-9) –I have no idea how Mike Glennon dropped the ball in the red zone during the first half of the Carolina game. But there is no doubt that was a turning point in a game I thought the Bucs would be competitive in. Tampa Bay is now just 7-18 ATS in December, and they are an absolutely pathetic 12-28-1 ATS in their last 41 home games.
29. Minnesota Vikings (3-8-1) –This week marks Minnesota's third road game in four weeks, and they are coming off back-to-back overtime games. The Vikings are -9 in turnovers on the year away from home and will have to deal with near-freezing temperatures this weekend in Baltimore. Matt Cassel will get the road start in this one, and the results should be pretty predictable.
30. Atlanta Falcons (3-9) – Now that Atlanta has Roddy White and Steven Jackson healthy, their offense has just enough weapons for the Falcons to be dangerous underdogs down the stretch. But Atlanta's offensive line gave up another six sacks and is still one of the worst in football.
31. Houston Texans (2-10) – It's called coaching, Antonio Smith. I saw a great line about the Texans game this Thursday at Jacksonville: "In a season where Houston has screwed everything up, will they also screw up getting the No. 1 overall pick by winning?" They have a Top-10 offense and a Top-5 defense, and they are 2-10. This is truly some of Gary Kubiak and Wade Phillips' finest work.
32. Jacksonville Jaguars (3-9) – I know the Jaguars beat Houston on the road two weeks ago, so some people might feel the Jags deserve to be ranked ahead of them. I do not. Houston is about to beat the Jags' brains in on Thursday. Also, Jacksonville has been outscored on the season by 178 points, worst in the league.
Throughout the season I will have my NFL Power Rankings every Tuesday. My next ones will be released on Tuesday, Dec. 10.
Robert Ferringo is a lead writer for Doc's Sport and has been dominating the books lately with six straight winning football weeks. Robert has gone 24-8 against the spread with his last 32 NFL side plays and he has hit a stunning 75 percent of his last 52 NFL selections (39-13). Take advantage of our free, no-strings-attached $60 credit to use toward a purchase of Robert's football selections and get on this big game. CLICK HERE for $60 absolutely free!
Read more articles by Robert Ferringo