NFL Power Rankings - Week 15
by Robert Ferringo - 12/10/2013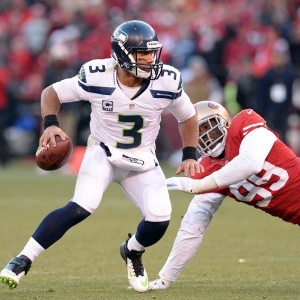 Well, I was right and I was wrong last week in saying that weather would be a major factor in Sunday's games. While the snow and the cold made for some incredible television – and the elements seemed to heighten the drama exponentially – the weather really didn't slow down any of the offenses playing this past weekend.
Week 14 was the highest scoring week in NFL history. Teams went 11-5 against the total last week, and it seemed like defense was optional for most of the weekend.
But I think that the most interesting aspect of this week's NFL handicapping will be how the totals market reacts. Looking at the early totals, the oddsmakers really have not adjusted or inflated their totals up after last weekend's scoring bonanza. That is due in part to the fact that late-season games are generally much lower scoring than early-season contests, and that maxim has born itself out over a quarter-century of football betting.
And how will bettors resolve the cognitive dissonance from last weekend that occurred from watching all of these weather-effected games that seemingly weren't impacted by the weather at all? I'm sure plenty of bettors lost an arm and a leg betting the Detroit-Philadelphia and Minnesota-Baltimore games to be low scoring only to watch all four teams erupt in the fourth quarter. And what about the other snow-filled games? Those were supposed to be tough, physical, low-scoring games, right? Well, how do bettors react when they aren't?
The "over" has dominated football betting this NFL season. According to one sports information website, teams have gone 114-92 against the total this year. That is a stunning 55.3 percent win rate betting games to go over the total. Sportsbooks generally shade totals higher than normal as a general rule because they know that square, public bettors will bet on the over much more than the "under". But this year any adjustments haven't been enough.
We'll see if those trends continue. (And, unfortunately, it looks like Cleveland and New York are the only two games with the potential for more wintry fun this weekend.)
Here are Doc's Sports Week 15 NFL Power Rankings:
1. Seattle Seahawks (11-2) – At this point I think it is clear that Seattle is the best team in the NFL. I would consider it a significant upset if they didn't win it all, and they are currently a steal at +280 to win the Super Bowl. This team does everything well, and Russell Wilson is just so good at extending plays that this team is extraordinarily difficult to defend.
2. Denver Broncos (11-2) –The Broncos have beaten the Chargers four straight times, but each of the games have been fights. Denver won by eight, 28-20, in San Diego earlier this season. But just one of the last six meetings has been decided by more than 10 points.
3. New Orleans Saints (10-3) –The whole world is going to be on the Saints this week as a road favorite at St. Louis. The Rams are still the type of run-the-ball-and-play-punishing-defense team that gives the Saints fits. New Orleans is 0-5 ATS in their last five games after a win and 0-4 ATS in their last four road games.
4. New England Patriots (10-3) –I think the impact of Rob Gronkowski's injury is being overblown. The guy hasn't been healthy either of the past two seasons, and he has only started 16 games once in four years. So it's not like they aren't experienced playing without him. The Pats have been terrible on the road this year, going 0-4 ATS in their last four and 1-5 ATS in their six road games this season.
5. Kansas City Chiefs (10-3) –This will be the squarest pick of the weekend. Over 84 percent of the public is loading up on the Chiefs in Oakland this week. I think everyone is just kicking themself for not betting the house on the Chiefs over Washington last week, and they are trying to make up for it.
6. San Francisco 49ers (9-4) –Why isn't Colin Kaepernick running the ball more? It is as if Jim Harbaugh replaced Alex Smith with Kaepernick – and then tried to get Kaepernick to play like Smith. Despite twice as many starts and hundreds more snaps, Kaepernick has just 15 more rushing attempts this year. That is one of his greatest strengths. The Niners need to unleash it.
7. Carolina (9-4) –I'm not really going to punish the Panthers for losing in the Superdome. No visitor wins there. Carolina has a rematch at home next week. But they can't overlook the Jets. New York is pathetic. But their style is similar to Carolina's, and the Panthers could get caught in a slog if they aren't careful.
8. Cincinnati Bengals (9-4) –Not only are the Bengals road favorites heading into Pittsburgh – something that hasn't happened in forever – but also the public is piling on. Over 70 percent of the bets are laying the points with Cincinnati. The underdog is 13-6 ATS in Cincinnati's last 19 divisional road games.
9. Arizona Cardinals (8-5) –It is going to be a damn shame when this team doesn't make the playoffs. They are playing great football. I think that they are ripe to have their bubble burst this week against a Tennessee team that is still playing hard. The Cardinals are traveling east and playing outdoors this week after a dominating divisional win over St. Louis. Arizona also has key divisional games with Seattle and San Francisco on deck, and they could get caught in a letdown/look-ahead situation on the road, where this team has only had to go three times since September.
10. Philadelphia Eagles (8-5) –Incredible win by the Eagles on Sunday, and right now you know who they remind me of: the 2012 Washington Redskins. Like last year's Skins, this Philadelphia team is just red-hot right now and finding ways to get the job done and cover the spread. I will say though: it was kind of a red flag that it took Chip Kelly two full quarters to finally adjust his play calling to the weather. If the Lions weren't such losers, the Eagles would've been out of that game before halftime.
11. Baltimore Ravens (7-6) –Is it happening again? Are the Ravens catching that December magic again this year? They have won three straight, and their last two games have been decided in the final seconds. In fact, only one of Baltimore's last 10 games, a 19-6 win over the Jets, has been decided by more than a field goal. Surprisingly, this is Baltimore's first regular-season game in a dome since September of 2011. .
12. Miami Dolphins (7-6) –Here is another team that is just on a rush and playing its best football at the right time. Miami actually had a 17-3 lead in New England in the first game this year before coughing it up in the second half. They aren't scared of the Patriots. And home underdogs of less than three points have been a gold mine for bettors this season.
13. Detroit Lions (7-6) – I think the Lions are contractually obligated for every one of their games to be a turnover-laced debacle. Like I said last week: these guys are a poor man's Dallas Cowboys. They are losers. And the only noteworthy thing about this team right now is that they are still overhyped. The Lions have given up 24 or more points in five of their last seven games and, despite facing inflated numbers, seven of 10 games have gone over the total. This team will be geeked up for a "Monday Night Football" home game. But if they keep turning the ball over, it won't matter.
14. Chicago Bears (7-6) –Look, I know people are talking about whether or not Jay Cutler should start when he is healthy. The answer is 100 percent "no". My feeling is that in sport you absolutely, positively, always go with the hot hand. Momentum is a funny thing. And you shouldn't do anything to disrupt it. Josh McCown is playing outstanding football, and the Bears offense is very good right now. You don't mess with that, no matter what.
15. San Diego (6-7) – Uncle Phil Rivers isn't going to win the MVP this year, but he would be near the top of my ballot. Also, I'm glad to see some people catching on to what I've been saying for months: Keenan Allen is awesome. This kid is a baller, and he should win Offensive Rookie of the Year. But it will be hard for him to pass Eddie Lacy, who plays for a "sexier" team.
16. Green Bay Packers (6-6-1) –As of right now, the rumor is that Aaron Rodgers isn't going to play this week in Dallas. I, frankly, would be very surprised if he was under center. I think that without Rodgers the Packers will be at least a six-point underdog in Big D, and I would put the number at -7.5. Green Bay hasn't covered a spread since October (0-6 ATS), and they have lost their last two road games by 14 and 30 points, respectively.
17. Indianapolis Colts (8-5) – Talk about backing into the playoffs. The Colts stink right now. And if they had been forced to play Atlanta's schedule, or Arizona's schedule, or Pittsburgh's schedule, then I think this team would've struggled to win six games this year. Indianapolis is not ranked higher than No. 18 in total offense, pass offense or rush offense, and no higher than No. 18 in any of those categories on the defensive side of the ball.
18. Pittsburgh Steelers (5-8) – Talk of the Big Ben-Todd Haley feud has resurfaced this week. Those two are not a good match. But that's probably No. 10 on a list of reasons why the Steelers are not a .500 team. The Steelers have the worst offensive line in the division – and one of the worst in football – and their defense has been torched for 22 or more points in three of their last four games. Last week's loss snapped a four-game ATS win streak, and it will be interesting to see what type of effort Pittsburgh gives this week after having their playoff dreams crushed last Sunday.
19. Dallas Cowboys (7-6) –Losers. Anyone betting on this team right now is getting exactly what he or she deserves. They are 1-4 ATS in their last five games, with fluke wins over bad teams dotting their schedule. Outside of their win in Philadelphia, a divisional rival, the Cowboys haven't beaten a single team that is over .500 this year. Their defense has allowed an average of 32.1 points per game over their last six contests.
20. New York Giants (5-8) –A good friend of mine, who is a handicapper and a Giants fan, summed it up perfectly: "The Giants do one of two things in December – they either go on a run or they completely mail it in." He makes a point. The Giants are out of the playoff hunt, and if last Sunday was any indication this team gives zero F's about competing right now.
21. Tennessee Titans (5-8) –Poor Tennessee. This really is a good team. I'm not willing to say that Jake Locker would've made a huge difference for this club, but I know he is better than Fitz-Magic. Tennessee is coming off a stretch of three straight road games. And their tough schedule (they have had to face four of the top six teams in these Power Rankings) has left no margin for error.
22. St. Louis Rams (5-8) –I don't understand this team at all. It looked like they had established a tough, physical, hard-nosed identity while going 3-1 ATS against Seattle, Tennessee, Indianapolis and Chicago. But the Rams have been manhandled and generally noncompetitive the past two weeks at San Francisco and at Arizona. Now they are hosting smoking-hot New Orleans, and they still have a trip out to Seattle left on the docket. I think I'm staying far away from these guys the rest of the year.
23. New York Jets (6-7) –How the hell did this team beat the Patriots AND the Saints this year? Don't be fooled by the Jets 37-27 win over Oakland on Sunday. They had a big situational advantage over Oakland last week, what with the cross-country travel and the early start time and all.
24. Cleveland Browns (4-9) –The Browns are a red flag favorite this week against Chicago. The line opened with Cleveland at -2.5 on Sunday night but dropped to the Browns -1.0 after the Bears dominated Dallas on "Monday Night Football". My only question is about how Cleveland mentally rebounds from having that New England game stolen from them in the final minute.
25. Tampa Bay Buccaneers (4-9) –I'm not sure if it will be enough to save his job, but you have to respect the job that Greg Schiano has done with this team over the last month. They are 5-1 ATS in their last six games, with the lone loss at Carolina. The Bucs are catching San Francisco in a tricky spot, with the Niners flying east for an early kickoff after that rough game with Seattle.
26. Minnesota Vikings (3-9-1) –Adrian Peterson is out for the rest of the season. But, honestly, other than the Week 13 game against Chicago, there weren't many times this year where he dominated opponents. I just hope that Minnesota keeps winning so that someone will be convinced that Matt Cassel is a legit NFL starting quarterback. That would be a gift that keeps on giving. The Vikings are 5-1 ATS in their last six games and are playing hard for Leslie Frazier.
27. Atlanta Falcons (3-10) –That is now three straight wins against the spread for the Falcons. Steven Jackson and Roddy White's return has helped turn things around for this team. And Mike Nolan has done a good job getting the defense to at least play at a competent level. But I am expecting a load of points this week from and against Atlanta against hapless Washington. Both defenses are still devoid of talent, and the Falcons have beaten the total in six of eight home games.
28. Jacksonville Jaguars (4-9) – It looks like Mo Jones-Drew is going to miss this week's game with a hamstring injury. That's tough for an offense that was just showing some signs of life. Like Tampa Bay and Minnesota, the Jags have been a hot bet lately, going 4-1 ATS. It is not inconceivable that they win two of their last three games (Buffalo, Tennessee, at Indy).
29. Oakland Raiders (4-9) – The underdog is a sensational 11-2 ATS in the Kansas City series, and Oakland is 5-2 ATS in the last seven meetings. However, the road team has dominated this series, which is 21-7-1 ATS in the last 29 meetings. The Raiders are just 2-8 ATS the last 10 times they have hosted the Chiefs.
30. Buffalo Bills (4-9) – The Bills were an absolute no-show last week in Tampa Bay one week after coughing up their game in Toronto to Atlanta. The Bills have said this week that they are going to shorten the playbook and that quarterback E.J. Manuel is getting overwhelmed. Buffalo has scored just 33 total points in its last three road games, and they travel to Florida again this week.
31. Washington Redskins (3-8) – At this point I don't really understand why the Redskins are even playing Robert Griffin. He hasn't been any good this year. And if he is the future of the franchise, why are they exposing him to injury, again, in meaningless games? Why not see what you have with Kirk Cousins?
32. Houston Texans (2-11) –Wade! More Wade Phillips. Oh, please, please, please let the Texans win their last three games, convincing Houston's front office to give the job to Phillips. I would gladly give up my next five years' worth of Christmas presents for that to happen simply because I miss having that loser to bet against. Make it happen, Texans!
Throughout the season I will have my NFL Power Rankings every Tuesday. My next ones will be released on Tuesday, Dec. 17.
Robert Ferringo is a lead writer for Doc's Sport and has been dominating the books lately with SEVEN STRAIGHT winning football weeks. Robert has gone 30-9 against the spread with his last 39 NFL side plays and he has hit a stunning 70 percent of his last 70 NFL pick overall.
Read more articles by Robert Ferringo