NFL Week 10 Special Props Odds and Betting Predictions
by Alan Matthews - 11/7/2013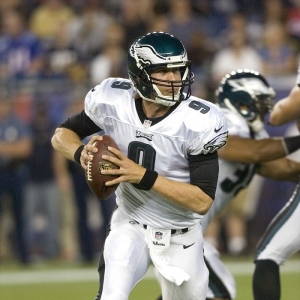 One of Bovada's Week 9 specials was whether the Eagles would score an offensive touchdown against the Raiders considering they hadn't in their previous two games. There were very long odds that the Eagles wouldn't again (+1000), and I couldn't recommend that unless somehow Nick Foles got knocked out early. Instead, Foles channeled his inner Peyton Manning and tied an NFL record with seven TD passes.
Foles is only the seventh quarterback to do it but the second this season with Manning accomplishing the feat against Baltimore in Week 1. Bovada now offers a +1000 "yes"-only prop on whether it will happen the rest of this regular season by any QB. With all due respect to Foles, I think the only four guys who can do this are Drew Brees, Tony Romo, Tom Brady and Manning again. Maybe Brady and Manning against one another in Week 12? I can't recommend that prop, but it may be worth just throwing a few dollars down -- beats your odds in a lottery.
Foles is given an "over/under" of two touchdown passes this week against Green Bay, with the under a -150 favorite. The Pack have allowed 17 TD passes, which is tied for 17th. If Josh McCown can get two on that defense, I certainly think Foles will get at least that many. Go over (+120). Eagles coach Chip Kelly has only anointed Foles his starter "for now," so Bovada offers a prop on whether Michael Vick will start a game the rest of this season, with "no" at -250 and yes at +170. I'd definitely go with yes here. Vick's hamstring isn't 100 percent healed yet but should be by next week. Thus, if Foles gets hurt, Kelly would be able to turn to Vick over rookie Matt Barkley.
Joe Flacco got most of the credit for leading the Ravens to the Super Bowl title last season, but the Ravens won also because they were very balanced. In the wild-card win over the Colts, Baltimore rushed for 152 yards. The Ravens added 155 in the upset of Denver, 121 in the upset of New England and 93 against that very good San Francisco defense in the Super Bowl. During the regular season the Ravens were No. 11 in averaging 118.8 yards per game (4.3 yards per carry).
After losing Anquan Boldin this offseason and with a very good 1-2 punch of Ray Rice and Bernard Pierce, I fully expected Baltimore to be a Top-10 rushing team this year. Instead, they are perhaps historically bad. Baltimore is averaging just 71.6 yards per game and an NFL-worst 2.78 yards per carry. No other team is under 3.0. The lowest mark for a season since the merger was 2.79 yards per carry by the 1994 Patriots. Since 1948, only seven teams have averaged less than 3.0 yards per carry. Bovada's Ravens prop this week is whether they will have someone rush for 100 yards in a game, with yes at -200 and no at +150.
Rice has been awful, topping 45 yards just once. Even in the game he had 74 yards, it took him 27 carries. Pierce has gone over 45 three times but has combined for 18 carries and 33 yards in the past three games, all Baltimore losses. Rice did have four 100-yards games last season and Pierce one. Obviously, the fact they split carries hurts either's chances of reaching 100. However, the Ravens do face bad run defenses in the Bears (Week 11), Steelers (Week 13) and Patriots (Week 15). I think Rice can crack 100 in one of those three, probably against New England, a team Rice usually plays well against (101 yards last regular season against the Pats).
The Ravens (3-5) are +600 to return to the playoffs. It's actually not impossible because they are just a game behind the wild-card leading Jets in the loss column. The Ravens, who are technically 12th in the AFC playoff standings entering Week 10, have just three road games left, and the finale at Cincinnati could be meaningless for the Bengals, who probably will have the division sewn up. I could see a 6-2 finish and a wild-card spot. It's worth the risk at that price.
Finally, Bovada has posted updated wins totals for every team as each has now hit the halfway point on the schedule. Predictably the lowest belongs to the Jaguars at 1.5, with the under a huge -160 favorite. And I love the under there, especially with Justin Blackmon now out for the year. The Jags probably win one game, either next week vs. Arizona or Week 15 against Buffalo. Fellow winless team Tampa Bay is at 2.5 (both -120). I like over there with the Bucs winning home games against Miami (this week), Atlanta and Buffalo.
The Packers are interesting at 9.5, with both at -120. I'm guessing this would have been at least 10.5 if not for Aaron Rodgers' injury on Monday night (presuming a Packer win against the Bears with a healthy Rodgers). The real question is whether Rodgers is out three weeks or closer to six. If it's the former, no way the Pack (5-3) reach 10. If Rodgers is out the three games, he's back for the final five: at Detroit, vs. Atlanta, at Dallas, vs. Pittsburgh, at Chicago. Those two home games are locks, leaving just one more win to reach 10. However, I think Rodgers is out past that Lions game, which is on the short week for Thanksgiving. Thus, I see Green Bay finishing 9-7, so take the under.
The Broncos (7-1) have the highest win total at 12.5 (over -160, under +120). I am going to assume Denver runs the table at home (Kansas City, Tennessee, San Diego). So that's 10. Are there three wins in the five road games left: San Diego, New England, Kansas City, Houston, Oakland. Certainly the last two should be wins unless the Broncos have nothing to play for then. The way the Chiefs are going, however, they probably will have to finish the season playing 100 percent. I thus like the over. I also like New Orleans over 10.5 (over -140, under even) because I don't think the 6-2 Saints will lose a home, getting them to 10 wins. And they have very winnable road games at Atlanta and St. Louis.
Hungry for a winning NFL season? Doc's Sports can help, and they will do it absolutely free. New clients can access $60 worth of NFL member's picks absolutely free. No obligation. No salesmen to deal with. Get started today by clicking here.
Read more articles by Alan Matthews