NFL Week 16 Special Props Odds and Betting Predictions
by Alan Matthews - 12/19/2013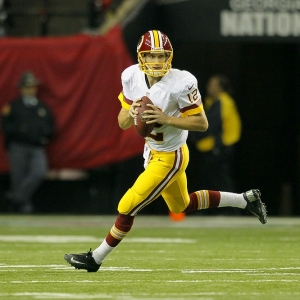 I led last week's Bovada special props story on Kirk Cousins, and I will again this week because the former Michigan State star paid off in a huge way in his first start of the season. Cousins, with Robert Griffin III deactivated (and that mess just getting worse in Washington with RGII now speaking out), was 29-of-45 for 381 yards, three touchdowns and two interceptions. Washington didn't win in Atlanta as Cousins' game-winning two-point try was incomplete, but I think the team has to be happy with what they have in its backup QB. I recommended Cousins "over" 240.5 yards passing (-115), 1.5 touchdown passes (even) and .5 interceptions (-200), so it was a sweep. I projected 280/2/2, so I wasn't too far off.
Bovada has added two Cousins futures props this week: Will he be traded before the 2014 draft is over, with "yes" at -130 and "no" at -110, and if Washington does trade Cousins before the draft is over will it get a first-round pick for him, with no at -300 and yes at +200. A lot of what happens here will depend on the new coach, because clearly Mike Shanahan will not be back. The site also has a prop there: Will Shanahan be the coach of the Redskins for Game 1 of 2014 and his son Kyle, the offensive coordinator, not be on the staff, with yes at -140 and no at even.
Dan Snyder doesn't want to pay Mike Shanahan a buyout, but his franchise is hemorrhaging fan support right now, which I never thought would happen in D.C. Snyder isn't going to let $13 million (includes cost of Shanahan's full staff) stand in his way of getting a new coach in place. Actually, the fan base would rather Snyder go, but that's never going to happen. Maybe Snyder should call the University of Texas and ask the Horns if they'd like permission to talk to Shanahan.
My view on these props are such: The Skins can't feel comfortable about Griffin's health. He didn't look the same much of this year. Thus, I don't believe Cousins is traded unless the team gets a first-round pick, and I don't believe Cousins has done enough yet to warrant that, especially in a draft that is considered very deep. A second-rounder? Probably. So take no on both Cousins props. And I don't see Shanahan back with so much dysfunction going on, so disregard that prop.
Bovada has had MVP props up all season -- currently Peyton Manning is -1500, and everyone else is +700 -- but the site finally released Defensive Player of the Year odds. The favorite is Carolina linebacker Luke Kuechly (2/1), the tackling machine who was the 2012 Defensive Rookie of the Year. I would be a bit surprised if Kuechly wins. He's terrific and the anchor of one of the NFL's best defenses, but he doesn't put up the key stats that voters notice: sacks and interceptions. Kuechly has two sacks and three picks and is fifth in the league with 122 tackles.
The Colts' Robert Mathis is next at 11/4, and he leads the NFL in sacks with 16.5. A few weeks ago I would have called him the favorite, but he has tailed off a bit and so has Indy. That defense isn't very highly-rated overall, which certainly isn't Mathis' fault. Rams end Robert Quinn is 3/1 and is second in sacks with 15.0. However, I don't see a player from a losing team winning this award. I like Seahawks QB Richard Sherman at 7/1. He's tied for the NFL lead with six picks even though QBs mostly stay away from him. Sherman also has a defensive TD, and the Seahawks are going to finish 14-2 for the best record in the NFL. I do wonder if voters will hold Sherman's suspension from last season against him -- he won the appeal of the four-game ban. There's a widespread belief that the Seahawks are all either smoking the wacky weed (it's legal in Washington) or using PEDs, fair or not.
I don't know if you have noticed, but this is on pace for the highest-scoring season of all-time. Last Sunday there were 763 points scored, the most in any single day in league history. Teams have combined for 10,632 points, a record through Week 15 and nearly 400 more than the previous mark set last year.
Bovada offers a few scoring props this week: "Over/under" 725.5 total points scored (both -115), will any team score at least 50 (no -700, yes +400), and over/under 1.5 teams to top 40 (both -120). Keep in mind that last week's record total was 14 games with a Thursday and Monday game. To hit 726, that would mean an average of 45.4 points per game. If you are wondering, only seven games have a BetOnline total higher than 45.5. If you are leaning higher, the good news is that there doesn't look like there will be some kind of crazy weather this week. In fact, the East Coast looks to be unseasonably warm. I'd go over.
The only teams probably capable of hitting 50 are Denver (at Houston), Detroit (vs. NY Giants) and Dallas (at Washington and that wretched defense). I can't recommend that -- even though a team has scored 50 each of the past two weeks -- but certainly can see at least two hitting 40. That has happened four of the past five weeks.
Doc's Sports is offering new clients free NFL picks from any handicapper on our Advisory Board. This special offer does not require a credit card, and you will never have to deal with a salesman. Click here to get your free $60 NFL picks credit today.
Read more articles by Alan Matthews