NFL Handicapping: Jump Off The Seahawks Bandwagon, Quickly
by Robert Ferringo - 7/17/2013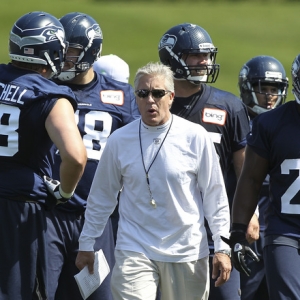 A quick scan of current NFL futures odds shows that the usual suspects are the again favored to hoist the Lombardi Trophy and win Super Bowl XLVIII in New York this February.
New England, featuring three-time champion Tom Brady, is the current favorite to win the Super Bowl at 5-to-1. Last year's runner-up San Francisco and Peyton Manning-led Denver are close seconds at 6-to-1 apiece.
But then a curious thing happens. The Seattle Seahawks, at just 7-to-1, are currently ranked as the No. 4 favorite to win the Super Bowl. That's a monumental change for a team that last year at this time was posted as an 80-to-1 long shot to claim the title.
Seattle is coming off an 11-5 season and its second postseason berth in the last three years. The 11 wins were the third-most in franchise history and the team's most since the 13 of their Super Bowl season in 2005. The Seahawks were also just eight seconds and one missed field goal away from a slot in the NFC Championship Game.
The Seahawks appear to be a team on the rise. With a hot young quarterback in Russell Wilson, a nasty and physical defense, and the confidence of a team that believes it is laying a championship foundation there is a lot to like about this group.
So Seattle is a hot team heading into the season. They are a trendy team. They are a sexy Super Bowl pick by bobblehead media members across the country.
You know what that means.
It's time to start betting against Seattle. Immediately.
Seattle is going to be one of the biggest disappointments in the NFL this year. I'm not predicting that the Seahawks will backslide to a 6-10 debacle or anything so severe. But I think that it is presumptuous, misguided and overly optimistic to think that Seattle is one of the best teams in football and that they are on the inside track for a title. And while everyone continues to pile on the Seahawks bandwagon heading into this season, I want to be the first analyst to jump off.
Here are several reasons why I think Seattle will be a letdown during the 2013 season:
1. Seattle's Past Performance Suggests A Letdown.
The Seattle Seahawks are a perfectly mediocre franchise, always seeming to pepper .500. They are always just kind of there. They have posted between seven and nine wins 11 times in 18 years. In that time they've won 10 or more games four times and six or less games three times. All-in-all paragon of ordinary and an easily forgettable organization.
Last year was just the sixth time in franchise history that the Seahawks won 10 or more games. They have never won 10 or more two years in a row. That may seem like a trivial point. After all, what do the 1984 Seahawks have to do with the 2013 Seahawks? But we're talking about a nearly 40-year trend, and that's a big hurdle to overcome for an organization.
Three times in the last decade – 2003, 2005 and 2007 – Seattle hit double-digits. They never won more than nine the following season.
2. They Were Quite Lucky Last Year.
Luck is kind of a dirty word when you're talking about NFL results. Teams kind of make their own luck. And figuring out which teams are "lucky" and which are talented is really one of the most difficult tasks for a football handicapper to accomplish.
In my opinion the 2012 Seahawks were pretty good. But they were also very lucky.
Yes, the Seahawks were an extremely talented team, especially on the defensive side. And I am not trying to take anything away from the big plays that they made down the stretches of some very intense games. But the fact of the matter is that Seattle was a lot closer to another ordinary 7-9 season than perhaps some bandwagon hoppers realize. And were they 7-9, they wouldn't be a Super Bowl favorite heading into this year.
Seattle shouldn't have/didn't beaten Green Bay in Week 3. The Hail Mary Fail, thanks to those horrendous replacement officials, gave the Seahawks an undeserved win. Two weeks later they used a goal-line stand in the final minutes to hold off Carolina, stopping the Panthers four times inside the six. Then in Week 6 the Seahawks stole another garbage win at home against New England, overcoming a 23-10 deficit in the last eight minutes for a 24-23 decision.
Had the Seahawks lost those three games they would've started the season 1-7. It isn't a stretch to suggest that they should've lost all three; we're talking about one play in each of those games. And if Seattle started 1-7 then Russell Wilson likely would've been benched in favor of Matt Flynn. Seattle likely would've ended up with a Top-10 pick rather than a near miss at the NFC Title Game.
I know you can play the "what if" game with any team in the NFL. And I do recognize that the Seahawks blew late leads in losses at Detroit and at Miami. But I think that's kind of my point. The margin for error in the NFL is razor thin. Seattle walked it for the majority of last season and ended up on the right side more than the wrong. They were not a juggernaut. They were just another good team that made a few more plays than they missed down the stretch.
Good for Seattle. They had a thrilling season and made bettors a mint. But in assessing their value for the 2013 NFL season, I can say that I'll be surprised if they can pull as many rabbits out of their hats again this year.
3. The Recency Effect.
The recency effect refers to people's stronger recollection of things that happened most recently to them. While analysts may be overlooking Seattle's struggles early in the 2012 season, I feel like they are giving too much weight to what they saw at the end of last year.
Seattle won six straight on their way to the NFC Divisional Round. But let's analyze those wins:
First came an overtime win at Chicago. The Bears had a 14-10 lead and the ball in Seattle territory with under five minutes to play. But a costly fumble sabotaged their drive. Seattle scored, the Bears hit a field goal to send it to overtime, and after winning the coin toss the Seahawks won the game without the Bears touching the ball in OT.
Next came back-to-back blowouts over Arizona at home and Buffalo in Toronto. Both of those teams were playing away from home and mailing it in late in the year.
After that came perhaps the Seahawks' best performance of the year: a 42-13 thrashing of rival San Francisco up in Seattle. That was outstanding. But Seattle also caught the 49ers in a perfect letdown situation. San Francisco was playing the second of back-to-back road games, with the first being a huge, emotional win in Foxboro over the Patriots on "Sunday Night Football". They simply didn't care about the Seattle game as much as the Seahawks did.
Seattle closed the regular season by holding on late in a tight home win over St. Louis. The Seahawks were playing for postseason positioning and had revenge over the Rams for a loss in Week 4.
Finally, Seattle went to Washington and handled the Redskins in the Wild Card Round. Even though it was a postseason game it was still a tough spot for the Skins after an emotional Week 17 win over archenemy Dallas with a playoff slot at stake. Yet even there Seattle was fortunate. Washington's starting quarterback played on one leg after tearing his ACL the week prior against Dallas, eventually giving way to a rookie backup.
Seattle deserved those wins. They were playing well when other teams had reasons not to. Credit to the Seahawks. But NFL teams don't play in a vacuum. The league is a web of interconnectivity and co-dependence. Seattle caught a nice groove and a strong current, and they were able to ride it into the second round of the playoffs. But that has no bearing on this year.
But when NFL bettors think of Seattle they are picturing them mauling teams down the stretch last winter. They are picturing this dominating Seahawks force – beating Arizona, Buffalo and San Francisco in consecutive weeks by a combined score of 150-30 – without recalling the context in which those wins came.
Last year's momentum doesn't carry over into this season. And a strong finishing kick last year has skewed people's perceptions of this team heading into 2013.
4. It Isn't The Same Team.
Percy Harvin and Antoine Winfield were excellent offseason additions for the Seahawks. They have further elevated the expectations for this group. But Seattle also heads into training camp without some key personnel from last year's squad.
Rookie sensation Bruce Irvin is suspended for the first four games of the year for testing positive for a banned substance. He is the fifth Seahawks player to get busted for PEDs in the last two years. Also, injuries to pass rushers like Cliff Avril and Mike Bennett could impact the defense early in the schedule.
Also, losing last year's defensive coordinator could have a longer-lasting impact on the team. Gus Bradley took the head position in Jacksonville. He was the brains behind Seattle's defense and will be missed. Their new defensive coordinator is a bit of a gambler. But if his schemes don't take and Seattle's defense fades a bit then this team won't be as strong.
5. The Schedule Remains Unforgiving.
Seattle didn't have an easy schedule last year and they navigated it expertly. But unlike 2012, the Seahawks won't get all of their most difficult games at home this year.
Seattle has three East Coast trips with early kickoff times as well as trips to Houston and Indianapolis for 1 p.m. local starts. The Seahawks – along with the rest of the West Coast teams – have always struggled in those situations.
Seattle also has four primetime games on Sunday, Monday or Thursday night this year. Those games always have a lingering impact on a locker room, mainly due to creating letdown situations as well as short weeks of preparation. Players love primetime. But they can take their toll.
Games against San Francisco, New Orleans and Minnesota should ensure that Seattle doesn't go unbeaten at home again. And Seattle's road slate – with games at Houston, at Indy, at Atlanta, at San Francisco and at the Giants – is much more intense than last year's.
Even if Seattle plays as well as they did last year, the competition is stiffer. Las Vegas has posted their season win total number at 10.5. But I don't see 11 wins on this schedule.
6. Statistical Indicators Suggest Regression.
There are several factors that point toward the Seahawks falling flat in 2013. First, they made the playoffs last year. That instantly puts them at no better than 50-50 to return to the postseason. It also makes their odds of topping their Las Vegas season win totals odds a lot longer.
Second, the Seahawks posted anomalous yards per point numbers on offense and defense, and a regression is likely. Third, the Seahawks benefitted from excellent luck on the health front and had one of the fewest number of starts lost to injury in the league. Fourth, Seattle's +13 turnover differential likely won't be repeated, and that could negatively impact their record in 2013 as well.
7. They Are Now The Hunted, Not The Hunter.
It is a lot more difficult for teams to stay at an elite level than it is to play at an elite level. Any team can sneak up on its opponents, catch fire for a couple months, and make a run. But sustaining that success is what separates the powerhouse franchises from everyone else.
Seattle won't be sneaking up on anyone this season. Now teams have the Seahawks circled on their calendars. Now teams will get up for a piece of Pete Carroll's boys, and opponents will be even more focused when they travel to The Link. Seattle is going to take everyone's best shot this year. I think they are up for the challenge. But I don't think that the results are going to top the inflated level of expectation that they are heading into the season with.
Mark me down as the first NFL analyst in the country to forecast that Seattle will miss the playoffs, will fail to win 10 games, and will be considered one of the bigger disappointments in the league. They are not a bad team. But this is the NFL. No one lives forever. And Seattle is a team whose expectations have exceeded their ability. And that is an emerald opportunity for daring bettors heading into this season.
Robert Ferringo is a lead writer for Doc's Sport and he has earned over $9,000 in football profit for his clients over the last 15 football months. He is looking forward to another amazing season on the gridiron and has banked five of six winning NFL seasons, two of three winning years and 27 of 39 winning football months. Sign up today and start earning and CLICK HERE to claim a $60 free credit to be used toward the purchase of Robert's plays.
Read more articles by Robert Ferringo