Top Props of the Week: 2013 NFL Free Agent WR Touchdown Props
by Dave Schwab - 8/28/2013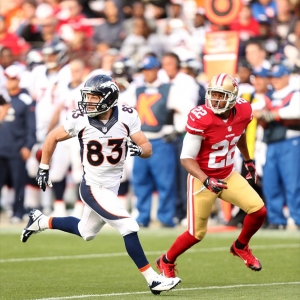 A few prominent free agent wide receivers found a different place to play this offseason, so BetOnline decided to release some prop odds for their overall performance catching touchdowns with their new team during upcoming the 2013 NFL regular season.
The name at the top of this list is wide receiver Wes Welker, who jumped ship from a very successful ride in New England to try and win another Super Bowl this season with the Denver Broncos. The money line odds that he catches "over" 7.5 touchdown receptions in the 2013 regular season is currently set at +105, while the odds he catches "under" that total are set at -135.
There should be very little impact going from Tom Brady throwing him the ball to having Peyton Manning as his new quarterback. If fact, this could provide a slight advantage given that Manning has thrown more touchdown passes in three of the last four seasons that both quarterbacks have played a full 16 games.
Some of the value in the over play is lost due to the fact that Welker was clearly Brady's favorite target over the past six seasons he spent in New England. Last year he caught six touchdowns after snagging nine in 2011 and seven in 2010. Manning has a plethora of targets that were already on the Broncos' roster last season, with four different receivers posting at least five catches for scores. Eric Decker led the way with 13 touchdowns receptions, and Demaryius Thomas was a close second with 10. There is little doubt that Welker will have a positive impact on Denver's passing game, but there are just so many balls to go around.
Another high-profile receiver looking to make a major impact with his new team is Mike Wallace. With Ben Roethlisberger throwing him the ball in Pittsburgh the past four seasons, he recorded six touchdown receptions in 2009, 10 in 2012 and eight in each of the last two seasons. Now with the Miami Dolphins, the money line odds that Wallace catches over 6.5 touchdowns this season is -115 with the exact same odds for the under.
The big question for the over on this prop is can second-year quarterback Ryan Tannehill show improvement from a rookie season in which he threw a total of 12 touchdown passes while getting picked-off 13 times in a full 16 games. On the flip side, when you look at the other receivers that are currently on the Dolphins' roster, Wallace should see the majority of the balls thrown his way, which adds some solid value to the over play.
When Welker decided to part ways with his old team, the Patriots decided to sign former St. Louis wide receiver Danny Amendola as his apparent replacement. The money line odds that he clicks with Brady and catches over five touchdown passes are -130, while the odds he remains just a face in the crowd and catches under that total are at +100.
The first thing that you have to remember for this prop is that Amendola is no Welker. During his four seasons with the Rams, he caught a grand total of seven touchdowns. Injuries are also a concern considering that he only played all 16 games once, and he has already been banged up a bit this preseason as well. The major plus on playing the over in this prop is that Sam Bradford is no Brady. Bradford still has some major upside potential to be a great quarterback in this league. However, his numbers verses Brady over the last three seasons don't come close to matching up. The bottom line is that if Amendola can find a way to get open in the end zone, Brady is going to find a way to get him the ball.
Read more articles by Dave Schwab