Week 14 NFL Line Movement - Shrinking Spreads for Denver, San Fran
by CarbonSports - 12/6/2013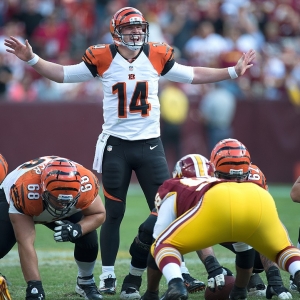 Three games are creating mayhem in the sportsbook already and they all involve curious Week 14 NFL line movement. By now we have a vague idea of how good and bad certain teams are given the circumstances of a particular matchup. Is it time to trust your instincts or the lead of the oddsmakers? The answers may surprise you.
Indianapolis Colts at Cincinnati Bengals -6.5
This line only budged a half-point from where it started at CIN -5.0 and if the sharps have anything to do with it, it'll climb even higher. The Bengals are a strangely effective home team and have demolished visitors to the tune of a 5-0 SU and ATS record. They are simply unstoppable when playing in Paul Brown Stadium and have maxed out their home field advantage at every opportunity. It wouldn't be a shocker to see this game experience even more Week 14 NFL line movement as we get closer to the weekend.
Generally speaking, the Colts are still a public team because of Andrew Luck. They are just 4-3 ATS in their last 7 games overall, but they are also a dismal 1-4 ATS when travelling against winning home teams. They are also not the type of team that destroys opponents on the scoreboard. More so, they allow teams to stay in games. They can finish matchups with authority, but they also have a bad habit of allowing teams to build leads in games and I'm not sure that Cincinnati will take their foot off the pedal like San Diego did last weekend.
This line is trapped in that no-man's land that gambler's hate but the experts and sharps agree that Cincinnati is a must bet-on team when playing at home. Indy has value in that they always seem to find themselves in close games, but they've been remarkably untrustworthy as a betting team despite their overall records. How you play this game depends on how much faith you have in Indy playing well on the road against a Bengals team that is averaging a +16.4 winning differential when posting as hosts.
Michael Stewart Lines Manager:
"We opened the Bengals a solid 6 point favorite over the Colts, and that line apparently was a bit low because our bettors are backing the Bengals. So far 70% of the action is on the Bengals, we've gone from 6 to Bengals -6.5, and we haven't had to make any further adjustments. I believe the wiseguys are waiting for this game to possibly get to 7, at which time they will hammer down on the Colts. I don't think we'll get that high, but we won't be going back to 6 and I can only see this game going up if in fact it does move again."
Tennessee Titans at Denver Broncos -13
The Week 14 NFL line movement on this game is confusing me out of my own socks. The spread dropped a whole point from where it opened at DEN -12.5 despite the fact that action came caving in on the home bound Broncos. Keep in mind that this is the largest spread that Denver has faced since curb stomping the teeth out of Washington's face six weeks ago. That particular game kick started a 4-1 SU and ATS run for the Broncos who have dropped an average of 33.2 points per game in those contests. The problem? They've allowed 24.0 points against in those games as well.
The Titans have also been a miserable betting team despite a lot of likeable defense that was violent at the onset of the season and has since cooled off slightly. Tennessee is just 2-4 SU and ATS in their last 6 games overall and are just 10-25-1 ATS when playing a team with a winning record. They're also just 2-7 ATS in their last 9 games when playing in December which is more than enough to suggest that the Titans lose steam towards the end of the season.
By the time the weekend rolls around, this line could very well balloon up to DEN -13.0 which would not surprise me at all. Tennessee has been a fun team but the wheels look like they're coming off the bus, and Ryan Fitzpatrick is the major reason. This line has likely shriveled due to the public perception that Tennessee's defense is worth banking on, but it should normalize towards Sunday.
Michael Stewart Lines Manager:
"We opened Denver -13 and all the early action was on the Broncos. We knew our bettors would back the Broncos so we opened what we thought was an inflated line. That thought process was proven correct when we booked sharp action on the dog at +13. While we respect the sharp Titans money we booked at +13, we've booked far more money on the favorite so we haven't moved this number just yet. If anything, I can only see this line going down and not up because I know our sharp bettors will grab the 13 points as we get closer to game time, while the public will keep laying it. It's a great game to book from our perspective."
Seattle Seahawks at San Francisco 49ers -2.5
This game should outright terrify anyone who approaches it. There hasn't been monumental Week 14 NFL line movement on this one per se, but it only opened at SF -3.0 to begin with. Seattle is historically unreliable on the road, but are also coming off a barn burning effort against New Orleans from Monday night. The short week, plus the quality of their opponent and the fact that this is a road game for them doesn't seem to worry anyone. Seattle is enjoying an even share of the action with San Francisco which is to be expected. They are, after all, the only one-loss team in the NFL.
However, it's impossible to completely ignore the Niners who look like they are returning to full strength. They're an incredible 8-2 ATS in their last 10 games and demolished a solid St. Louis defense last weekend during a 23-13 cover as -7.5 home favorites. They should see this betting line move closer to a PK by the end of the week, but with Michael Crabtree back in the fold against a suspension depleted secondary, the Niners will have just as much value in this matchup as Seattle. This is literally a toss up affair between which team you trust more, and the linesmakers will likely keep this game in the SF -2.0 range. If this number continues to drop towards the midline it will have safer overall value for both sides but if you like Seattle, take them now before this game sees any more Week 14 NFL line movement.
Michael Stewart Lines Manager:
"We opened the 49ers -2.5 and we've written great, two way action at that price. This is an unusual game in that the public is betting the dog, while the sharp money so far is backing the home favorite. We booked very sharp action on the 49ers moneyline -130, forcing us to go to -140, our current price. We're dead even on this game, but I have a feeling come game time we're going to need the 49ers to win and cover."
Take advantage of this DocSports exclusive $10 freebet at CarbonSports.ag.
**Must have a valid player account, one per household**
Special Docs Promo Code CARBON300. Gives you up to $300 in free bets which is an over 50% in deposit value with no rollover